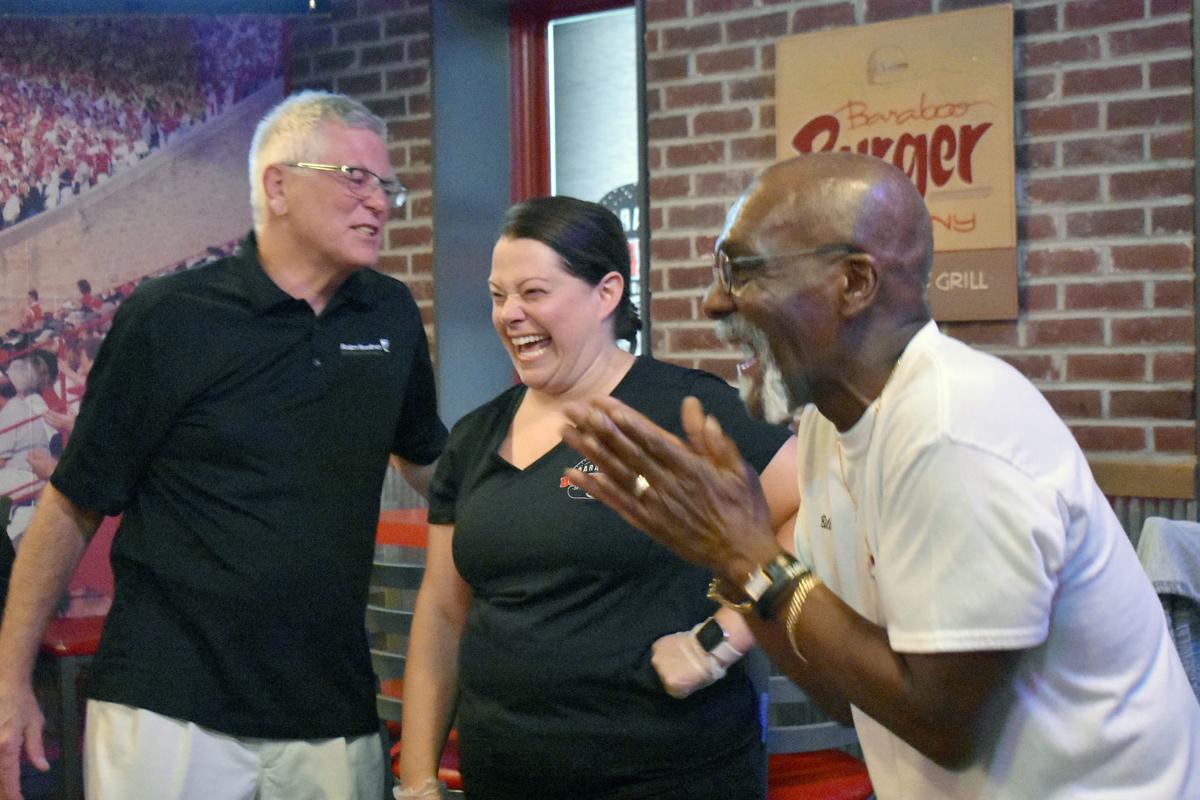 The Rev. Bill Harris of the Baraboo nonprofit People Helping People was honored Monday as a Hometown Hero by a local Modern Woodmen of America branch for his service to the community.
The award was celebrated at Baraboo Burger Co., with Harris and wife Yvette in attendance along with supporters and members of the service group's programs.
"This feels great. This is a great opportunity to share love," Harris said. "All we're doing is what we're commanded to do. We serve. This is a reward for serving."
Modern Woodmen's Baraboo chapter became involved with People Helping People about a year ago, when it donated a large amount of school supplies to the group.
Modern Woodmen chose to honor Harris for his dedication to serving all parts of the Baraboo community.
"He's a spectacular person. He touches so many lives," said Larry Marlette, activities coordinator for Modern Woodmen. "You really could not have picked a better guy for this award."
People Helping People operates five programs that provide aid to members of the community, including a Work Ready program that helps homeless or people recently released from prison learn skills and find a job and a program that provides school supplies to students who fall under the poverty line. The group also operates an adopt-a-family program that allows people to provide a meal to a family in need during the holidays, an adopt-a-soldier program that helps provide necessities to families of veterans, and a food pantry program that helps stock food pantries in Sauk, Columbia, Adams and Juneau counties.
In addition to its service programs, People Helping People offers car detailing packages at its Baraboo headquarters by men involved in the Work Ready program.
Many people showed up to recognize Harris, from friends and family to community members who support the organization through donations, like Ellen Waggoner, who has donated school supplies and adopted a family during the holidays. She also has her car detailed by Work Ready participants.
"It's just such a fabulous program, the way he's helping a lot of young men who have been in prison," Waggoner said. "The mentoring that Bill does is phenomenal. He's quite a guy."
Waggoner believe Harris has set an example everyone can learn from.
"All the blessings that come in, he gives them back," Waggoner said. "He's reaching out to us, and inspiring all of us to do more. If everyone did a little bit, that would be great."
Among supporters in attendance was Wesley Grant, a participant in the Work Ready program.
"He's a real nice guy, a good guy to work for. And he's done a lot for me," Grant said. "He's keeping me out of trouble. He gave me a job, and not many people would."
Be the first to know
Get local news delivered to your inbox!