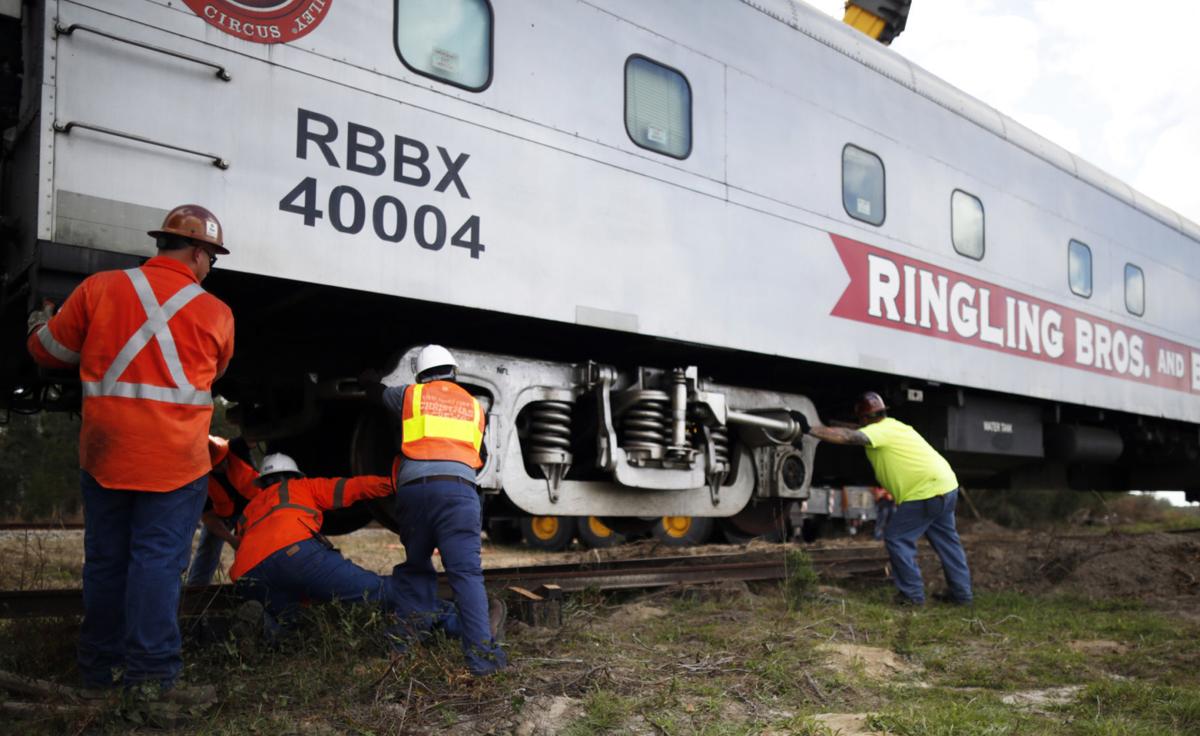 WILLISTON, Fla. — When Ringling Bros. and Barnum & Bailey Circus closed last year, much of the focus was on the future of the many animals used in the show and whether they would be sent to places at which they could comfortably spend the rest of their lives.
But it took a lot of train cars to transport those animals and the human performers from town to town, and trains have dedicated enthusiasts just as animals do.
The first of 20 of those circus cars recently were hoisted by cranes and laid on tracks at Kirby Family Farm south of Williston, an unofficial train museum that offers the public programs in railroad history.
"This is an educational thing and a permanent exhibit. I couldn't tell you how many people from the circus have contacted us and thanked us," said Daryl Kirby who, with wife Tracy, runs the 174-acre farm. "This is really a national treasure. We were proud to know we were going to have this. We were told (by the circus owner) that this is the largest collection of Ringling Circus trains in the world. Now we realize it means a lot to a lot of other folks."
Ownership of several of the circus train cars also has been transferred to Circus World in Baraboo, where the Ringling Bros. started their venture.
As three parts of the Ringling Bros. and Barnum & Bailey Circus trains make their way to…
As the train cars arrived in Florida at the farm off U.S. Highway 41, many people stopped to watch the production.
The train cars — 16 coaches and four flat cars — were on tracks next to Kirby property. Two mobile cranes hoisted them up and put them down on new Kirby rails. Kirby would not say how he came to acquire the cars, citing an agreement with Feld Entertainment, the circus owner.
They join five locomotives and six open-air passenger cars already at Kirby Farm.
The public was invited and many set up chairs and picnicked while the transfer was happening.
"I'm a train buff. I traveled on trains when I was younger and then in the military," said Ocala's Vince Tubman. "I have a fascination of trains. They may not be around forever."
Also from Ocala were Tim and Lou Petty, who enjoyed both trains and circus performances. Lou Petty said they traveled from the Midwest to California on a train.
"We stopped at all of the stations but we lived on the train. It's so peaceful because you can go places where no cars can go. We went through 15 tunnels, over mountains, across gulches that were 150 feet down," she said. "The scenery was amazing. And if you looked out, you could see the train in front of you and behind you."
Kirby Farms, registered as an educational nonprofit, holds several events a year including night train rides in the Christmas season, the Rock and Roll Easter Train Ride and reenactments of the old Six Gun Territory that used to be a tourist attraction in Ocala.
It is also open for tours and field trips.
The Ringling cars will be used used as dorms for various outreach programs at the farm.
Also on the grounds is a block of weathered wood buildings resembling a street from the Old West along with a carousel and other buildings.
Ringling Bros. had its final performance last year. Feld Entertainment cited high operating costs and a decline in ticket sales in the decision to shut down.
Animal rights activists, who had been critical of the circus for years, saw the folding of the circus as a victory. Allegations of mistreatment of the menagerie, particularly elephants, had been leveled against the circus. Meanwhile public attitudes toward the use of animals for entertainment have been changing, which may have been a factor in the decline of interest in the circus.