A pandemic signified change for the Sauk County Fair and organizers took the opportunity to try some new ideas.
Secretary and Fairgrounds Manager Liz Cook said taking a year off due to COVID-19 meant shaking off some of the rust, but by having to recalibrate, organizers were able to make improvements.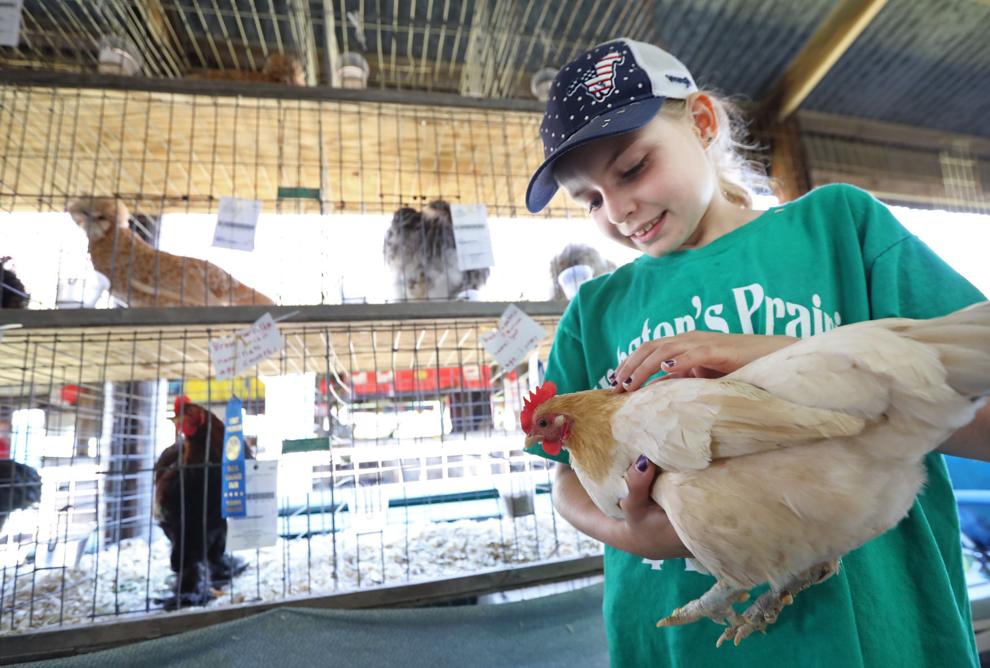 "(It's been) kind of a mix of a lot of excitement, wondering if it's all going to really happen, hesitancy wondering if something is going to change where they won't let you have it, and then trying to get back into remembering how we did everything," Cook said. "It's also given us the opportunity to look at certain things that maybe didn't work and say, 'Hey, this may be a better way to do it.' So I think it's going to be a really great fair."
In 2020, the fairgrounds fell silent. Rides didn't run. There wasn't the rev of an engine to signify that tractors were being pulled or the twang of instruments indicating a band was dominating the stage in front of the grandstand. Instead, spectators stayed home, and those who look forward to showing off their projects or animals were limited to having a virtual summer.
They highlighted their talents through videos, posting their baked goods or arts creations on YouTube. Some showed off their animals. The judging still happened, though the lack of socializing made for a different backdrop. It was less exciting than preparing for the day, exhibitors said.
Skillet Creek 4-H Leader Cheryl Shanks said 2020 was frustrating for children who wanted to show their projects, but a number of group members are glad to be back at the fair this year. They are putting on a "Club Tour" with their group to take in their surroundings when they get back to the fairgrounds.
"That's what it takes, you've got to keep them together and keep them motivated," Shanks said. "You can imagine the toll it's taken on these kids….It breaks my heart to see everything come to a screeching halt."
Unfortunately, a number of exhibitors expressed disinterest in showing even in 2021 because of the unknown future that loomed just a few months ago. For those with animals, the time and money invested may not have seemed like a good idea when they weren't sure whether the fair would happen.
"I think everybody's finding ways to make it to work," Shanks said. "I think they were all very apprehensive to even try to accomplish anything with their projects, because the kids were like, 'Why bother?' But I do think that all of my members in my club got enrolled in things with the fair."
Cook said the usually brimming full barns will definitely have more space this year.
"There is a decrease, and I think part of that is from COVID, where meetings were held by Zoom for some of the 4-H groups," Cook said. "And that's really hard when usually you have people in a room together...but I have a feeling by next year we'll see the numbers go up again."
Those who would have been too old to show this year who didn't get to do an exhibit in 2020 are allowed to show during this fair, Cook said.
Those who are able to show off their work are an invaluable part of the Sauk County Fair, Cook said.
"They make the best of whatever and just have a really good connection with each other," Cook said. "Personally, I look forward to seeing the kids' faces. That's my favorite part of the fair….When you've seen a child work so hard on a project and then they get a blue ribbon or 'Champion,' you can tell how happy they are."
Part of the improvements include repainted historical buildings and replacement of canvas on the hoop barn. There is still work by organizers to plan for a new, larger barn in place of historical buildings that have been standing for roughly 70 years. Cook said they are still looking to acquire a donor to give at the level that would acquire naming rights on the building visible from Eighth Street. Among other changes, Cook said both drinks and carnival wristbands can be purchased with credits cards rather than cash.
Scott Zirzow, president of the Sauk County Fair, said grants and other funding were able to help keep the fair going while on hiatus. Part of that uncertainty at the beginning of the year also affected their plans in the grandstand. While most of the usual events are taking place as they did in years past, the stage entertainment will look a little different.
The headliner act Saturday won't be a band, but a comic named Charlie Berens, the heavily-accented Midwestern parody comedian who became well known for the Manitowoc Minute video skit in 2017. His show was sold out as of Friday.
There will still be live music, with Saddletramp playing Thursday, West on 12 playing Friday and Cougar Wagon playing Saturday, all in the Litscher Pavilion. A band that Cook said will entertain an entire family called "The Dweebs," will play Wednesday.
"It really goes across all age levels," Cook said. "They dress a little bit goofy, but it's a lot of fun. You can afford to go with your family and it's a very good start to the fair Wednesday night."
Follow Bridget on Twitter @cookebridget or contact her at 608-745-3513.