SAUK COUNTY | COURTS
Sauk County felony case growth outpaces state
When the courthouse closes for the day, the lights in the Sauk County District Attorney's Office often remain on.
Prosecutors — and their counterparts in the State Public Defender's Office — are dealing with an unusual rise in the number of serious cases on their plates.
The district attorney's office reported a 20 percent increase in Sauk County felony filings in 2017. That exceeded the 8 percent jump that occurred statewide, according to Wisconsin Court System data.
Sauk County's growth rate was higher than that of neighboring Columbia County, where felony filings increased by 6 percent last year.
Local prosecutors filed more felony charges last year because law enforcement agencies sent along more of those cases for review. Last year, the district attorney's office received 843 felony referrals, a 24 percent increase from the prior year.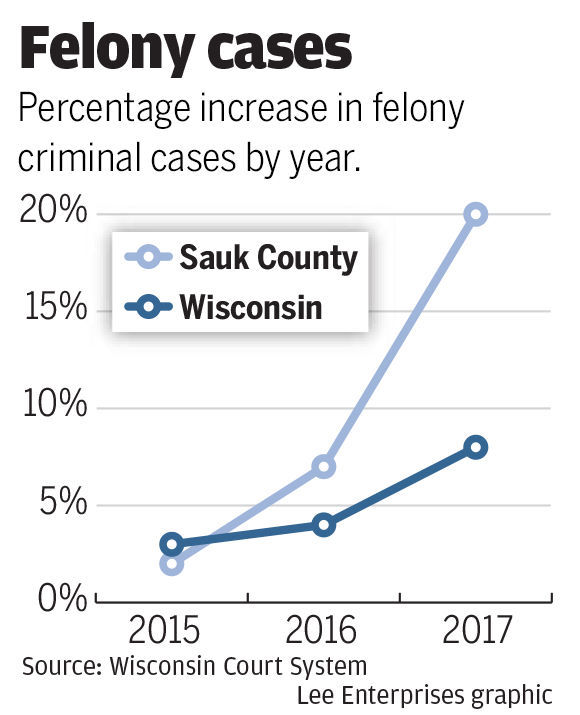 However, it's not easy to pin down exactly what's behind those figures.
Cecelia Klingele, an associate law professor at the University of Wisconsin-Madison who specializes in correctional policy, said the causes are not apparent from caseload data.
"Even if the increase in felony filings is due to increased police referrals, the same questions remain: did behavior change or has police arrest and referral practice changed?" she said.
According to Sauk County justice officials, the answer may be a combination of both.
Laws, policies cited
Sauk County District Attorney Kevin Calkins said his office saw the greatest increase in referrals for drunken driving, drugs, sexual assault and bail jumping.
A change to Wisconsin law that went into effect last year makes all fourth drunken driving offenses a felony. Calkins said that has had an impact, but noted that his staff also has charged more people with their fifth and sixth offenses.
When it comes to sexual assault cases, Calkins said, a new mandate on Sauk County law enforcement agencies has resulted in increased referrals.
In 2016, the district attorney's office was one of seven jurisdictions nationwide that received a U.S. Department of Justice grant to deal with sexual assault cases involving adult victims. That allowed the hiring of an additional prosecutor.
One of the goals of the grant was a 100 percent referral policy. Calkins said that means law enforcement agencies are now instructed to forward all Sauk County sexual assault cases to his office for review, "even those they would normally not refer due to a lack of evidence."
Defense attorneys in the State Public Defender's Office in Baraboo say they have noticed more clients facing felony bail jumping charges.
That caseload growth is both a cause and a symptom of the overall increase in filings. A higher number of felony cases means more defendants are out on bond and could potentially violate terms of their release.
Under state law, prosecutors do not have the discretion to charge felony defendants who violate bond with misdemeanor bail jumping. The charge must be a felony.
As part of its last budget request, the State Public Defender's Office asked lawmakers to change that requirement, and allow prosecutors to charge such cases as misdemeanors. It wasn't approved.
"We view that option as another tool that could be used by DA's offices statewide," said Leonie Dolch, an attorney with the State Public Defender's Office in Baraboo.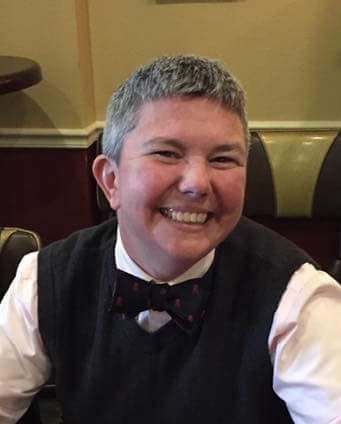 Addiction problems continue
Like other communities, Sauk County is dealing with the impact of a national opioid epidemic. Officials say the increase in felony drug charges is due to a continued rise in the number of people using heroin, illegally obtained pain medication and methamphetamine.
Dolch said substance abuse is a driving factor in caseload growth, even when the crime charged isn't a drug offense. For example, people often resort to theft to fund their drug habits.
In 2016, the Sauk County Criminal Justice Coordinating Council established a program that gives people whose criminal behavior is driven by addiction an opportunity to avoid jail if they undergo intensive treatment. The council has developed a similar system for drunken driving defendants.
Dolch said those initiatives are a step in the right direction, but more work is needed.
"The increase in crimes related to substance abuse disorders highlights that what we are doing so far is not quite enough," she said.
"There continues to be a need for greater treatment and other diversion options. The research on this subject is clear that we cannot successfully charge our way out of the substance abuse epidemic facing Sauk County."
Referrals up
from most agencies
It does not appear that any one law enforcement agency is driving Sauk County's increase in felony cases. Data provided by the district attorney's office shows an increase from most departments.
Lake Delton Police Chief Daniel Hardman said the 60 percent growth in felony referrals from his agency is mainly due to a change in organizational culture.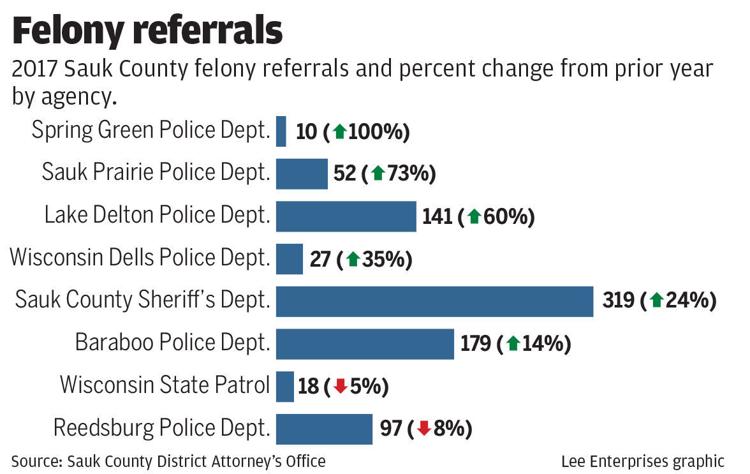 Since he became chief in 2013, Hardman said, he has tried to shift the focus from traffic violations and underage drinking toward more serious crimes. He gives officers leeway to conduct interrogations, collect evidence and aggressively pursue complex cases.
"It's just that our clearance rates are higher," Hardman said. "We're actually solving more cases and filing more cases with the district attorney's office."
Hardman said data to highlight the increase in Lake Delton police referrals is included in a Uniform Crime Report that agencies provide annually to the Federal Bureau of Investigation. He could not share a copy of that document for 2017, he said, because it is not yet finalized.
Prioritization needed
Calkins said he does not yet see a light at the end of the tunnel, because the growth in caseload has not yet begun to plateau.
If data from the first month of 2018 is an indicator of what's to come, there would be another 35 percent increase in felony cases this year. Misdemeanor cases would rise by 19 percent.
The district attorney's office estimates that would include a 54 percent increase in criminal traffic cases — mainly drunken driving and operating after revocation.
In February, Republican state lawmakers released a proposal to add 54 prosecutors to district attorney's offices in 40 counties as part of an effort to address staff shortfalls.
However, the Sauk County District Attorney's Office was not on the list of agencies that will get extra help. That's because lawmakers relied on data from a 2014 study to distribute the additional prosecutors.
In the meantime, Calkins said, his staff has tried to manage the additional work by focusing on the most serious matters.
"We have been trying to be more selective of the cases we file charges on, prioritizing crimes with victims and crimes with public safety concerns," Calkins said. "Unfortunately, the types of offenses with the biggest increases in filings each include victims or public safety concerns."
Follow Tim Damos on Twitter @timdamos