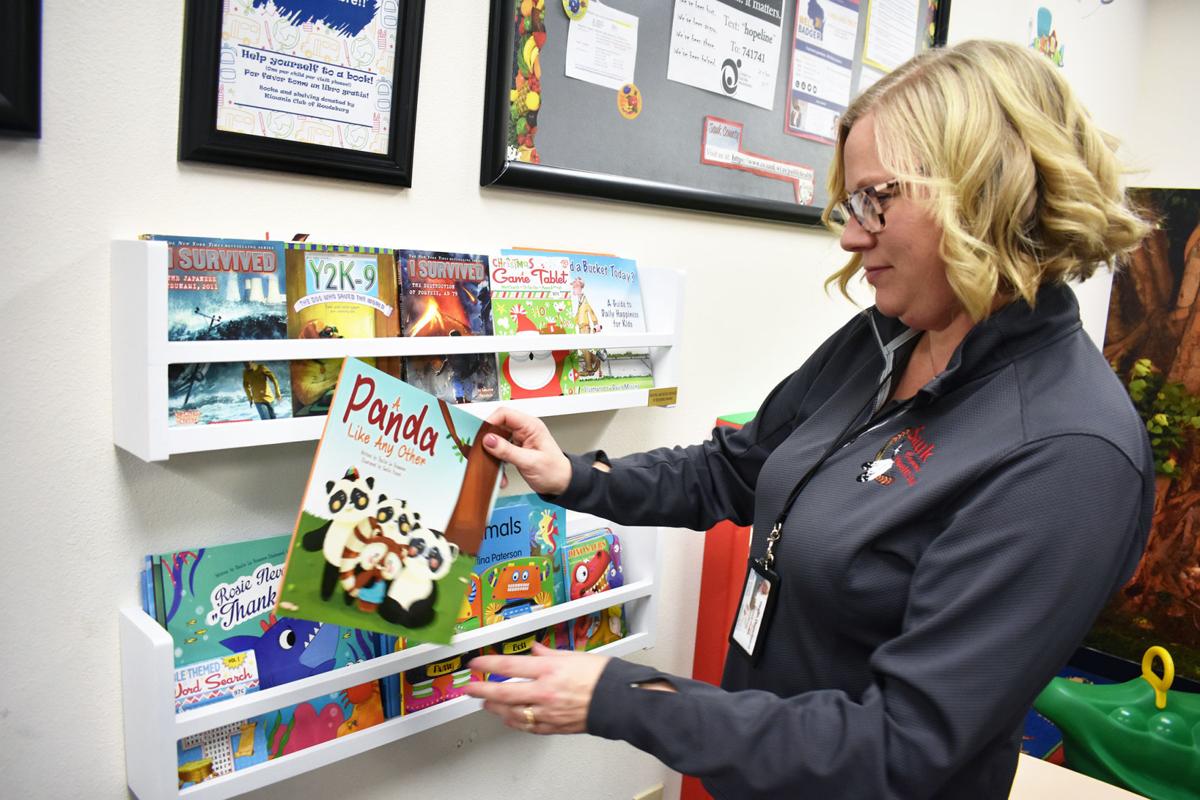 Jessie Phalen would never say $80 is insignificant.
That's what the Sauk County Health Department needed for a new mobile library and that's what it received from the Reedsburg Kiwanis Club, the public health nurse manager said. At any given time the shelving unit holds about 20 books, which children and their families may take, for free, as they enter and depart Suite 372 in the Sauk County West Square Building.
"I hope other people will start thinking, 'Hey, maybe we can do that here?'" Phalen said of the gift she applied for through Kiwanis after she learned about the success of mobile libraries in Madison.
It's the Reedsburg Kiwanis Club's first mobile library gift but likely won't be its last, Dennis Andreasen, the club's past president, said. The club distributes about 2,000 books annually — including 60 for the health department's new shelving this month. It is currently seeking Spanish language books to add to the health department's collection and will continue to stock its new shelving as needed.
"Our club understands how important it is for kids to read," Andreasen said. "We want them to get away from their phones where they're sitting and playing or texting; we want to get their minds into reading and learning. It's just so important."
You have free articles remaining.
To help children, the club spends between $10,000 and $20,000 annually — about 85 percent of which stays in Reedsburg, Andreasen estimated. The club has distributed 21 iPads to autistic children in the past five years, provides $500 college scholarships annually to Reedsburg High School students and supports local youth sports, Boy Scouts of America, food pantries, libraries and more.
"We only have 11 members," Andreasen said, "but we do a lot."
Phalen, in her application for the library donation, noted that 7.2% of Sauk County 16-year-olds are considered illiterate, according to Countyhealthrankings.org. Phalen said in an email that the most significant factor influencing a child's early educational success is an introduction to books and being read to at home prior to starting school, according to the National Commission on Reading.
"We want kids spending that one-on-one time with their parents," Phalen said, "and we want to remove the barrier where they might worry about getting the books returned on time.
"They come in here, they take a book and it's theirs to keep."
More than 1,200 families visited the Sauk County Health Department in 2018, according to Phalen's application. Families visit it for general health concerns, monthly immunization clinics and for the various Women, Infants and Children programming.
"Even if the child can't read," Phalen said, "we know that just looking at the pictures and hearing the words and the bonding with their parents makes a big difference."
Noah Vernau's memorable stories from 2019
Reporter Noah Vernau's memorable stories from 2019 explored school safety funding in Wisconsin, the difficulty schools sometimes have in providing theater programming, how local startup businesses bucked statewide trends to find success and low vaccination rates among children in the region. 
Follow Noah Vernau on Twitter @NoahVernau or contact him at 608-695-4956.