As coronavirus cases continue to surge, local health officials are urging residents to stay home throughout the holidays to avoid making the situation worse.
"We need you to stay home and stay safe during these holidays coming up," said Jodie Molitor, emergency preparedness coordinator for the Sauk County Health Department, during a recorded COVID-19 update Thursday. "We ask that you celebrate with those in your household only — and by household, we mean those that live under your roof."
She emphasized the recommendation with the message: "We're staying apart this holiday, so that we can come together (for the) next holidays."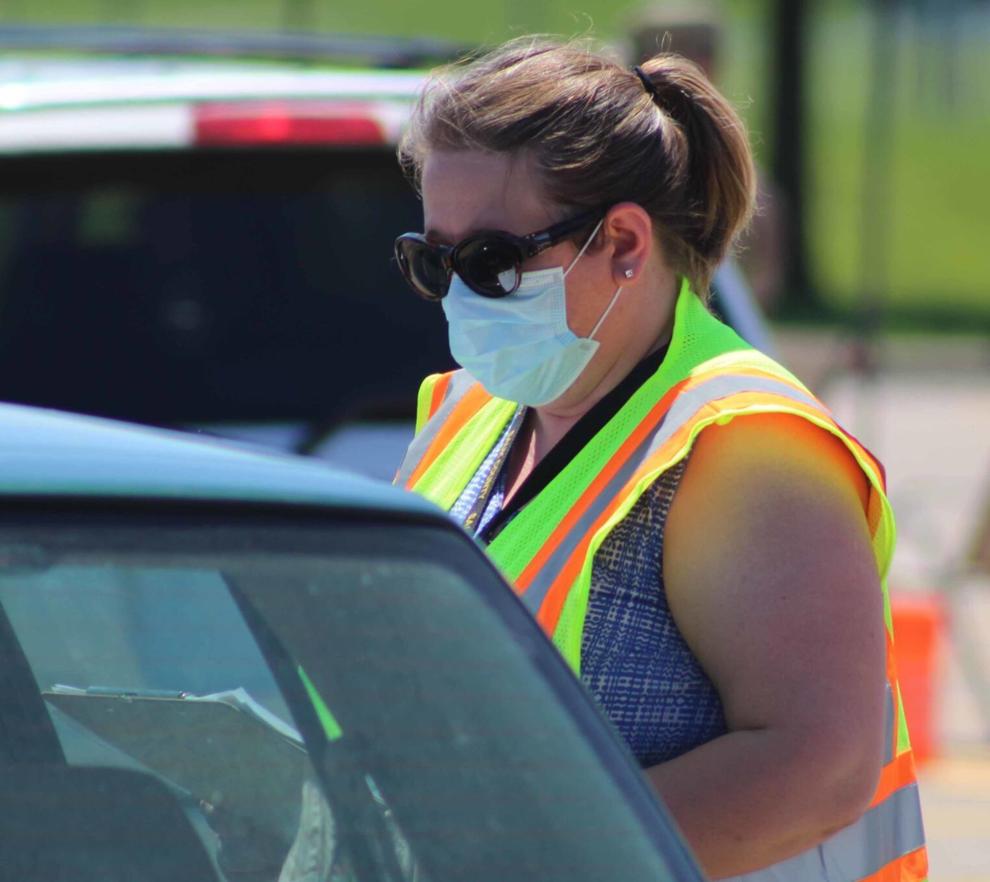 Anyone who chooses to ignore the advice should plan to quarantine at home for 14 days after traveling or visiting with family or friends, even if they test negative for COVID-19 during that period, she said.
Columbia County Health Director Heather Gove did not respond to a request for comment Friday morning. The health department has not offered any guidance specific to the holidays but often refers to guidance from the Centers for Disease Control, which acknowledges the increased risk posed by traveling or gathering for Thanksgiving this year and suggests celebrating virtually instead.
Spokeswoman Haley Gilman of Aspirus Divine Savior Hospital in Portage also did not respond Friday.
The numbers
Six Sauk County residents died this week from the coronavirus as of Thursday, bringing total fatalities to 16. Thursday marked the first time the county health department has reported two COVID-19 deaths in one day and Friday marked the second, according to county data tracked by News Republic staff.
At least two of those deaths have been individuals under the age of 60, according to the county data hub.
In Columbia County, 10 residents have died from COVID-19 as of Friday. Health officials think an additional death likely was caused by the virus, though it hasn't been confirmed by a lab test, according to the county's weekly update.
On Thursday, Sauk County hospitals were treating 17 inpatients for COVID-19 and another three in intensive care units, according to a new section on the county data hub. That's more than double the numbers at the start of this month, when there were seven COVID-19 inpatients in county hospitals and two in ICUs.
"In a nutshell right now, we are definitely seeing strained health care resources," Molitor said in Thursday's video update. Before the current surge in cases, she said the county's three hospitals were able to care for moderate COVID-19 cases and would transfer most severe cases to Madison. Now, with Madison also contending with the surge, it's getting harder for local hospitals to deal with cases that need a higher level of care.
County and hospital officials are planning a virtual press conference at noon Monday as a "call to action" for Sauk County residents, the health department announced Friday.
The department's Siobhan Allen said the county reached a cumulative total of 3,000 cases this week, just 16 days after hitting 2,000 cases. It took just under seven months to reach the first 1,000 and 31 days after that to double. By Friday, total cases were at 3,150, including 794 active.
If the surge continues at the same rate, cases in the county will double again to more than 6,000 by Dec. 17, Allen said.
"October was really a record-setting month for us for cases, hospitalizations and deaths, and unfortunately we've already surpassed all of these records in the first 19 days of November," she said in the video.
Last month brought 27 hospitalizations — one every 28 hours — and three deaths due to the coronavirus, she said. In the first three weeks of November, about 40 residents have been hospitalized — one every 12 hours — and nine have died.
Columbia County Health Department reported that 90 people total had been hospitalized due to COVID-19 by the last week of October. Three weeks later on Wednesday, that number had grown to 144, a 60% increase, according to its weekly update. Eighteen were hospitalized in just the last week.
About one-third of all people who have been hospitalized in Sauk County due to COVID-19 are under the age of 60, Allen said. While people over the age of 60 are more likely to require hospitalization if they're infected, younger people are not guaranteed to skate through an infection with mild or no symptoms.
"So, please think about that as you're making your decisions for upcoming holidays," Allen said.
Four percent of all Sauk County cases have had severe symptoms that led to hospitalization or death, according to the data hub.
Columbia County also broke the 3,000 milestone this week, recording 3,001 total cumulative cases — 939 of which are active — on Friday. Another 193 are probable cases, according to the health department. People in their 50s account for the highest number of infections by age, with those in their 20s close behind.
Health officials are actively conducting 61 facility-wide investigations related to cases and potential outbreaks in Columbia County, including 23 at educational facilities, 17 at workplaces and nine at long-term care facilities, as of Wednesday. Such investigations are triggered when there are at least two confirmed cases in a single facility within 28 days or one case in a long-term care facility, according to the state health department.
State data shows Sauk County has 17 active investigations, of which eight are at long-term care facilities, three are at a workplace and five are classified as an "other setting," which can include restaurants, event spaces and churches.
This week did bring a glimmer of hope for Sauk County: It's average number of new cases per day has started to decline.
"We're really hopeful that this trend will continue," Allen said. "Right now it's starting to drop slightly. Not enough to be a significant change — it's still going to keep us at that critically high COVID case activity level — so we need to continue this work so that that number and that little green line here keeps going down."
Columbia County is not showing the same decline, according to DHS data. Its case activity has had no significant change over the last 14 days.
Over the last seven days, about 13% of tests in Columbia County and almost 11% in Sauk County were positive, according to state data. Both are below the state average of more than 16% positive.
Similar to all but one county in the state, Sauk and Columbia have "critically high" case activity, a category the Wisconsin Department of Health Services added to its dashboard last week to show the severity of the continuing surge. COVID-19 activity in the new category is nearly three times higher than the previously highest category, according to DHS.
Almost 87% of hospital beds in Wisconsin's south central region — which includes Sauk and Columbia counties, as well as Dane — are in use as of Tuesday, according to the seven-day average reported by DHS. More than 86% of the region's intensive care unit beds are in use.
Follow Susan Endres on Twitter @EndresSusan or call her at 745-3506.