Sauk County voter turnout on Tuesday surpassed that of the last three midterm elections and barely exceeded statewide participation percentages.
Unofficial results from the Sauk County Clerk's Office show there were 29,179 ballots cast countywide, an estimated 60 percent of eligible voters.
Wisconsin Elections Commission spokesman Reid Magney said unofficial results showed nearly 2.7 million Wisconsinites — 59.4 percent of the voting age population — cast ballots, a record for midterm elections.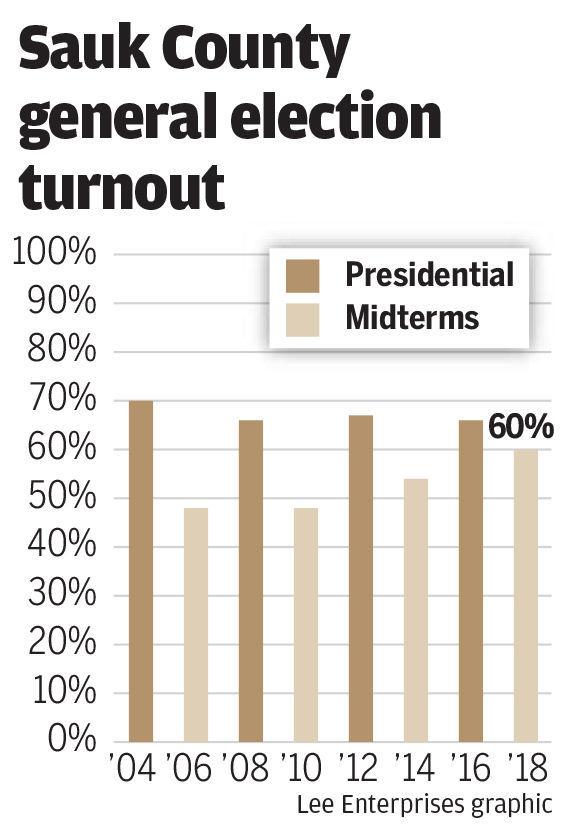 In addition to a heated governor's race in which Democrat Tony Evers narrowly unseated two-term Republican Gov. Scott Walker, Sauk County ballots also featured questions involving notable state and national issues.
Results of those advisory referendums showed the county's voters decisively favored nonpartisan reforms to Wisconsin's redistricting procedures, limitations on the influence of big money in elections, and access to medical marijuana.
Baraboo voter Libby Koomar said Tuesday she was motivated to get to the polls because of what she saw as a lack of focus on important issues, decay in the nation's political discourse and a desire to end Walker's reign as governor.
"I think we need to refocus on some of the important things like health care, and the rhetoric is disturbing," Koomar said. "The demeaning and blaming of people of color for our problems today is horrendous. It's not just inflammatory language. It's racism. And that is not the direction I feel like we need to go."
The 60 percent countywide turnout recorded Tuesday surpassed the last three midterm elections and approached that of the 2016 presidential election, which was 66 percent.
Sauk County midterm turnout was 54 percent in 2014 and 48 percent in both 2010 and 2006, according to the county clerk's office.
A line had formed outside the Baraboo Civic Center by Tuesday afternoon, and figures showed 5,142 voters cast ballots throughout the city's 14 wards. Baraboo City Clerk Brenda Zeman said the high turnout surpassed expectations.
Sauk County voters favored Evers over Walker by a greater margin than the rest of Wisconsin. Evers garnered 54 percent of the countywide vote compared to 49.6 percent statewide.
Walker lost by a 1.2 percent statewide margin, according to unofficial results. And although early statements by Republican Lt. Gov. Rebecca Kleefisch pointed to a possible battle over the election outcome, Walker said he called Evers to concede Wednesday.
The Democratic turnout wasn't enough to carry Sauk County sheriff candidate Paul Hefty to victory. He lost to Republican incumbent Sheriff Chip Meister for a third time by a margin of 60.8 percent to 39.1 percent.
This article was updated Nov. 8, 2018, to correct the vote percentage recorded for Democratic sheriff candidate Paul Hefty.