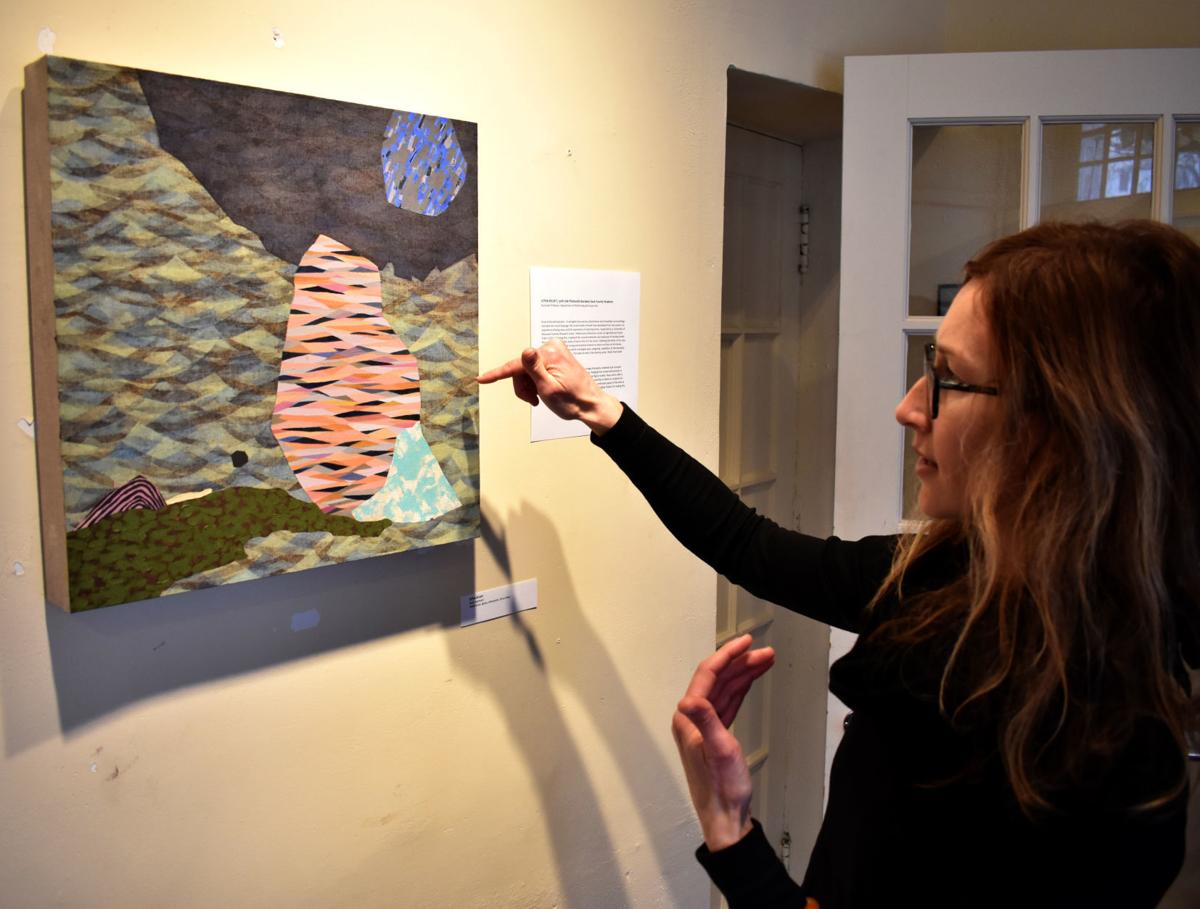 Art professor Letha Kelsey didn't hesitate to accept the invitation to showcase her work and the work of her University of Wisconsin-Platteville Baraboo Sauk County students at the Al. Ringling Theatre.
"Art is for everyone," she said of her school's that's up for the month of January. "Baraboo has a rich history in the arts, and this just seems like a natural coming together. We're bolstering each other."
Carol Kratochwill, the artist in residence, launched a five-year initiative Friday to showcase student work at the theater's gallery on a regular basis. Once per year and through 2024 the theater will showcase Kelsey and her students, as well as the artwork of Baraboo School District students in a separate month.
"I think our education system is neglected," Kratochwill said of her initiative that will showcase an as-yet undetermined public school in the gallery for the month of April. "So many of our art teachers have master's degrees and tons of experience, and the patience to teach children every day. That's amazing to me, but they don't get any attention."
Kelsey is showcasing paintings and drawings she created during and after hiking half of the Ice Age Trail in Wisconsin in 2010. She classified them as "contemporary abstraction."
"They're not representational in the way a photo would be," Kelsey said of her work in the series. "They get at the collective, sensory experience of walking all day: the sights, the sounds and the smells — the sensory experience of being outside."
Kelsey and her husband Luke Kloberdanz hiked from Door County to Lodi that summer, encountering all kinds of weather and geological structures.
"We saw giant rocks that seemed like they were just set down where they were," said Kelsey, an art professor in Baraboo since 2005. "I did a lot of drawings in the tent and then worked from memory, recalling the shapes and patterns of light and weather."
You have free articles remaining.
Other work on display is from a series Kelsey calls, "Homing." Ice Age Trail paintings were all about being away, she said, but her "Homing" pieces explored the domestic life.
"They contain a lot more collage, much more mixed media," Kelsey said of Homing, which she displayed in a Wisconsin Academy Gallery exhibit in Madison in 2017. "I was really thinking about the repetitions of the everyday in the domestic realm, the way that pattern and color can talk about the things that we do: the repetition of taking care of a small child or whatever those needs are at home."
The displayed work of her eight students runs the gamut in subject and technique, she said, but what unites them is "play." More than anything else, the professor encourages spontaneity in her students, hoping they'll create for the fun of it.
"Sometimes we're taught to grow up," Kelsey said of her approach in the classroom. "I tell them not to do that."
Students were chosen from a variety of classes Kelsey teaches at the university, including Life Drawing, Drawing 1, Drawing 2, Two-Dimensional Design and Gender Studies.
"It really is a varied show, which is what I'd hoped for," Kelsey said. "I wanted to showcase our diversity and work ethic and share what we do."
Kratochwill said the opportunity for students to display their work outside of school is unique and should help them to feel more confident as creators. "Socializing and clarifying your artwork is difficult for some students to do, but I think that's only because they haven't had the chance to do it yet.
"They'll say, 'Oh, it's not the best.' And then I'll say, 'It looks great to me!' They don't know how to sell themselves yet, but they will."
Noah Vernau's memorable stories from 2019
Reporter Noah Vernau's memorable stories from 2019 explored school safety funding in Wisconsin, the difficulty schools sometimes have in providing theater programming, how local startup businesses bucked statewide trends to find success and low vaccination rates among children in the region. 
Follow Noah Vernau on Twitter @NoahVernau or contact him at 608-695-4956.