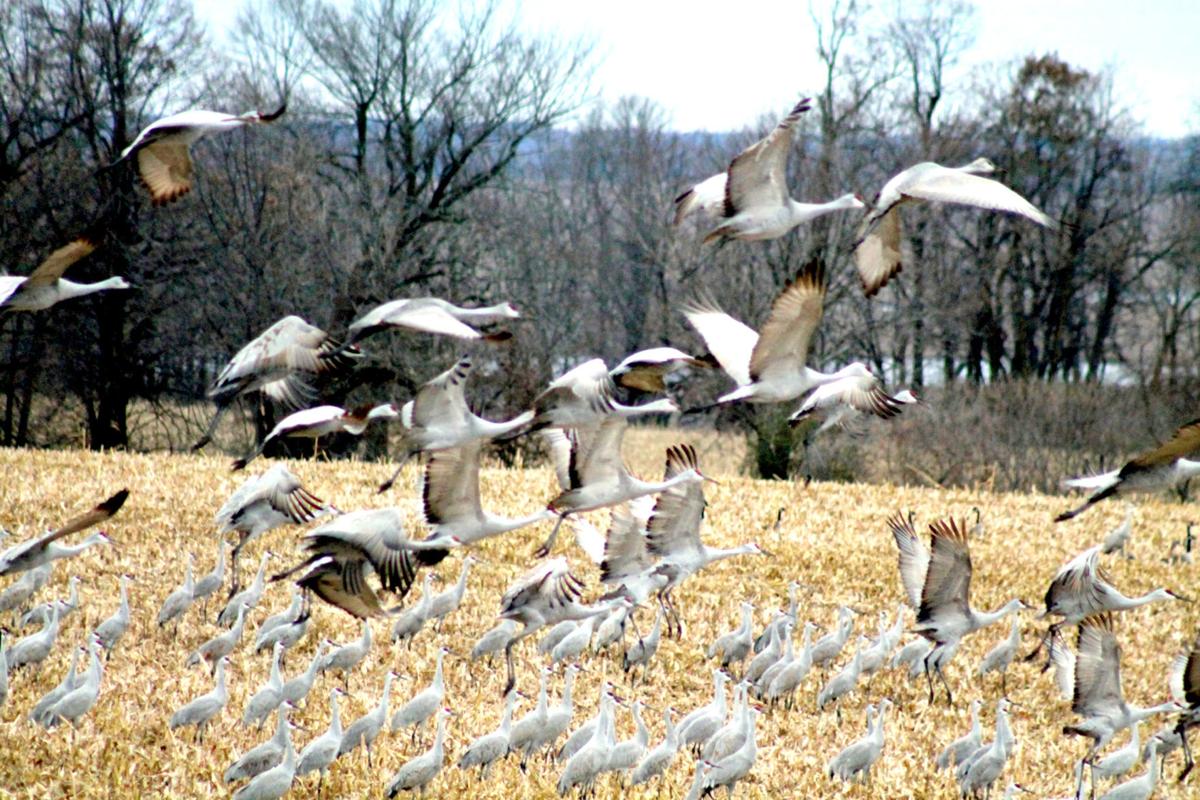 A special pesticide registration renewal Tuesday will allow Wisconsin farmers to protect their corn crops from sandhill cranes using a non-lethal powder repellent.
The state Department of Agriculture, Trade and Consumer Protection proposed the special registration to allow the use of a dry seed treatment known as Avipel after its previous registration lapsed Aug. 1.
When applied to seed corn before planting, the pesticide stops cranes from digging the seeds up and eating them due to a bad flavor. It's the only repellent that's both non-lethal and effective, according to a DATCP news release.
The Baraboo-based International Crane Foundation supports the use of Avipel. Crane Research Coordinator Anne Lacy said the conservation organization has worked with its manufacturer, Arkion Life Sciences, to test the chemical and ensure it's safe and repels cranes.
"They have to sample at least one and usually two. So they'll try one, that tastes bad. They'll go for the second one, that tastes bad. … And then they will continue to forage in the field, but they will no longer damage the corn," Lacy said. "I've seen this happen many times. It really works well."
The chemical might also irritate the lining of the crane's mouth or give the birds an upset stomach, but Lacy said field trials have shown they won't eat many treated seeds. Instead, they'll move on to bugs or one of the many other things they eat.
DATCP spokeswoman Donna Gilson said farmers also can use the liquid version of Avipel, which works similarly but is fully registered with the U.S. Environmental Protection Agency, meaning the state doesn't need to seek special permission for it.
"For arcane reasons, the EPA did not register the dry formulation at the same time, which is why we need the special registration to allow its use," Gilson wrote in an email.
Police officers shot and killed a wild sandhill crane in a Portage neighborhood Sunday after authorities said they had no remaining non-lethal…
Though the liquid Avipel works, Lacy said the powder form allows farmers more flexibility because they can apply it themselves to seed corn in the field. The liquid requires special equipment to apply, so farmers generally would take their seed in bulk to a seed treater for application, she said.
DATCP has sought special registrations for Avipel since 2006. Gilson expects the dry formulation to gain full EPA registration in the next few years.
By feeding on seed corn, sandhill cranes have caused crop losses from 20-60 percent in fields with untreated seeds, according to DATCP. It lists Columbia, Dane, Dodge, Green Lake and Marquette counties among those with the highest risk of such losses.
The birds can damage other crops, but not to the same scale and economic impact as corn, Lacy said. She added that Arkion Life Sciences is working to develop a repellent for use on potato crops.
During the special registration process, the public could submit comments on the pesticide. According to Gilson, several organizations submitted letters of support, including agriculture groups, the ICF and the University of Wisconsin-Madison. Some members of the public sent in comments opposing Avipel and instead suggesting a hunting season.
Avipel's special registration will expire July 30, 2021.
Follow Susan Endres on Twitter @EndresSusan or call her at 745-3506.