Sauk County flood victims got good news from two sources Thursday, as President Donald Trump declared recent Wisconsin flooding a federal disaster and a local relief fund received a gift of nearly $100,000.
Trump's declaration makes flood victims in Sauk and seven other counties eligible for federal aid. Gov. Scott Walker said it will take several months for state and federal agencies to implement the declaration.
There's local help available, too. This summer, the Greater Sauk County Community Foundation established the relief fund in response to flooding that caused an estimated $10 million in damage. Thanks to gifts from businesses, residents and nonprofit organizations, the fund contains more than $250,000.
On Thursday, Community Foundation board President Tom Fleming presented a check for more than $98,000 — given by an anonymous couple through the Community Foundation of Southern Wisconsin — to Jeff Jelinek, Sauk County Emergency Management director. Jelinek thanked the local Community Foundation and its board for donating $20,000 and waiving its fee to administer the fund.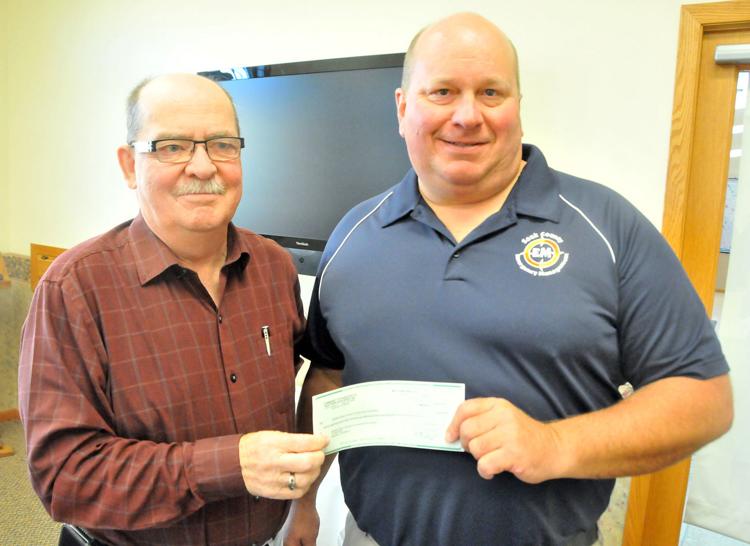 Other charities have provided gift cards and other short-term support. On Thursday, Catholic Charities announced it will give 257 flood victims each $100 in aid at St. Joseph Church on Oct. 25.
The flood relief fund will help affected residents pay contractors for damage repair after the ground dries.
"Once everybody's gone, there's still going to be need, and that's what this money is for," Jelinek said.
"I was so touched by this marvelous gift," said Robin Whyte, executive director of the Greater Sauk County Community Foundation. "Apparently our anonymous angels have a history of helping with disaster relief throughout Wisconsin. We couldn't be more grateful that their kindness has been extended to Sauk County, and their generosity will have a huge impact on the recovery of countless area residents."
Now that the president has declared Wisconsin's flooding a disaster, home and business owners can access Federal Emergency Management Agency aid. FEMA assessors visited Sauk County last month.
"That's why it's so important to get that presidential declaration, to get this process going," Jelinek said.
Rep. Mark Pocan, D-Black Earth, said during a Baraboo visit Wednesday there was little the federal government could do to help until the president declared a disaster. Pocan said the government will be quick to fund repairs to public infrastructure such as roads, but private property owners may face a wait. "On the private side, it's a little more difficult," he said.
"It takes time," Jelinek said.
The need is immediate for victims who lost furnaces in the flood. "I'm just sick for these people," Jelinek said. "Unfortunately, bad things happen to good people."
The county is referring flood victims to counseling through its Human Services Department.
"We're really going to be looking at the mental health piece," Jelinek said.
Catholic Charities is helping by offering gift cards to victims. From 4-6 p.m. Oct. 25, victims can receive $100 gift cards to pay for flood expenses. Applicants should bring proof of residency to St. Joe's, located at 304 East St.
The other counties affected by Trump's declaration are Crawford, Dane, Juneau, La Crosse, Monroe, Richland and Vernon.