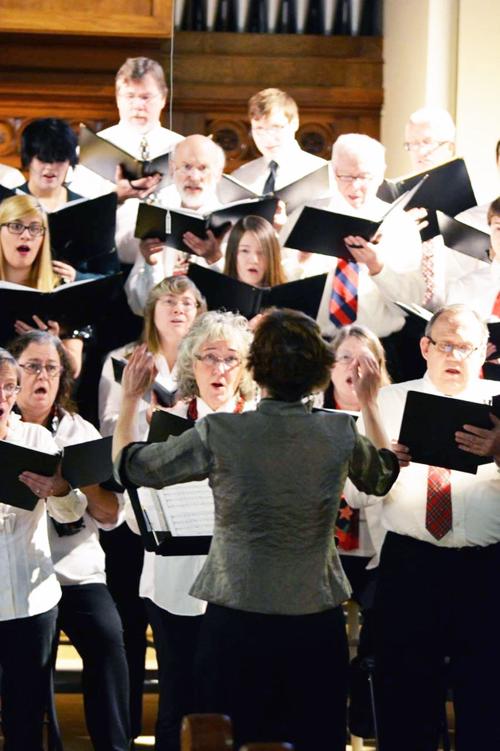 Every year, the community demonstrates palpable enthusiasm for the University of Wisconsin-Platteville Baraboo Sauk County holiday concerts.
Deanna Horjus-Lang thinks she knows why.
"Some of the most amazing music has been written about Christmas," the Campus/Community Choir director said of a program that's always well attended. "It's gorgeous."
Horjus-Lang directs "I Can See the Light" at 4 p.m. Sunday and 7 p.m. Tuesday at First Congregational Church in Baraboo. It'll be her 11th year directing holiday concerts for the university, more than enough time for Horjus-Lang to consider their popularity.
"It's touching and usually very warm, often making reference to a new life, something coming into being," she said of the subject matter. "The texts can be extremely funny, inspirational or tragic, but there's always an extra bit of something that's more personal when the instrument is the human voice.
"Maybe that's the humanity we're looking for at this time of year."
The holiday concert theme is "light" and features a wide variety of selections including "Light of a Clear Blue Morning" by Dolly Parton and "Ave Maria" by Franz Biebl.
About 60 choir members will sing them including 11 music students from the campus, where Horjus-Lang is an associate lecturer. They will be accompanied by the Driftless Brass Quartet (normally a quintet), led by the Baraboo High School band director, Griffin James.
You have free articles remaining.
James plays the tuba and will be accompanied by a trombonist and two trumpeters in his quartet. He offered many of the same sentiments shared by Horjus-Lang regarding holiday music.
"I think 'Ave Maria' by Franz Biebl is one of the most beautiful pieces of music ever written," James singled out from the 14 selections on tap for the concerts. "For me, it's the way the harmony is constructed, the order of the chords and the way they are just so beautifully cared for."
Holiday music, in general, offers "a trip down memory lane" for James. He said he imagines that's true for many others in the world, too, and probably speaks to why the program is so popular locally.
"It's nostalgic," James said. "It makes me think of growing up with my parents and my brother and the time we spent together at Christmas: the food we ate, the drinks we drank; everything."
The church setting only adds to the holiday mood, Horjus-Lang said, from the altar and stained glass windows to excellent acoustics. "Whether you're religious or not, we absolutely benefit from the atmosphere."
The campus typically holds two choir programs for public consumption per year, the second in the spring and all for which Horjus-Lang credits a "devoted" student body and community, which keeps up to date on her choir offerings via the university's website.
"We have so many choir teachers and avid choral singers, and for me, it is just a real honor to be at the helm of such a strong organization," Horjus-Lang said of a group that every year seems to demonstrate its commitment to choir by driving to rehearsals in snowstorms. "We all have a really good relationship and a lot of fun at our rehearsals; they're two hours per week over how many weeks per semester and we just put out a very, very good product.
"I'm very proud of what we do for the community."
Follow Noah Vernau on Twitter @NoahVernau or contact him at 608-695-4956.