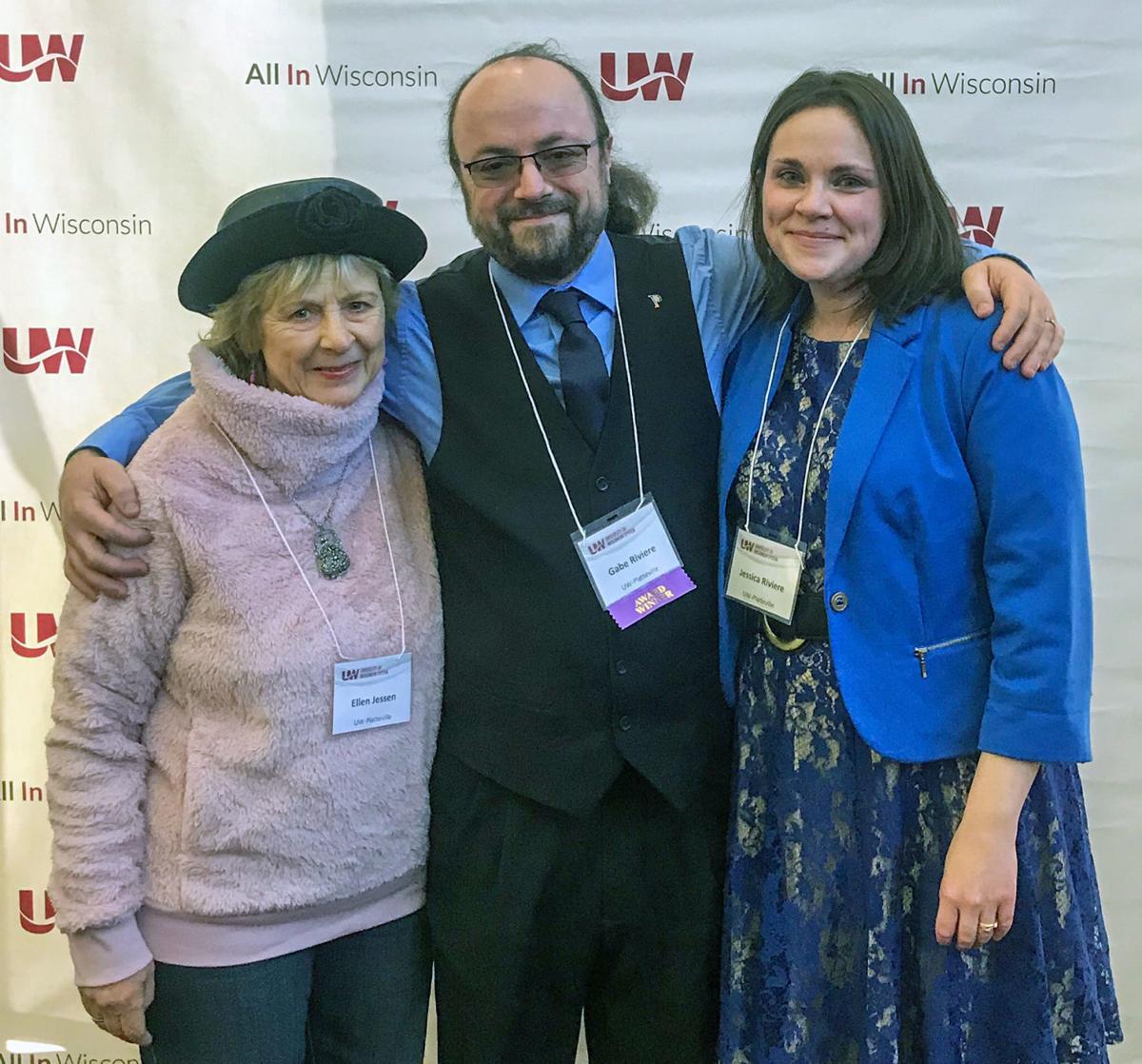 Gabe Riviere, student services information specialist at the University of Wisconsin Platteville, Baraboo, Sauk County, was recently recognized for his service on behalf of LGBTQ people at a ceremony in Madison on Nov. 7.
Riviere was presented with the Dr. P.B. Poorman Award for his continued achievements with the PRIDE Club and his support of the LBGTQ community on the two-year campus.
"We are a close community, we have hundreds of students and not thousands. It's easy to get lost in the thousands, but its also easier to get noticed and picked out when you're in the hundreds," said Riviere. "These students feel safer knowing there is someone here that they can go to."
Riviere who has been on campus for almost 11 years, currently serves as adviser of PRIDE Club, and has worked with campus and UW-System administrators to incorporate Safe Space and Ally training for all students, staff and faculty on campus. He also works to bring speakers to campus who advocate and educate on different aspects of the LBGTQ community.
Riviere has also spoken to local school boards to educate and advocate for transgender inclusivity for all age groups. He also continuously works with local churches to host events which educate on awareness of transgender persons as well as issues facing the LBGTQ community.
You have free articles remaining.
Student Life and Activities Director Jason Schulte said Riviere is an important asset to the campus community, for students, staff and the LBGTQ community.
"We often call him our campus google, we notice when he's gone, and he is the front lines for everything with students," said Schulte. "We were all so proud that he won this. For years he has been advocating and working with the PRIDE Club, and being the person at the front of that and moving it forward."
Riviere said he does the work on campus and with students so that there is a safe and inclusive space and person available to all students on campus, which can help make their transition into college and adult life easier.
"We're dealing with people who are right out of high school, who may have struggled in high school with these issues. But that transition can be jarring for anyone," said Riviere. "They need a safe space where they can be themselves and feel free to express themselves. They may not be able to do that at work or at home or anywhere else but you have to have a space where people can be themselves and not be judged or harassed for it."
Riviere said he would not have been able to have these achievements without the support of both UW-Platteville, Baraboo, Sauk County and UW-System administrators.
"I didn't do this alone. This was with the support of the campus and the administration. They've all been wonderful, we've had to have the discussion to get here, it's great to have the allies on campus, " said Riviere. "When they announced that I won it was really like 'Huh' I was shocked."