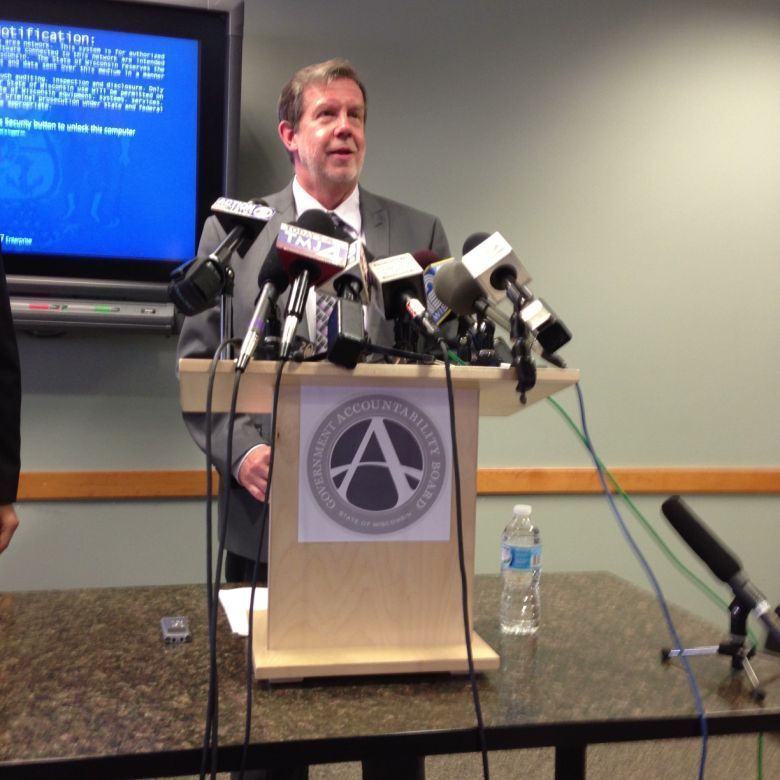 UPDATE, 9:05 a.m.: An emergency appeal filed late Tuesday argues that reinstating the requirement to show a government-issued photo ID to vote in the Nov. 4 election "imposes a radical, last-minute change to procedures for conducting an election that is already underway."
On Tuesday, the Government Accountability Board announced that voters who had already cast absentee ballots for the general election must present valid government-issued identification for those ballots to be counted.
The appeal by plaintiffs challenging Wisconsin's 2011 voter ID law asks that the full U.S. 7th Circuit Court of Appeals hear their appeal. The requirement, stalled by court challenges since 2012, was revived by a three-member panel of the court Friday.
"The risk of disenfranchisement from imposing such a last-minute disruption far outweighs the non-existent harm to the state of maintaining the status quo and not requiring photo ID for one more election," according to the plaintiffs, who include voters who lack the proper identification along with advocacy groups including LULAC, the Advancement Project and the American Civil Liberties Union of Wisconsin.
The plaintiffs argued that courts including the U.S. Supreme Court "uniformly caution against such eleventh-hour changes to the election laws, even where those courts have approved such changes for future elections."
------------------------------------------------
Wisconsin's top elections official said Tuesday that hundreds of voters who have already cast absentee ballots for the Nov. 4 election must show or send in a photocopy of acceptable photo identification to their local municipal clerk's office for those ballots to be counted.
Also Tuesday, plaintiffs in a lawsuit that challenged the voter ID requirement said they plan to appeal the ruling by three judges on the U.S. 7th Circuit Court of Appeals to the full court. That ruling on Friday reinstated the voter ID requirement that had been stalled since 2012 by court challenges.
"The panel's decision allowing this law to take effect this close to the election is a recipe for disaster," said Dale Ho, director of the ACLU's Voting Rights Project. "It will create chaos in election administration, resulting in voter confusion and disenfranchisement. The voters of Wisconsin deserve a chance to cast their ballots free of these obstacles."
Kevin Kennedy, director of the state Government Accountability Board, urged absentee voters to send copies or bring in a valid photo identification such as a driver's license to their local clerks as soon as possible to ensure their ballots would be counted. IDs can be presented in person or copies can be emailed, faxed or mailed.
Kennedy said more than 11,000 absentee ballot requests had been received statewide as of Friday. He said he didn't know how many had been returned by voters to clerks' offices but estimated it in the hundreds.
Clerks are being instructed to use "extraordinary measures," he said, to contact each absentee voter in writing to make sure they understand the new requirement. Overseas and military voters and those who live in a nursing home or other such facility are not required to show a photo ID to vote, he said.
Kennedy also said his agency and other state departments, including the Department of Health Services and the Division of Motor Vehicles, were working to ensure that voters who lacked proper identification would be able to obtain it before the election. The Wisconsin Supreme Court also upheld the photo ID requirement but ordered the state to make identification available for free to those who need it.
The court told the state that it could not require voters to pay for a birth certificate or other supporting documentation. If such proof is not available, the prospective voter can provide an explanation of why it's not available, the court ordered, along with "whatever documentation is available which states the person's name and date of birth." It will then be up to the DMV to determine if the verification is sufficient.
But Madison resident Jon Senchyne demonstrated the complexity of obtaining the required identification so close to the election. Senchyne said he doesn't have a driver's license, his passport has expired and his New York birth certificate was "severely damaged" the last time he applied for a passport.
Senchyne, who has voted without incident three times since moving to Wisconsin in 2012, said he was told by someone at the accountability board that it could take eight weeks for the DMV to verify his birth information.
"There are only seven weeks left until Election Day," he said. "I'm going to try to get the ID with the documents I have, but if it takes the DMV eight weeks to verify my citizenship ... the clock will run out before I can vote this November."
On its voter ID website, the DMV states that the agency "will attempt to process applications in less than seven business days, but completion time may be longer depending upon the responsiveness of the entities being contacted for verification."
Kennedy acknowledged that most university- or college-issued IDs also do not qualify, but he said his agency is working with higher-education officials to offer identification cards that do comply. He added that many students already have an acceptable identification, such as a driver's license.
Meanwhile, the American Civil Liberties Union said it planned to file a motion Tuesday with the 7th Circuit in Chicago in order to "protect the voting rights of Wisconsin citizens."
"With just seven weeks before Election Day, this last-minute change ... stands to disenfranchise the more than 300,000 registered Wisconsin voters — disproportionately voters of color — who lack the required form of identification," ACLU-Wisconsin spokeswoman Molly Collins said.
The court rarely grants such requests, but the ACLU and the Advancement Project vowed to "pursue all legal avenues" to stop the law.
GOP lawmakers passed a law in 2011 requiring people to show a government-issued photo ID at the polls. Because of legal challenges, the requirement had not been enforced since the February 2012 primary.
The Advancement Project and the ACLU filed a federal lawsuit challenging the mandate in 2011. A federal judge in Milwaukee found the law unconstitutional this spring, but Republican Attorney General J.B. Van Hollen has asked the 7th Circuit to overturn that decision.
A three-judge 7th Circuit panel — all appointed by former Republican presidents — ruled Friday that the state could implement the law while it considers the merits of the case.
Kennedy acknowledged Tuesday that implementing the requirement less than 50 days before the election "will not be easy, but the GAB and Wisconsin clerks are up to the challenge."
He noted that his agency developed training and public information materials back in 2012 when the requirement briefly was in place. He said those would be "repurposed" for the election. "We weren't unprepared for this," he said.
Asked at a news conference if the requirement to present a government-issued photo ID would dampen turnout, Kennedy said it could have the opposite effect by creating a "more energized and engaged" electorate.— The Associated Press
contributed to this report.
Be the first to know
Get local news delivered to your inbox!