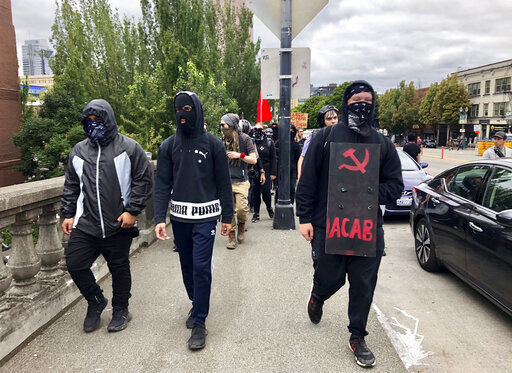 The coverage shows thousands of protesters taking to the streets, fearing an erosion of liberty. The flag they choose to bear in this fight for freedom is no less than the American flag.
Thousands wave them, for more than any other symbol of its kind, it has come to be the standard of freedom and individual rights across the globe. Video images showing outbreaks of the Star-Spangled Banner flashed across the internet. One would have thought the streets of a major American city was the scene for such an uprising, as a show of patriotism.
Those images came from more than 7,000 miles west of the California coast. The images were from Hong Kong, the site of a series of protests over concerns regarding Chinese authority.
An Aug. 12 USA Today story provided backdrop. Chinese Communists came to power in 1949, and millions of Chinese flocked to the tiny city of Hong Kong for their freedom, as the territory remained a British colony. In 1997, Great Britain handed over control of Hong Kong to China.
"Hong Kong operates under a 'one country, two systems' framework that was supposed to allow the territory to retain its own social, legal and political systems for 50 years." Continuing, "the tension was sparked by a since-shelved extradition bill, which would have allowed some suspects to be sent for trial in mainland China. Opponents believed the bill would expand Beijing's control on the bustling international hub."
Fearing further Chinese intrusion on Hong Kong's relative autonomy, protesters took to the streets demanding freedom. A long-time British colony chose to fly Old Glory, not the Union Jack. Those protesters are a movement in which Americans can take pride, as we still are a beacon of freedom across the globe.
Images of American flag waving, and singing the national anthem stand in stark contrast to recent events here at home. Portland, Oregon, has become a national flashpoint for contrasting protesters from the far right, and those affiliated with the Antifa movement.
You have free articles remaining.
The First Amendment to our Constitution provides us with a way to make our voices heard, stating the "right of the people peaceably to assemble, and to petition the government for a redress of grievances."
A key word is peaceably. There is nothing peaceable about the Antifa crowd. Often dressed in what amounts to riot gear, hiding their faces behind masks, outfitted with various personal weapons, nothing about the Antifa movement resembles peaceful.
Juxtaposed with the Hong Kong protesters seeking freedom, waving the American flag, Antifa members commonly fly the flags of communism and anarchy. They violently lobby for a system that caused more than 100 million deaths in the 20th century. No thanks. The movement promotes itself as "anti-fascist," essentially claiming the Donald Trump administration is made up of fascists. They want to tie Trump and his associates to the under-current of white nationalists.
The true political right despises "white supremacists" and wants nothing to do with their ideas. Asking potential immigrants to come to this nation through a process doesn't make anyone a white supremacist. It doesn't make us condone or agree with the tactics of the "Proud Boys." It doesn't make Trump, Republicans, or conservatives fascists. Conservatives abhor fascism, and all that it purports.
Fascism is total government control over thought, word and deed. This is the opposite of concepts of life, liberty and the pursuit of happiness, so stands in complete contrast with conservative ideas of smaller, less intrusive government and freedom of speech and thought.
Antifa members typically dress themselves in "black bloc," cowardly committing acts of violence without identification. An Aug. 19, 2017, CNN story took an inside look at the movement and their tactics. Part of the story was an interview with a long-time activist in the anarchist movement, who admitted the Antifa participants hide their identities to allow them to break windows, destroy property, harass and assault individuals with no fear of reprisal.
Most of the left has refused to condemn acts of violence. On July 13, an armed Antifa member stormed a Tacoma, Washington, immigration facility with a rifle and Molotov cocktails. Notably, at a July 15 news conference, several new members of Congress on the far left refused to condemn the terrorist action and called for the abolition of Immigration and Customs Enforcement agency.
It is when we fail to condemn acts of violence in the name of "protest" on the far left, or the far right, that we depart from the concept of peaceable assembly. Rather than condone anonymous vandalism, we should instead strive to be the beacon of hope for freedom like the folks in Hong Kong see us to be.
Scott Frostman lives in Baraboo and has roots throughout Wisconsin. He believes anyone can make a difference and can be reached at scfrostman@gmail.com.