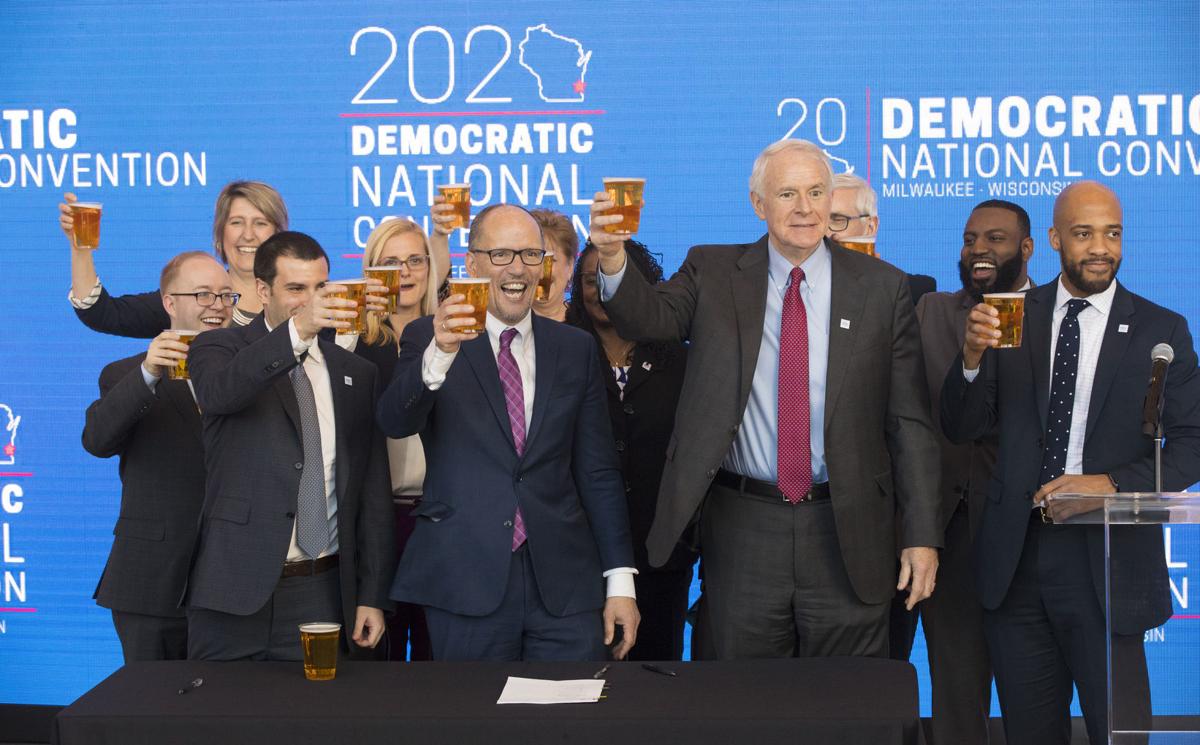 Your pre-dawn alarm goes off, and you shake off effects of the previous night's revelry. You bustle to get ready, hoping not to miss your ride. Across the way, dozens of diesel-powered buses with their obnoxious engines rattling incessantly pierce the summer morning's quiet.
You board the bus for at least a 90-minute ride. Along the route, you monotonously pass corn fields, small forests and shops on the flat stretch of interstate. The day's end marks a 90-minute trek back.
You're a delegate to the 2020 Democratic National Convention, coming to Milwaukee in July. This is your opportunity to visit "fly-over" country, and you're anxious to see the Midwest. Democrats chose Milwaukee for their convention site this election cycle, largely because Hillary Clinton snubbed Wisconsin in 2016, and they hope putting a toe in Midwestern waters will ensure victory in November.
You won't get to experience much Midwestern flavor as the Democratic National Convention parked your hotel room more than 80 miles south of Milwaukee in Rosemont, Illinois.
On Aug. 22, organizers for the Democratic National Convention announced hotel assignments for 57 convention delegations. An Aug. 23 WTMJ story reported 31 delegations will be put up in and around Milwaukee, with 26 delegations staying in northern Illinois. Thirteen delegations will stay in Lake County, and 13 more in Rosemont, near O'Hare International Airport. While the actual convention proceedings will happen in Milwaukee, there is a very distinct Illinois flavor to the event.
The announcement is a rather large slap in the face to a whole bunch of communities surrounding Milwaukee. Five delegations will be in Waukesha County, but none anywhere else. In a Fox6 News story Aug. 23, Real Racine's President and CEO Dave Blank stated, "We're benefiting. We're just not going to see the delegates." I'm not sure how many delegates will spend time and money in Racine when their only view will be passing on I-94 in a bus.
You have free articles remaining.
The Fox 6 story continued, "Blank said some delegations are heading to Illinois because hotels farther out of Milwaukee did not meet the required criteria, including full food and bar service at late hours." One must have that late night full bar after a day of virtue signaling.
No hotels were suitable for Democratic delegates in places like Racine, Kenosha, and Sheboygan. Why, no Starbucks in Kohler? Even the liberal haven of Madison was shunned from inclusion. All those communities are a much simpler trek for conventioneers. None of the hotels in those communities, or the vast array of smaller communities and suburbs met their criteria? Too good to actually stay the night in Wisconsin? Not cosmopolitan enough? Doesn't Beaver Dam offer a sparkling array of venues for experiencing Wisconsin's version of nightlife? Convention dates keep them from experiencing a Friday Night fish fry.
Imagine spending four hours a day on a big diesel-powered, fuel-guzzling behemoth so you can spend the day righteously prattling about climate change and the evils of fossil fuels, and promoting the "Green New Deal" to eliminate the air travel that brought you in from your coastal haven. Hope there aren't any plastic straws in use anywhere in the Fiserv Forum or hotels delegates use, as that would be unconscionable.
We should support the money wasted by the DNC, its convention and delegates, as it's far less money that can be devoted to actual campaigns. One who was happy to see so many visitors coming was Illinois Gov. J.B. Pritzker. Chicago Sun-Times columnist Lynn Sweet on Aug. 22 pointed out, "Gov. J.B. Pritzker cheered the Milwaukee convention business spillover for Illinois." Spokesman Emily Bittner told the Sun-Times in a statement, "Pritzker fought to bring the convention to the Midwest in part because it's great for Illinois businesses."
Sweet also was candid about the prospect of the travel. "Nothing against Rosemont, with a plethora of four-star hotels nested around O'Hare Airport. It's just that Rosemont is, to use a technical term, a schlep from Milwaukee, even taking the I-294 Illinois tollway."
Not having convention delegates stay in hotels in cities in closest proximity to Milwaukee speaks to a sort of ignorance and arrogance about folks in the Midwest. It does not appear to be a good way to endear yourselves to the average Wisconsin Democrat and their grassroots efforts.
Perhaps convention organizers are concerned delegates may encounter MAGA-hat-wearing, church-going, flag-waving deplorables out there in the boondocks. It certainly makes no economic sense, but we are talking about a potentially large contingent of Bernie Sanders-Elizabeth Warren-type supporters, who are severely challenged by the concepts of economics and feasibility.
It is crystal clear Wisconsin is a critical battleground for the 2020 election, and both sides of the political aisle know it. Even if one is staying in Illinois.
Scott Frostman lives in Baraboo and has roots throughout Wisconsin. He believes anyone can make a difference and can be reached at scfrostman@gmail.com.