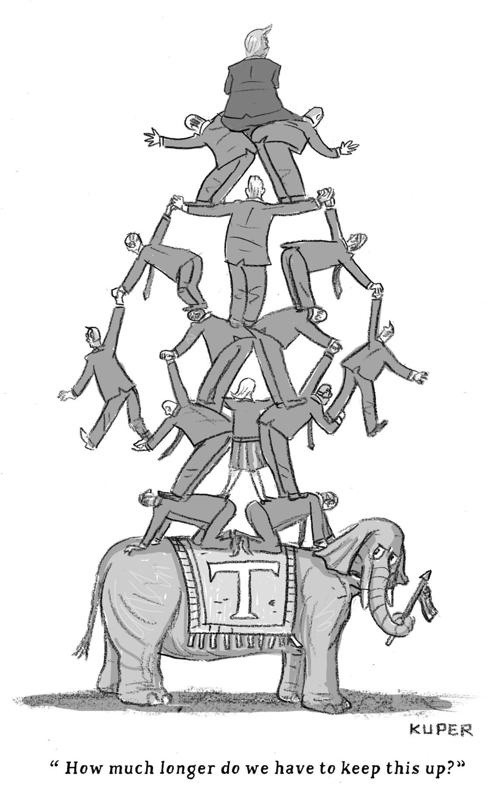 There's a new political party in this country. It's called the Hypocritical Party and it constantly lives up to its name. According to the Merriam-Webster dictionary, the word "hypocrite" had its origin in "13th-century religious texts to refer to someone who pretends to be morally good or pious in order to deceive others." That's why this name for Donald Trump and the lawmakers who support him fits so perfectly.
Trump, as the founder and idol of the Hypocritical Party, has always been a hypocrite. In 2012, according to Michael Cohen, his long-time attorney, a group of pastors laid hands on him in blessing. As soon as they left, he said to Cohen, "Can you believe people believe that bull----?"
After he was elected, a group of evangelical Christians laid hands on him in the Oval Office. A photo of the event shows him bowing his head in pretend reverence. He sure had them fooled because, amazingly, a majority of evangelical Christians still support him. They've ignored Trump's words and actions as well as every credible piece of evidence that proves he says and does the opposite of what Jesus taught. He always has.
Trump's niece, Mary Trump, recorded a phone call with her aunt Maryanne Trump Barry who is Donald's older sister and a former federal judge who's known him since he was born. In that call, when talking about Donald, she told her niece, "He has no principles. None." Even more revealing is the entire conversation which can be heard on YouTube and is titled, "Trump's sister recording: He has no principles."
Proof of his lack of principles is verified by not only his former attorney, but by Tony Schwartz, the actual writer of "The Art of the Deal" who stayed by Trump's side for almost a year to get material for the book. Then there are several of Trump's former staff, four-star generals, cabinet members and acquaintances who have stated he's a sociopath and a pathological liar who has no heart, no empathy, no feelings for anyone but himself. Republican leaders in Congress and in state legislatures who declare their Christianity know all of that, and still enable him. If that's not hypocrisy, I don't know what is.
But they're not alone, there are plenty of hypocrites in the Trump camp.
Remember in mid-November 2016, when Green Party candidate Jill Stein demanded that recounts in Pennsylvania and Michigan were called for because the numbers were so close? Hillary Clinton, reluctantly went along with it although she had already conceded the race to Trump early on Nov. 9. On Nov. 26 of that year, NPR reported, "Clinton campaign directors had not pursued a recount themselves because they 'had not uncovered any actionable evidence of hacking or outside attempts to alter the voting technology.'"
Back then, Donald Trump, prominent Republican lawmakers, Sean Hannity and several other Fox pundits raged and made fun of Stein, Clinton and other Democrats for wanting a recount, and called them whiners and sore losers. Trump's current attorney and enabler, Rudy Giuliani, called them "a bunch of spoiled crybabies," and said it's "really not the right thing in a democracy" to contest the results of a presidential election. Today they're all saying the opposite as they defend Trump's unfounded accusations of voter fraud and demands for recounts. Do they realize how ridiculously hypocritical they are?
Then there's their supreme hypocrisy when it comes to Supreme Court appointments. Eight months before the 2016 presidential election, Mitch McConnell and other GOP lawmakers, including our Sen. Ron Johnson, refused to consider President Barack Obama's pick for a Supreme Court justice. Back then, they said the voters should be able to decide, so there should be no Supreme Court appointment during an election year.
This year, they hypocritically and gleefully agreed they were just fine with President Trump appointing, and their approving, a new Supreme Court justice only two weeks before Election Day. Two weeks—opposed to eight months when Obama was president. There are many more examples of their blatant hypocrisy, including their accusations that Democrats are "commies," yet ignore that their supreme leader believed former KGB agent and Russian president Vladimir Putin over U.S. intelligence agencies and got a love letter from North Korea's communist dictator Kim Jong-un. Meanwhile, as Trump belittled and alienated several leaders of European democracies, the hypocrites were silent.
The "fiscal conservative" members of the Hypocritical Party also ignore that the national debt and deficit have reached all-time highs under Trump. Many more examples of their selfish hypocrisy could fill books. But Democrats, Independents, old-school Republicans and others who value truth and morality didn't fall for it. That's why Joe Biden will be president on Jan. 20. And that's no lie.
Pat Nash has lived in the Baraboo area, off and on, for more than 35 years. Contact her at patnash5149@gmail.com.