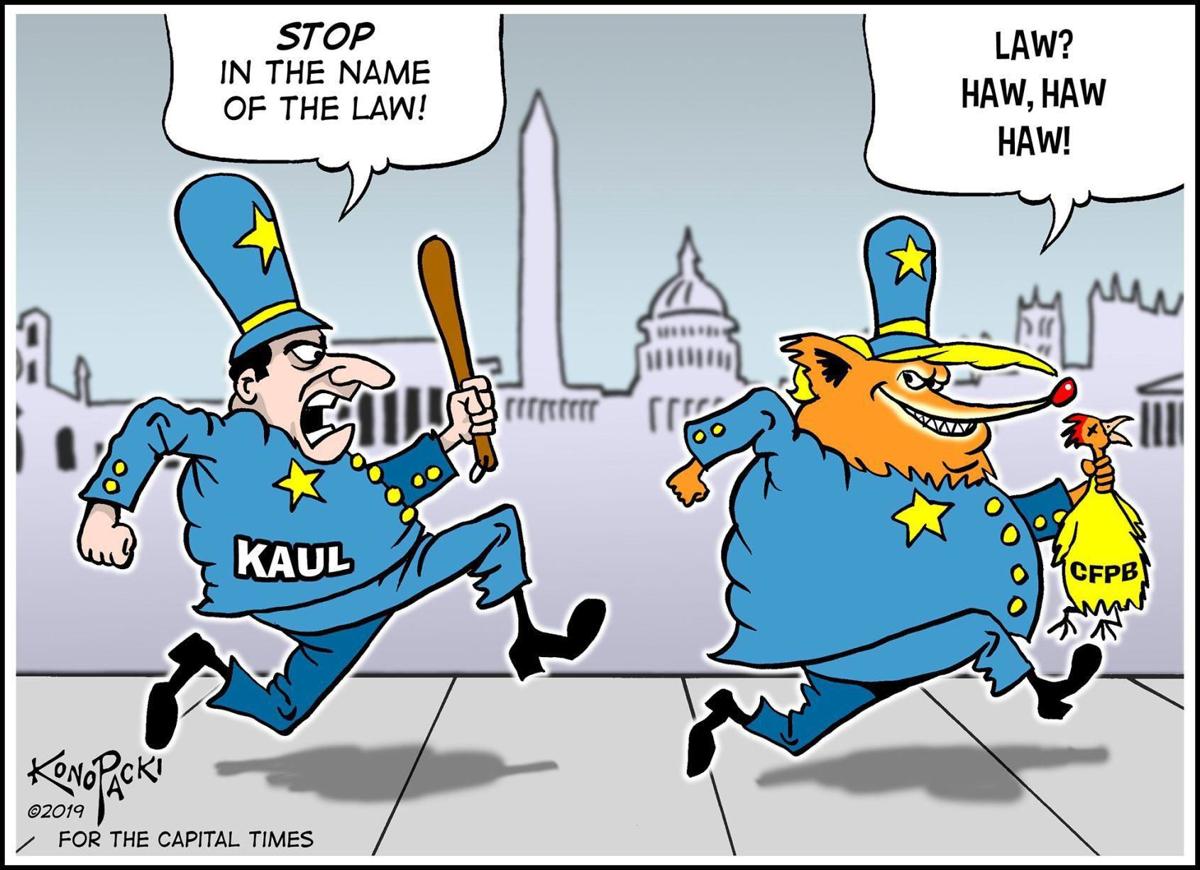 The news release from state Attorney General Josh Kaul's office at the end of September was most welcome.
Kaul announced that Wisconsin was joining a coalition of 28 other attorneys general to push back on the Consumer Financial Protection Bureau's astonishing new debt collection rules.
They were astonishing because they showed just how far the Trump administration has gone to completely neuter the bureau, an agency created to protect America's consumers against the abuses of the financial industry — abuses that were instrumental in creating the Great Recession of 2007-08.
The debt collection rules are just the latest in a series of actions that have essentially turned the consumer agency on its head. Instead of placing the interests of consumers first, the rules favor the interests of the debt collectors who have notoriously engaged in abusive, deceptive and unfair debt collection practices that prompted Congress to pass some consumer safeguards more than 20 years ago.
Instead of building on that, however, the bureau under Trump is retrenching.
As Kaul pointed out in a letter to the bureau, the new rules allow debt collectors to place up to seven calls per week for each debt that a consumer may have, allow an unlimited number of electronic communications and fail to protect the debtor's privacy by giving the collector permission to talk to anyone who may answer the phone. Additionally, the new Trump administration rules allow debt collectors to take advantage of consumers who fundamentally don't understand their rights, and open the doors for collectors to file lawsuits that drain yet more money from those already deeply in debt.
But this kind of behavior under Trump's tutelage is par for the course. Early on, when Trump replaced Barack Obama's Consumer Financial Protection Bureau administrator Richard Cordray with Mick Mulvaney, now the president's chief of staff, one of this tea party Republican's first acts was to rescind rules governing payday loan predators.
As a congressman, Mulvaney was a big defender of the payday parasites, and not coincidentally, received thousands of campaign contributions from them. As everyone knows by now, conflicts of interest don't mean a thing in this administration.
Since Mulvaney is now Trump's beleaguered chief of staff, he's been replaced at the bureau by Kathy Kraninger, a former Homeland Security official who believes the consumer bureau is unconstitutional in the first place and should be dismantled. Yup, another fox in the hen house, helping "make America great again."
What's so sad is the consumer protection bureau in only its first few years has helped tens of thousands of Americans who were overcharged with unfair fees on bank accounts and credit cards. It wrote new rules so consumers could challenge unfair mortgage practices, has been monitoring the student loan industry for fraud and deceit and is keeping an eye on financial gimmicks like the ones that brought the American economy to its knees in 2007-08.
In 2017 alone, the bureau, under Cordray's direction, recovered $12 billion for consumers from financial institutions found to be engaging in unfair practices.
The bureau was created in 2011 as part of the Dodd-Frank financial reform act to prevent another economic meltdown. It was actually the brainchild of Elizabeth Warren, then a Harvard Law School professor and now a U.S. senator running for the Democratic presidential nomination.
The story of how Warren promoted the idea, and how she was able to get Congress to make it law, is a classic example of how one citizen can bring about change to help ordinary Americans have a fighting chance against the entrenched special interests.
Warren not only set up its structure, but was involved in recruiting investigators and consumer advocates to staff it. President Barack Obama elected, however, not to make Warren its first director, but picked the equally competent Cordray instead.
And he made it work the way Warren had intended.
But now it's taken just one man to begin tearing it down, just like he's done with nearly everything that Obama's administration created — from chipping away at the Affordable Care Act to dismantling anything designed to battle climate change.
It's unlikely Kaul's letter will change any minds in the Trump administration, but someone needs to hold some feet to the fire. We're rapidly returning to the days when ordinary citizens had to fend for themselves, outmatched by those with power and money.
But, hey, let's rejoice. We're becoming great again!
Catch the latest in Opinion
Get opinion pieces, letters and editorials sent directly to your inbox weekly!