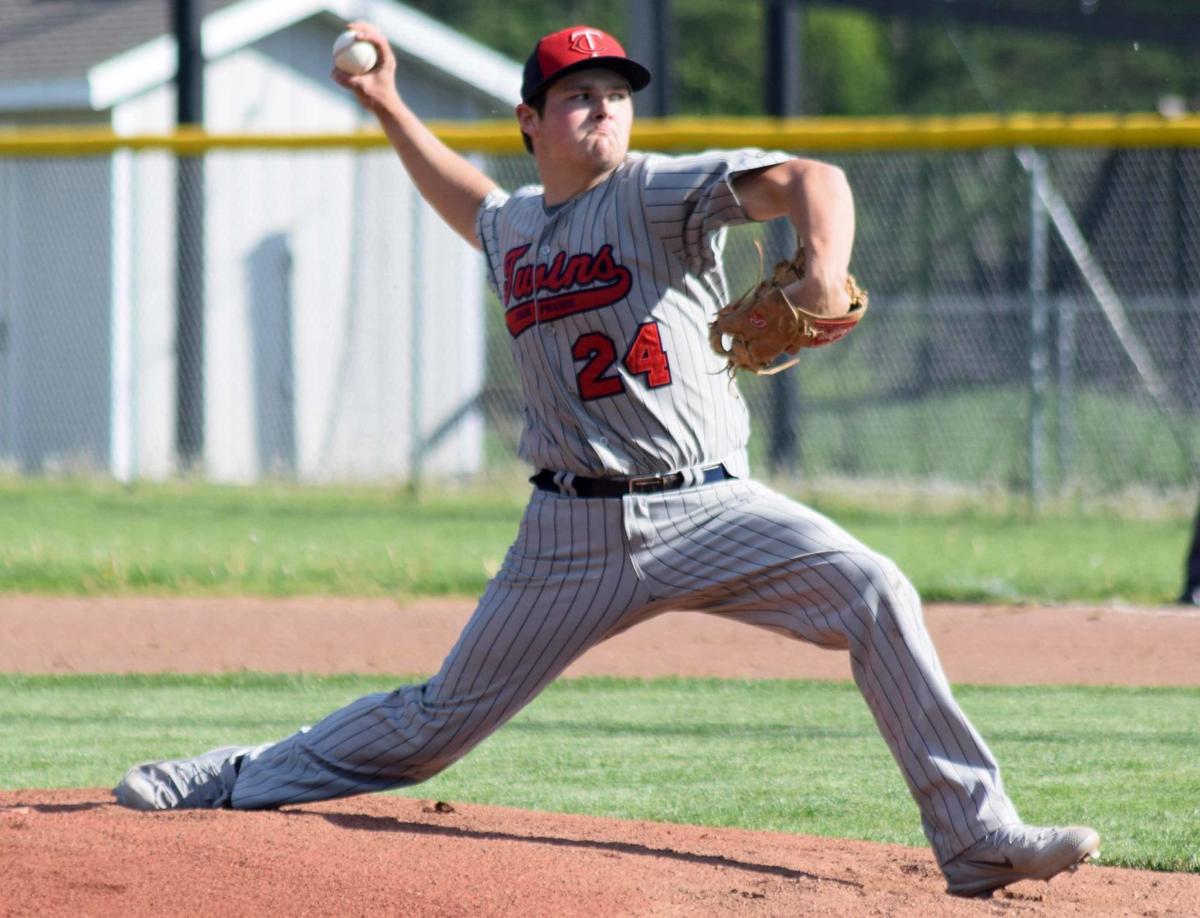 The unbeaten Sauk Prairie Home Talent baseball team has been asked to win in a number of ways this season.
The Twins have passed them all so far, including leaning on their pitching last week. Adam Ballweg threw a no-hitter in Sauk Prairie's 11-1 win at Cazenovia in a July 8 Night League game, then Connor Leister tossed a complete game in Sunday's 2-1 home win over Ashton in a pair of Northern Section tilts.
Ballweg got the week started by striking out four while allowing just two walks and one unearned run in six innings against Cazenovia. It was Sauk Prairie's first no-hitter since Leister blanked Wisconsin Dells in 2019.
"Adam did a really nice job of pounding the strike zone with his sinker," Sauk Prairie player/manager Lucas Koenig said. "He induced a lot of weak contact ground balls and the defense took care of the rest. Adam is the ultimate team guy and has worked hard on his pitching repertoire."
Ballweg helped himself at the plate, going 3-for-3 with three RBIs and a run scored. The rest of the Twins also provided run support, racking up 14 hits and opening the game with a five-run first inning.
Chucky Schara, who went 2-for-4, led off the game with a single. Ben Lenerz, who went 3-for-3 with three RBIs and two runs, was hit by a pitch and Leo Joyce walked to load the bases.
Ballweg hit an RBI single, Leister was hit by a pitch to force a run in, Jeremy Meier walked to force another in, and Grant Schlimgen singled to score Ballweg and Leister and give Sauk Prairie a 5-0 lead.
The Twins, who also got doubles from Sam Koenig and Leo Joyce, tacked on three runs in the second, two runs in the fourth and a run in the sixth.
Sauk Prairie improved to 8-0 in Sunday League play with Sunday's 2-1 home win over Ashton (5-2).
After scoring 14.0 runs per game in their last five Sunday League games, Sauk Prairie's bats couldn't carry the day Sunday, as Ashton's Matt Ballweg tossed six strong innings before Ben Collier tossed two scoreless frames.
Leister matched them pitch-for-pitch, however, striking out four while allowing five hits and one walk in nine innings.
"Although our bats were quieter than they have been, Connor was feeling strong and did a great job working the edges of the strike zone," Lucas Koenig said.
The Twins broke the scoreless tie in the fourth inning. Elliot Dederich hit a two-out double — Sauk Prairie's first hit of the day — and came around to score on Lucas Koenig's single to left field.
Ashton pulled even in the top of the seventh when Liam Belleveau led off with a single, advanced to third on Chris Miller's single and scored on Brooks Kalscheur's one-out sacrifice fly.
The Twins answered immediately though, with Dederich again providing the spark. He led off with a walk and eventually scoring on a Schara single. That was enough run support for Leister, who retired Ashton in order in the eighth and ninth.
The Twins hold a three game lead in the Northern West Division with three Sunday League games remaining, starting with a July 18 game at Mazomanie. Muscoda (4-2) sits in second in the Northern West, followed by the Mustangs (3-4), Reedsburg (3-5), Cazenovia (0-6) and Wisconsin Dells (0-7).
"We are really having fun as a team right now," Lucas Koenig said of the Twins, who also inducted Jack Voll and Phil Cole into the Sauk Prairie Baseball Hall of Fame on Sunday. "It was a great day at the park, with a large crowd, a quality opponent and the chance to acknowledge our 2021 hall of famers."
Reedsburg walked it off Friday night, as Durrell Naquin singled home the game-winning run to give the Pirates a 12-11 home win over Sparta.
Wyatt Molitor had a four-hit night, while Hayden Hahn had two hits and earned the win on the mound. Danny Kast also had two hits, and Chris Jones and Hunter Wais each doubled.
The Pirates suffered a 10-0 loss to Middleton on Sunday.