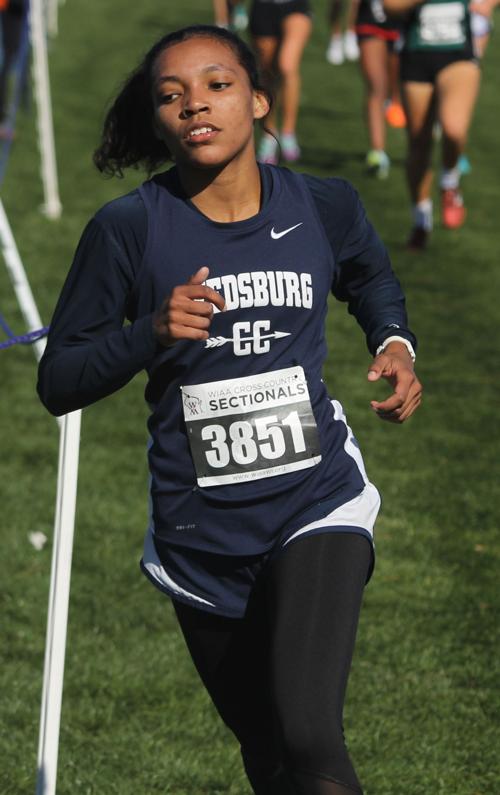 Sauk Prairie's Jack Boerger knew exactly where he stood when he crossed the finish line second Saturday morning at the sectional meet in DeForest. Reedsburg's Jacqueline Lacen had to wait a little longer after placing 12th.
But when the results were posted, they were both in the same place, qualifying as individuals for next weekend's WIAA Division 1 state cross country meet in Wisconsin Rapids.
"I had no idea," Reedsburg coach Brandi Durst said of if she thought Lacen's 5,000-meter time of 20 minutes, 4.69 seconds was good enough to make her one of the five individual state qualifiers. "I had a feeling she did, but I needed to see it in order to be verified."
When the results were posted, Lacen was in the fifth and final qualifying spot, finishing ahead of Sauk Prairie's Catherine Gregg (14th, 20:08.11), who just missed out on her first state berth.
"When we saw, she was very happy, she was crying, she was very proud of herself," Durst said of Lacen. "She's a senior, too, so it means quite a bit. She's gotten so close to state in past years, so for her to be able to do it is awesome. That was amazing."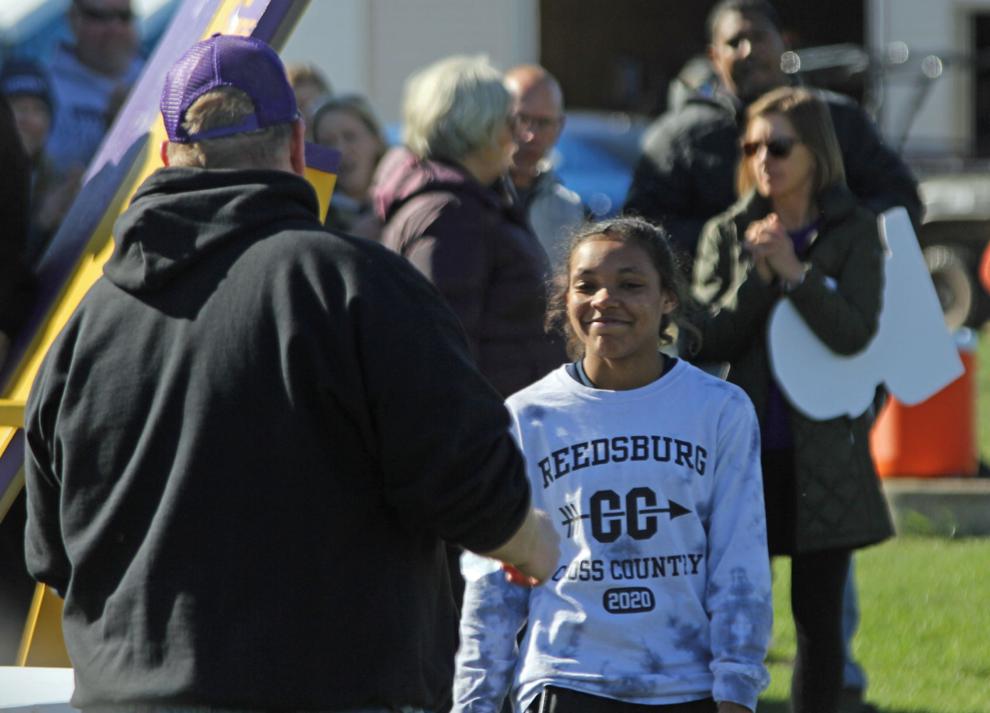 Durst knew Lacen had the speed to advance out of a difficult sectional meet, but she didn't know exactly what to expect heading into Saturday's 82-runner event.
"Deep down I had a feeling she was going to make it, but I wasn't sure because she hadn't ran in a meet lately and she's been dealing with some health struggles as of late," Durst said. "So I wasn't sure going into it."
But Lacen ran fast enough to join Monona Grove's Mackenzie Babcock (third, 18:32.55), Madison Memorial's Annika Cutforth (fifth, 18:55.56), Waunakee's Cianna Wipperfurth (seventh, 19:16.78) and DeForest's Rylan Oberg (11th, 19:51.81) as individual qualifiers. 
Middleton's Lauren Pansegrau (17:24.29) and Zaira Malloy-Salgado (18:06.93) finished first and second, respectively, in the girls' meet, as the Cardinals (23 points) and Madison West (67) qualified for state as teams. Monona Grove (105) took third, followed by Waunakee (106), Madison Memorial (136), DeForest (140), Verona (187), Madison East (206), Sauk Prairie (238), Baraboo (283) and Tomah (347).
The Middleton (61) and Madison West (82) boys' teams also advanced, while Middleton's Griffin Ward (15:44.76) won the individual title. 
He was the only runner to finish ahead of Boerger, who placed second in 16:04.07.
"I think I ran well to start out," Boerger, a junior making his second straight state appearance, said. "I really got ahead of the pack, which I didn't do my freshman year. And I kind of just stayed there the whole race and finished strong."
While Boerger also took second at sectionals last season, Saturday was a bit different as everybody was back on the course a year after the COVID-19 pandemic significantly trimmed the sectional field. That meant Boerger needed to go faster to advance this year. And he did so, taking 28.92 seconds off his 2020 sectional time.
"It was different than last year because the competition was different," he said. "I was honestly just looking to get in the top five and qualify. I expected at least three people to be in front of me. I'm happy with how I finished."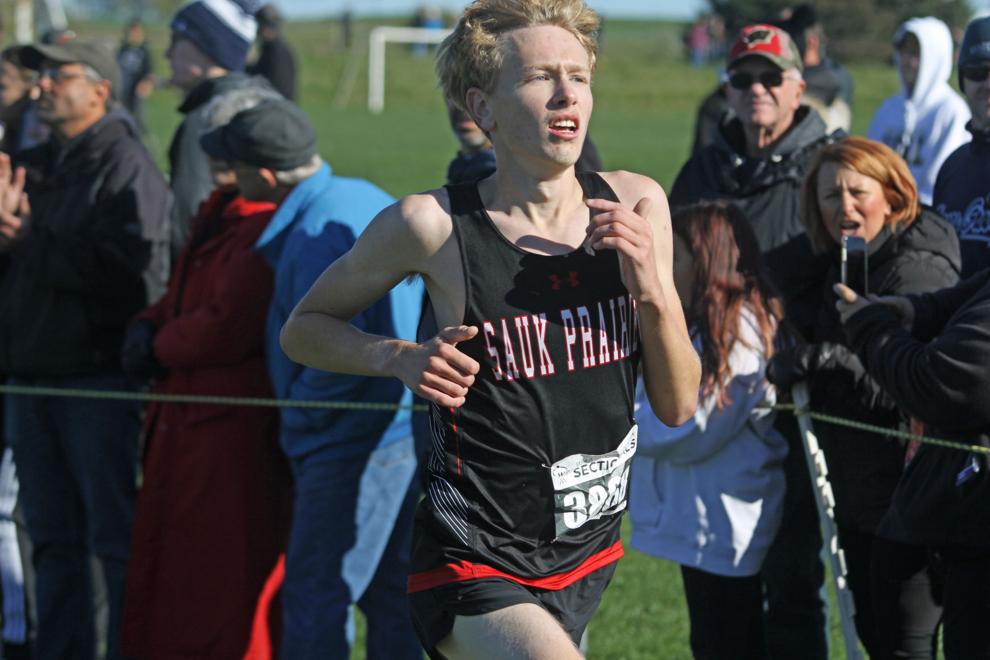 Now he'll head to Wisconsin Rapids looking to improve on his 44th-place state finish from last season, when he crossed the finish line in 16:53.1.
"I went out way too fast last year and ended up finishing badly," Boerger said. "This year, I'm looking to start out strong, but not too strong, and just maintain that steady pace and try to get a top-15 finish."
He's put in the work to do so, trimming a significant amount of time in the past year, and over a minute and a half since he took 47th at sectionals with a time of 17:47.3 as a freshman.
"I ran a lot more this summer than I did last year, I think," he said. "I definitely trained more consistently and in a more structured setting."
While Boerger's competed at state before, Lacen has everyone in the Reedsburg program in new territory.
"This is the first time someone from Reedsburg has gone to state in a very long time, so I don't know what needs to be done," Durst said. "But I know some of our kids will come with us for support.
"I'm so proud of all my ladies today, they all worked so hard this season."
Payton Cunningham (24:04.24) added a 74th-place finish for the Beavers, while Mollie McCormick (26:42.97) took 81st and Ryleigh Bychinski did not finish.
"A special shout-out to Payton Cunningham as this was her senior year," Durst said. "She has been such a special member of our team these past four years. It simply will not be the same without her."
The Sauk Prairie girls were led by Gregg and also got a 49th-place finish from Natalie Curtis (21:39.67), 57th-place finish from Lexi Been (23:02.18), 61st-place finish from Elena Homar (23:20.22), 64th-place finish from Ava Jorgenson (23:24.02), 65th-place finish from Kassia Marquardt (23:25.50) and a 69th-place finish from Meadow Liedtke (23:40.44)
On the boys' side, Sauk Prairie's Dalton Zirbel took 18th in 17:12.23. Carson Enge (18:35.89) followed in 56th, while Jay Dregney (18:43.91) took 62nd, Jonah Richard (19:15.22) took 70th, Kaleb Hansen (19:28.03) took 72nd and Dylan Quayloe (19:42.17) took 77th.
The Reedsburg boys were led by Caden Schneider. The senior used a time of 17:16.49 to take 20th out of 84 individuals.
Reedsburg's Treynor Curtin (18:58.51) took 67th, Alek Southworth (19:30.31) took 73rd, Ben Bruer (19:36.27) took 75th, Arik Bauer (19:38.44) took 76th, Logan Churchill (20:02.28) took 79th and Max Stingley (20:12.53) took 80th.