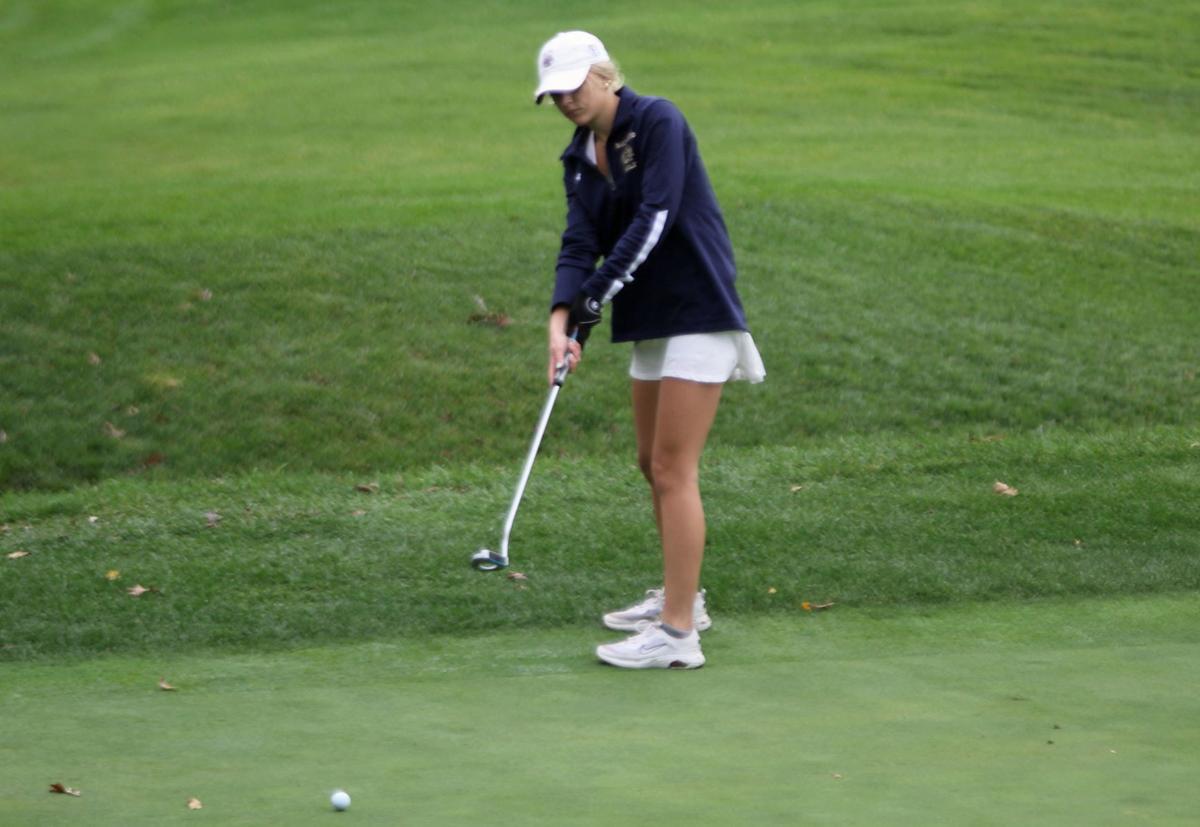 Caroline Lewison has never played this much golf.
After making her first trip to both sectionals and state, the Baraboo senior closed out her high school golf career by shooting a 99 at University Ridge Golf Course in Madison on Tuesday.
"It was a really cool experience and I'm thankful to have my teammates here to support me and a great coach," Lewison said. "Just overall a really cool experience, even though I didn't play my best."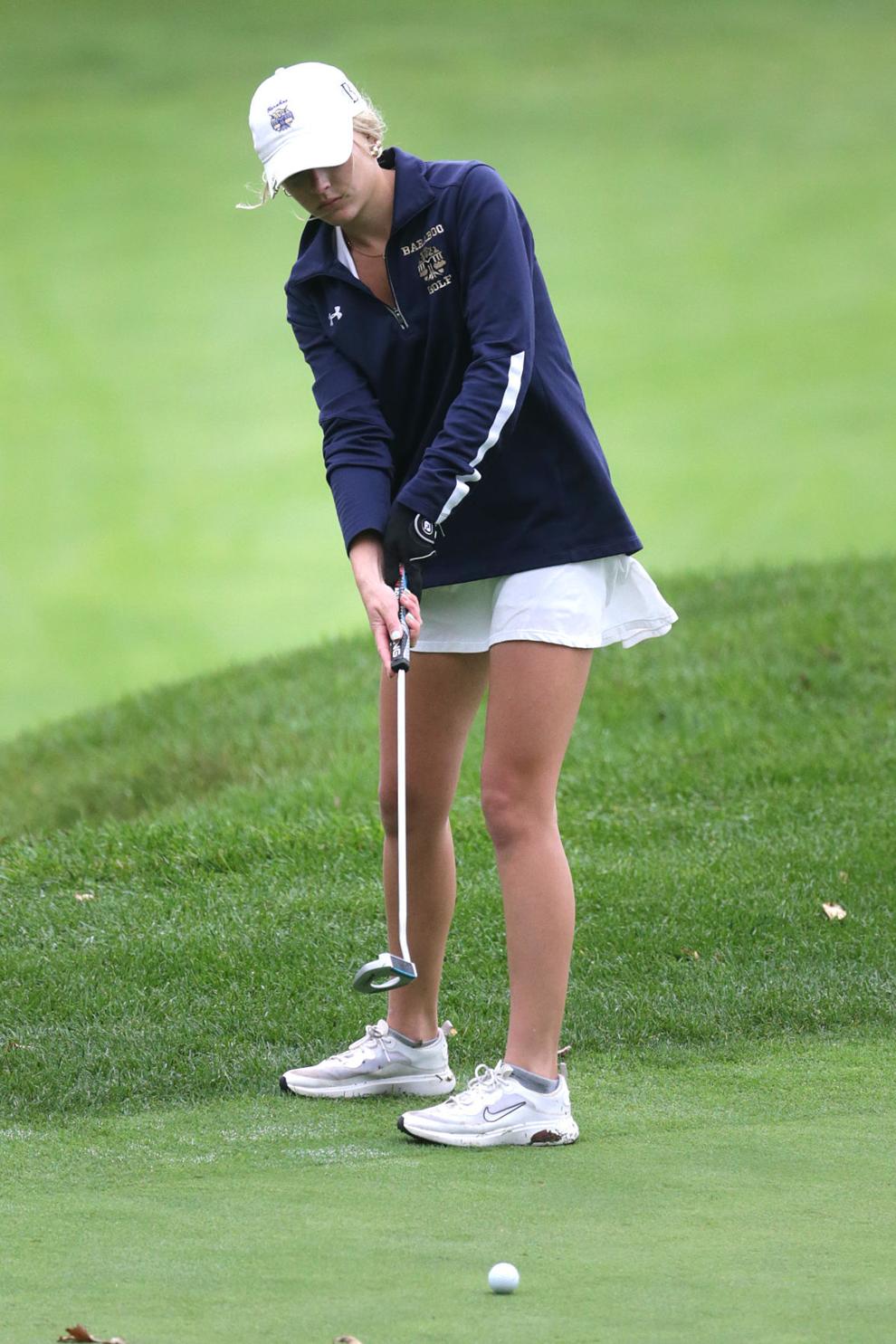 Counting Sunday's practice round, Tuesday was Lewison's third 18-hole round of the week — and easily her first time ever golfing 54 holes in three days. Her 27-over-par round on Tuesday combined with her 93 on Monday gave Lewison a 192 on the state scorecard.
"I'm super proud of her," said Baraboo head coach Steve Lien, who took over for Landon Brownell over the summer. "I never would have dreamed that we would have been at state at the beginning of the year — and here we are."
Lewison placed 66th in a WIAA Division 1 state meet that was won by Stevens Point's Riley Pechinski (141), who shot a 70 on Monday and a 71 on Tuesday to finish with a 3-under-par 141. Union Grove's Norah Roberts (75-71) and Appleton North's AJ Powell (72-74) each shot a 2-over-par 146 to tie for second.
Westosha Central won the team title, carding a 318 on Monday and a 319 on Tuesday for a two-day total of 637. That was enough to beat out Sussex Hamilton (644), Middleton (650), Brookfield Central (656) and Bay Port (662) in the 12-team field.
After battling through Monday's wet, weather-delayed round, Lewison was tied for 59th entering Tuesday. She started the second day on the back nine, where she parred two par 4s — the 15th and 18th holes — to head into the turn with a 49. She walked over to the front and shot a 50 thanks to parring the par-4 first, par-3 fifth and par-3 eighth to finish the two-day meet with 10 pars and a birdie.
"I was talking to some other coaches, there are very few players that come down here for the first time and play well," Lien said. "Just to get used to the atmosphere and everything going on. You realize you're on a pretty big stage. And when it's the first time you're there, it can be a little intimidating. But, in stretches, she played really well.
"The other thing that really played into it was the conditions yesterday. Even today, the rough was so thick and so wet. If you get in the rough, you can really get hung up."
Lewison, who was the lone Baraboo golfer to reach sectionals, qualified for state by shooting a season-best 82 at Foxboro Golf Club on Oct. 4. She was the third Baraboo girl to compete at state golf, joining Heidi Jaslin (1982) and Carly Moon (2018).
Lewison played alongside three more individual qualifiers on Tuesday — Oconomowoc's Katie Westbrook (tied for 57th, 182), Oregon's Addison Sabel (tied for 63rd, 187) and Wausau co-op's Tess Bruner (tied for 53rd, 180).
"There's a lot of really good girls. A lot of them, golf is their main sport and they play a lot of summer tournaments and get a lot of experience in these kinds of settings," Lien said. "Caroline's never done that, playing softball so much. So we appreciate the fact she even got here based on some of the experience the other kids have. You've got to put it into perspective."
With no winter sport, Lewison says she'll spend some of the next few months visiting colleges. Then she'll start preparing for softball, where she had a 3.335 ERA and a .400 batting average last season.
But first, after being thankful her friends were able to be on the course to support her, Lewison plans to do the same for Paige Lewison, her cousin, and Lanie Koppie when they begin the Division 1 individual state tennis tournament on Thursday at Neilsen Tennis Stadium in Madison.
"She had a good group of seniors that were here both days," Lien said. "And I'm sure they'll be going to tennis too."
Prescott wins Division 2 title
Prescott's Ava Salay won Division 2 medalist honors, shooting a 78 on Monday and a 70 on Tuesday for a 148. The junior won by 14 strokes, as Jefferson's Payton Schmidt took second with a 162.
Salay helped lead the the Cardinals to the team title as they finished with a 671 across the two days. St. Croix Central (720), Racine Prairie School (723), Freedom (765), Arcadia/Independence (789) and Madison Edgewood (792) rounded out the Division 2 team participants.