It's playoff time for the Baraboo prep boys soccer team.
The Thunderbirds got a good taste of the postseason atmosphere on Tuesday, suffering a 3-0 loss to Oregon in the Badger West Conference championship game at Beryl Newman Stadium in Baraboo.
"It was a really great game," Baraboo head coach Tyler Lang said of his team's performance against the Panthers, ranked second in Division 2 team in the Wisconsin Soccer Coaches Association poll. "We were competitive throughout. We came out with a lot of intensity, but also with nice composure. We're hoping to see them again in playoffs."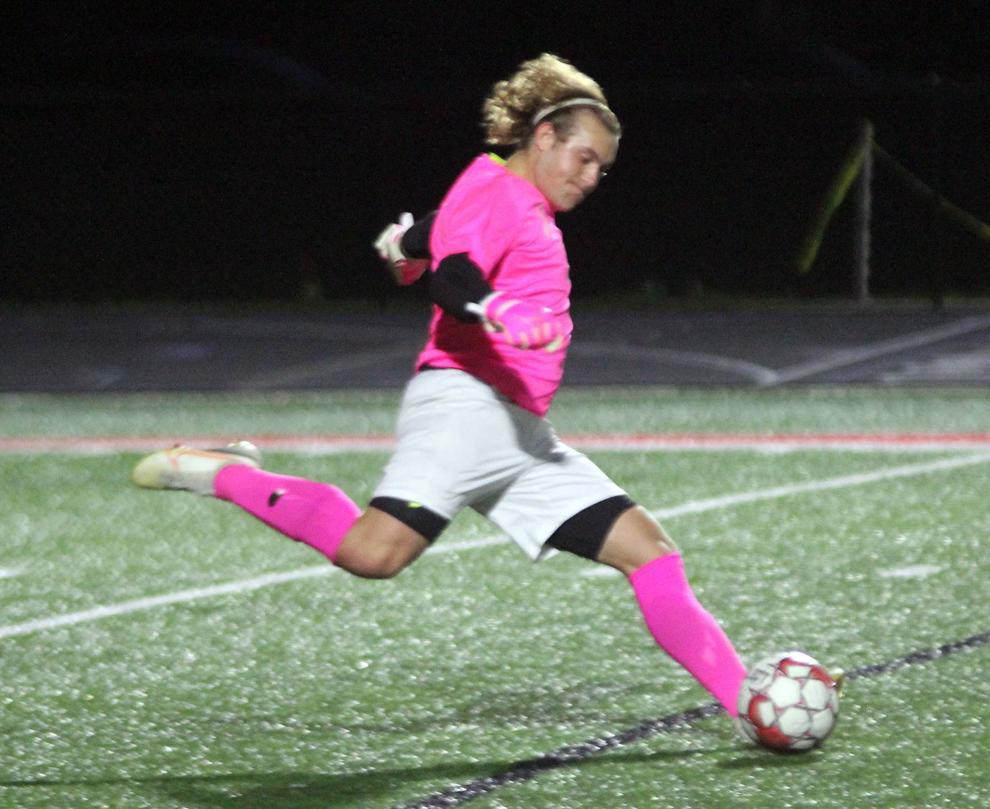 Baraboo (14-6-2, 5-2-1 Badger West) went into halftime with a 1-0 deficit before giving up a free-kick goal early in the second half.
"It was 2-0 most of the second half, and we had some great opportunities, but their keeper made some good saves," Lang said. "Unfortunately, it didn't go in our favor. But we played really well."
The T-Birds have been playing well for a while, going 9-3 over the final 12 games of the regular season — and showing significant improvement since suffering an 8-0 loss at Oregon (16-0-2, 7-0-1) on Sept. 14.
The third-seeded T-Birds will look to carry that level of play into the WIAA Div. 2 tournament. They'll have nearly a full week to prepare to host No. 14 Stoughton in a regional semifinal on Oct. 19. The winner will advance to face No. 6 Union Grove or No. 11 Westosha Central on Oct. 23.
"We've been kind of switching between two formations this season, so it's just kind of fine-tuning those little aspects that can make a big difference," Lang said of the practice plan heading into regionals. "So just tightening up the runs to open up space up top, and making sure that defensively we're organized. That's going to be key going into playoffs.
"It's really about mentality and who gets the tactics right. Especially against other top teams, it can really come down to a free kick or one simple opportunity that we get."
Last season's experience should also prove beneficial heading into this year's postseason. The 2020 T-Birds, who played in Div. 1 due to the COVID-19 pandemic, won the first regional title in program history with a 2-1 win over Wisconsin Rapids on Oct. 24, 2020. They eventually suffered a 4-3 sectional-semifinal loss to Wausau West, but Lang believes those games should help the 2021 T-Birds come through in big moments.
"Especially competing in Division 1, that was really great experience," Lang said. "There's obviously good teams in our sectional, but we're the No. 3 seed, so we're hoping to at least make it to the sectional semifinal."
They've got the firepower to do so, starting with the program's all-time leading scorer. Johan Lopez has scored 75 goals through his first three seasons of high school soccer.
After breaking Baraboo's single-season record with 30 goals in 2020, the junior forward one-upped himself this fall. Lopez has 33 goals and nine assists this season. He closed the year strong, scoring at least two goals in five straight games before Tuesday's shutout loss.
Lopez, who scored four of Baraboo's five playoff goals last year, has more attacking support around him this fall. His twin brother, Ronaldo Lopez, has broken through to the tune of 26 goals and 15 assists. The midfielder has more than doubled his tally from his first two seasons, when he scored 14 goals in 2019 and three goals in 2020.
Sophomore Ethan Uptagraw has added 14 goals and four assists this season. Meanwhile, senior Oliver Scanlan has six goals and six assists, and sophomore Michael Barahona and junior Luke Statz each have four goals and five assists.
"There are some guys that have been stepping up in that regard," Lang said of Baraboo's offensive attacking gaining more balance. "There are a number of guys who have contributed goals and assists. And then defensively, too. We've been really sound for the most part, making sure we're helping each other out. The tactics have been great defensively and then (senior goalkeeper) Zach (Huffaker) has been huge in goal, making big saves in almost every game."
That has Lang feeling good about his roster entering the playoffs.
"I think the guys are going to give it their all each game," he said. "One thing that's really awesome about this is I trust any guy on the field. We have some great depth that I think we can use to our advantage in the postseason."