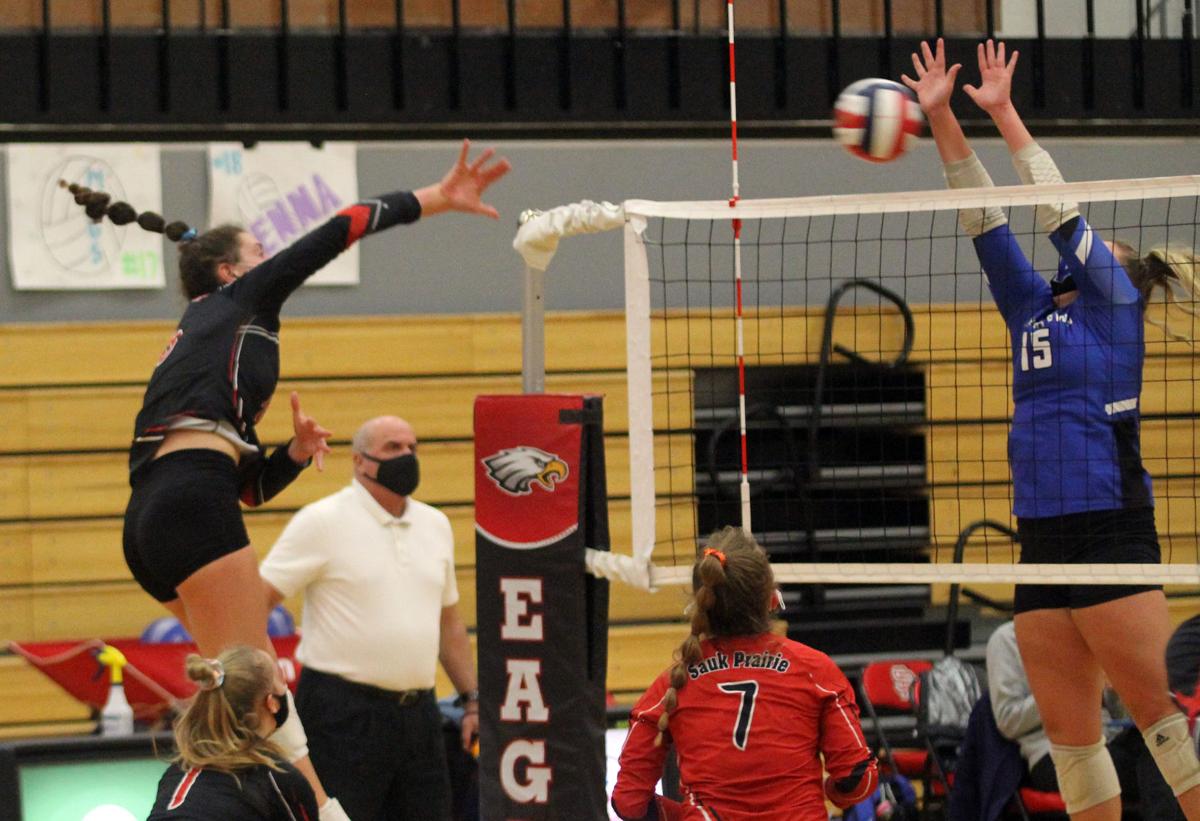 Amy Schlimgen had tailored the Sauk Prairie volleyball team's schedule with an eye on getting through the WIAA Division 2 playoffs.
Instead, the fourth-seeded Eagles were placed in a Division 1 regional alongside last year's state champion and runner-up. They ran right through them, claiming the regional title with a 25-20, 25-15, 21-25, 25-22 win at No. 3 seed Hartland Arrowhead on Saturday night.
"Our defense was fantastic tonight," said Schlimgen, who is in her second year as Sauk Prairie's head coach and has watched all three postseason matches from home because she is quarantining after an assistant coach tested positive for COVID-19. "Alia Schlimgen and Kaitlyn Brickl were fantastic in the back row again tonight. We also got quite a few blocks on a couple of great 6-foot-3 middles from Arrowhead, which we worked on a lot and the girls executed perfectly."
They executed all week, also notching a 25-12, 25-19, 25-23 win over No. 5 Watertown (4-8) on Tuesday and a 15-25, 25-20, 25-21, 25-21 over No. 1 Oconomowoc (15-5) on Thursday. The Raccoons had suffered a 25-21, 25-20, 25-21 loss to Arrowhead in the 2019 state championship match.
The Eagles (19-4) didn't let Arrowhead (12-9) get into their game Saturday, despite a slight hiccup that led to the Warhawks taking the third set.
"We got a little off kilter in the third set — just things weren't going our way and their middles were hitting really good," Schlimgen said. "Obviously, that was going to be the formula for them, to keep going to their middles, but we were serving so great that we weren't letting them get to their three-point passing."
Conversely, the Eagles were able to find their main offensive target in Aida Shadewald. The junior led all players with 19 kills and seven blocks.
"Aida Shadewald did not get rattled at all — she hit great, she led in kills and she was fantastic," Schlimgen said. "It's a beautiful sight, Olivia Breunig and Jenna Pistono setting to her. It's beautiful. And this year, we can mix it up because we have other hitters, so we don't have to go to her all the time."
Breunig led the Eagles with 21 assists, while Pistono had a team-high five aces, and Brickl and Alia Schlimgen each tallied 18 digs.
Monica LaFleur had 13 kills and two blocks to lead Arrowhead.
After claiming three wins in five days, the Eagles are left standing from a regional that appeared loaded going into the week.
"I went into the seeding meeting and I hadn't prepared at all to be put in Division 1," Schlimgen said of being seeded with some of the biggest schools in the state. "I had set up this beautiful, competitive Division 2 schedule, and I think we had only played one Division 1 team, and that was Wisconsin Lutheran in a tournament.
"So I went in to the meeting and said, 'You know, I think we could be everything from a one to a four seed.' … I'm sure Oconomowoc and Arrowhead were laughing a little, and we beat them both."
Now, Sauk Prairie is the favorite. The Eagles were seeded first in Sunday's reseeding meeting and will open sectional play by hosting No. 4 Slinger (6-11) on Thursday. No. 2 Appleton Fox Valley Lutheran (13-2) and No. 3 Reedsburg (8-4) will also play Thursday, with the winners meeting Saturday with a state berth on the line.
Fox Valley Lutheran earned a 25-20, 25-20, 25-15 win over Kaukauna on Saturday, while Reedsburg edged out a 25-22, 20-25, 25-14, 22-25, 15-12 win over Onalaska. Slinger earned its spot with a 25-18, 25-21, 25-18 win over Port Washington.
There's one familiar opponent in the bunch for Sauk Prairie, which earned a 25-12, 25-19, 25-13 home win over Reedsburg on Sept. 29 and a 25-13, 25-19, 21-25, 25-12 win at Reedsburg on Oct. 8.
While Schlimgen said there's not going to be much celebrating due to the number of COVID-19 cases in the area, there's plenty to celebrate for a Sauk Prairie team that needs two more wins to qualify for state for the second time in program history. Their lone state appearance ended with a 25-14, 25-11, 25-12 loss to Appleton Xavier in the 2009 Division 2 semifinals.
Hartland Arrowhead 20 15 25 22
SAUK PRAIRIE (leaders) — Kills: Shadewald 19; Assists: Breunig 21; Aces: Pistono 5; Digs: Brickl, Schlimgen 18; Blocks: Shadewald 7.
HARTLAND ARROWHEAD — Kills: Monica LaFleur 13; Assists: Stefan 35; Aces: Sophie Illman Thompson 4; Digs: Lofy 14; Blocks: LaFleur, Krznarich 2.
Get in the game with our Prep Sports Newsletter
Sent weekly directly to your inbox!