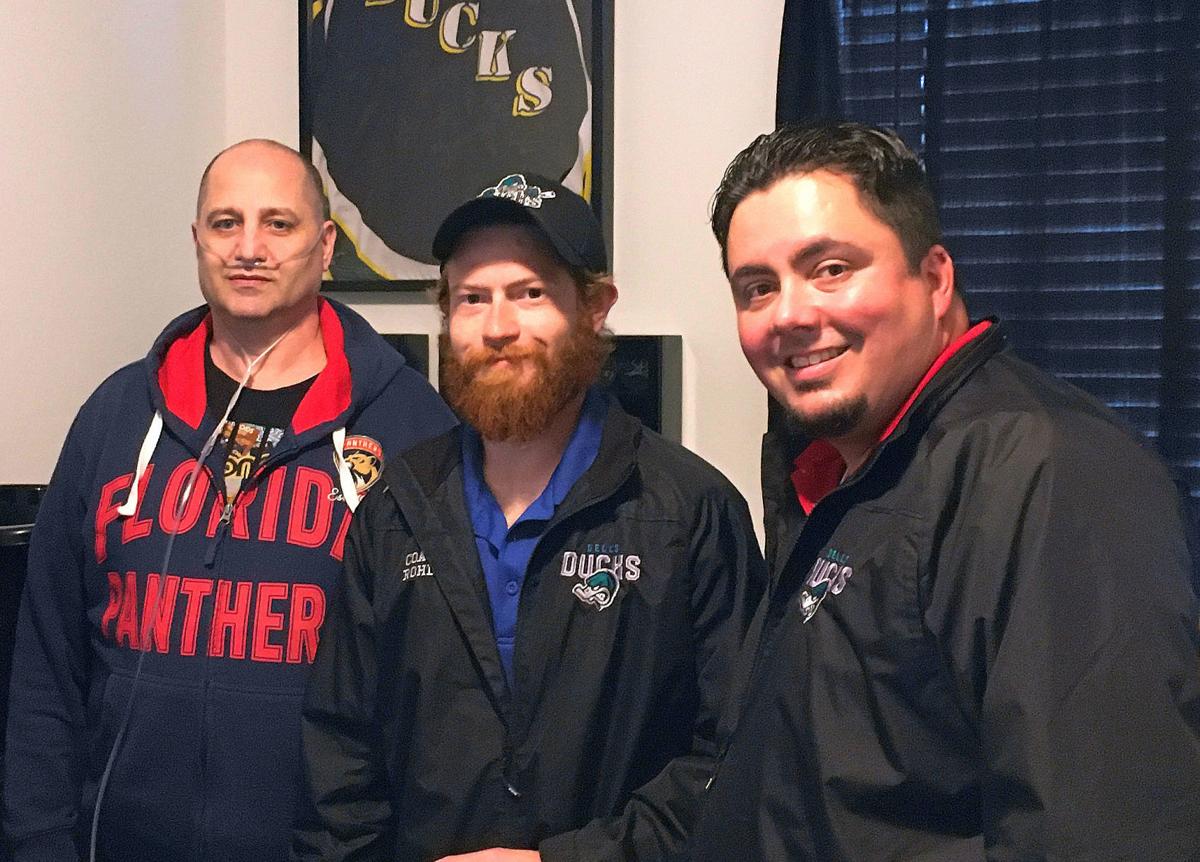 The new Dells Ducks coaching staff wrapped up a whirlwind tour of the Midwest with its first official visit to Sauk County this week.
Shaun Falzone, the Ducks' head coach in their inaugural junior season in 2011-12, has returned — signing on as the team's co-owner and head coach shortly after the end of the 2019-20 regular season.
Falzone brings with him Anthony Rohde, a former Dells Ducks player from that first season. Rohde has been alongside Falzone for years — first at a junior team in Minnesota, then at Aurora University in the Chicago area and now in Dallas, where both have carved out a niche as hockey instructors and coaches.
Falzone, Rohde, Ducks' goaltending coach Bryan Guevara and marketing manager Ali Chaudhri attended the United States Premier Hockey League's NCDC (Tier 2) Combine in Dyer, Ind., last weekend before visiting the Sauk County area on Monday and Tuesday.
While in the community, the four team reps paid visits to local billets and sponsors as well as the Lake Delton Ice Arena to inspect their offices and the team's locker room.
"It was great to meet some of the billets and some of our sponsors," said Falzone. "I heard so much about our billet mother Penny (Lobenstein). The players loved staying at her home and it was great to meet her and see how these players lived and were treated. I must say they had an amazing billet and now I understand why they want to come back.
"I look forward to meeting the rest of the billets. I even met with one of our very first billets and our first Dells Ducks fan, Kelly Morris, and his wonderful family. They have been friends of mine from day one and it was amazing to see them again. I was also able to visit the rink and see what we need to do to get things running smoothly and was able to spend time with the GM Aaron Kirby.
"We have big plans for our Ducks and we cannot wait to get moved in the Dells and get really involved in the community."
Falzone, Rohde and Guevara will likely be in the community again next month, as they'll be in Crystal Lake, Ill., from July 10-12 to run their Chi-Tex Sports/North American Goalie Schools camp.
The 2020-21 members of the Ducks will begin arriving back in the community right after Labor Day. The regular season is scheduled to begin Sept. 25. The Ducks will be entering their 10th regular season, with the goal of starting with an alumni game that will see many of the former fan favorites in town on that opening weekend.
More information on the opening weekend festivities will be made available late in the offseason.
Be the first to know
Get local news delivered to your inbox!