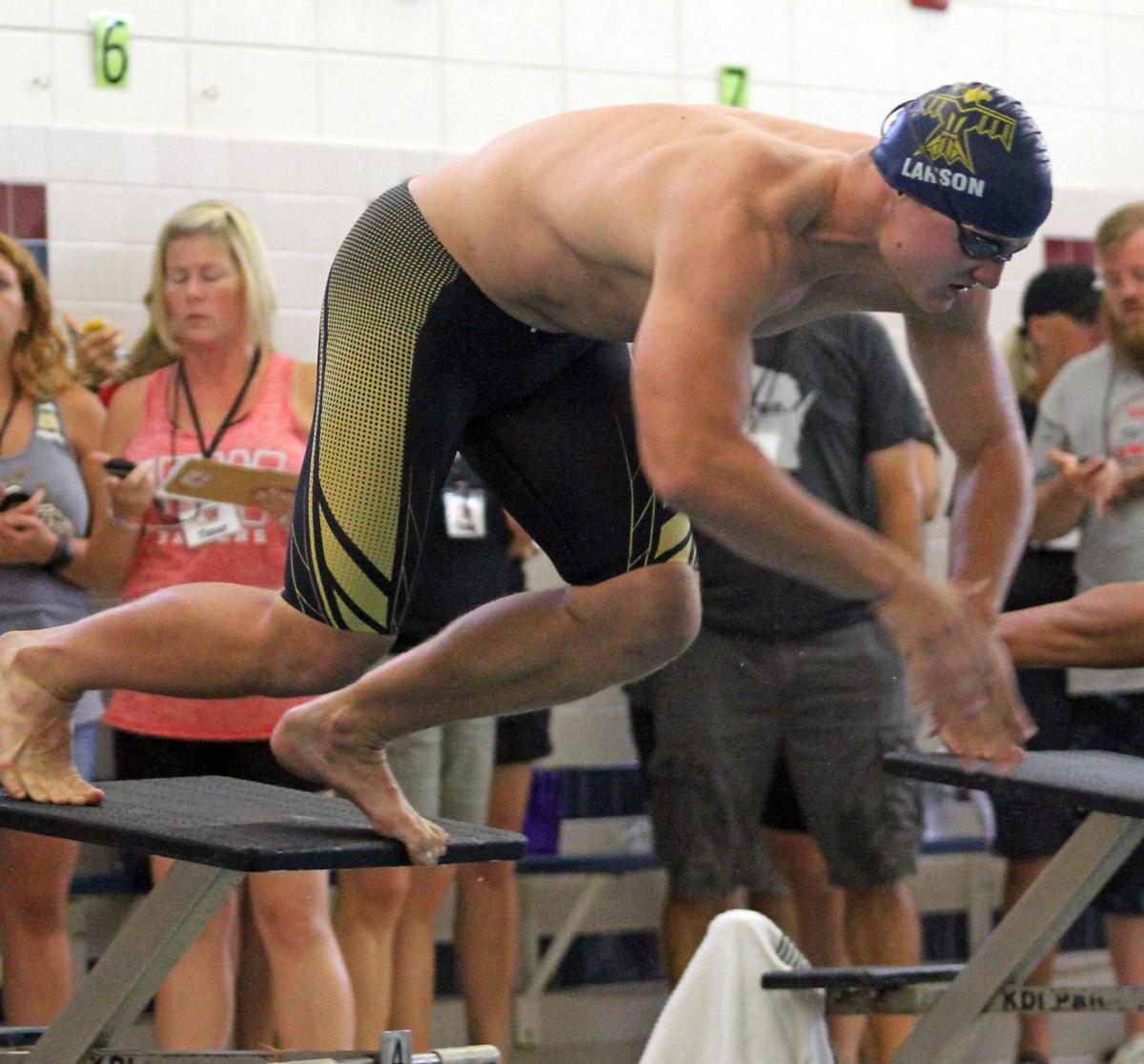 Aug. 1, 2016The Baraboo Riptide's Noah Larson broke the Tri-County Conference record in the 50-yard freestyle for the second straight year, touching the wall in 21.41 seconds to win the event in the boys' 15-18 age group at the conference meet at the Baraboo Indoor Pool. Larson, who went on to play football at the University of North Dakota, also won two WIAA state titles in February 2016. Baraboo finished fourth overall at the eight-team conference meet, while Cross Plains won the title. Larson and Sauk Prairie's Ayden Frey both broke the previous record in the 50 butterfly, with Frey (:23.15) edging out Larson (:23.53). Baraboo's Natalie Gneiser won the girls' 11-12 100 individual medley (1:08.83), the 50 breaststroke (:34.54) and the 50 butterfly (:30.38). Baraboo's final individual title came from Ethan Klingenmeyer, who won the boys' 13-14 50 freestyle (:24.16).
Aug. 1, 2014The American Legion Wisconsin AA State Baseball Tournament began at Mary Rountree Evans Field in Baraboo. The hosts received an automatic berth and went 0-2, suffering a 6-1 loss to Kaukauna and a 12-1 loss to Sturgeon Bay.
Aug. 1, 2010The Milwaukee Brewers signed outfielder Corey Hart to a three-year, $26.5 million contract extension. The two-time MLB all-star finished his 11-year career — including spending 2004 through 2012 in Milwaukee — with 162 home runs, 538 RBIs and a .271 batting average.
Aug. 2, 1996The United States men's basketball team claimed the gold medal with a 95-69 win over Yugoslavia in the championship game of the Summer Olympics in Atlanta. David Robinson led the U.S. with 28 points, seven rebounds and two steals, while Reggie Miller and Penny Hardaway added 20 and 17 points, respectively.
Aug. 2, 1992Former Milwaukee Brewers relief pitcher Rollie Fingers was inducted into the Baseball Hall of Fame along with Tom Seaver, Hal Newhouser and Bill McGowan. Fingers had spent the final years of his 17-year career in Milwaukee, notching 97 saves from 1981 through 1985. In his time with the Brewers, San Diego Padres and Oakland Athletics, Fingers tallied 341 saves and a 2.90 ERA.
Aug. 1, 1945New York Giants outfielder Mel Ott became the third player in MLB history to hit 500 career home runs. Ott's 500th homer came in the third inning of a 9-2 home win over the Boston Braves. He went 2-for-4 with a solo home run, two RBIs and two runs in the win. Ott, who joined Babe Ruth and Jimmie Foxx in the 500 club, finished his 22-year career with 511 home runs.
Aug. 1, 1936The 1936 Summer Olympic Games began in Berlin.
Be the first to know
Get local news delivered to your inbox!