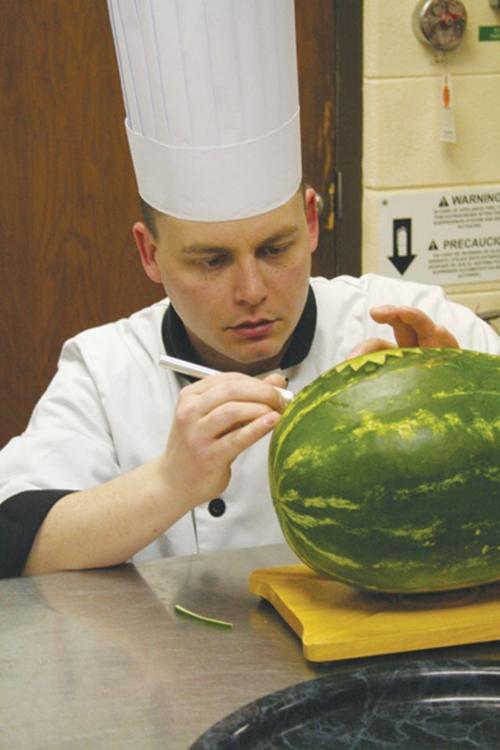 Chef Chanse Schomber doesn't have a typical day.
"It all depends on what parties are going on," Schomber said.
"I'm not open on a daily basis, just for parties, but we have parties all the time. During the week and during the weekend, of course. Saturdays are my bread and butter days."
Schomber, known to many as Chef Chanse, is the executive chef and manager of the Juneau Community Center. When there are parties, his day is usually long.
"Yesterday I worked from 9 [a.m.] until 1 in the morning, which was about average. I got here about 9 this morning. I won't get out of here until about 12, 12:30," Schomber said.
"Then I have to be back here about 6 in the morning. I'll get done about 4, 4:30 tomorrow afternoon. Then I'm done for a couple days, so it's all right."
During those hours, Schomber will do everything from preparing and cooking the food to checking soda carbonation, fixing machines, putting cash out for the bar staff, setting up and taking down tables and anything else that comes up.
He serves smaller parties and large gatherings and prepares food ranging from brats and burgers to more complicated fare.
"Yesterday was all brats, hamburgers, hot dogs. It was for 330 people. So when I'm talking brats and hotdogs, I'm talking 300 each," Schomber said.
"Tonight is only for about 80, 85 people or so. I prepped on Thursday for Friday, Saturday and Sunday."
The small party was an annual fundraiser for Lou Gehrig's disease. The menu consisted of Tex Mex steak, chicken cordon bleu, mixed blend vegetables and baby red potatoes.
"My normal Tex-Mex consists of pepper jack cheese. But for mass quantities, I like to do it with Monterey jack, so it's not so much a bite," Schomber said.
The chicken cordon bleu was filled with ham and Swiss cheese, breaded and cooked earlier in the day.
You have free articles remaining.
"Roughly 20 minutes before we serve, I'm going to pop them back in the oven," Schomber said.
The chicken was then covered with a sauce that had been slowly cooking for over eight hours.
"Everything's made from scratch here. I don't like to do anything bought out of the box. I hate that," Schomber said.
Schomber has been working in restaurants for 14 years, though he's only been a chef for nine years. He said the difference between a chef and a cook is a "college degree and the experience."
"In this business you don't have to have a college degree to consider yourself a chef. Experience is everything. If something's scorched or something like that, you know exactly what to do. You just have to have the experience," Schomber said.
"The difference between a cook and a chef is when they both make a mistake, the chef will make it like you never even knew there was a mistake made. The cook will have to start all over from scratch."
Schomber worked in a few restaurants before deciding to go to banquet halls.
"I wanted to build my own banquet hall. Doing weddings and doing big parties, cooking for mass quantities of people," Schomber said.
His mother saw the ad for the position in Juneau.
"I was very fortunate because I love it here. I absolutely love it. The community is great," he said.
Schomber has been in Juneau for a few years. In that time, he has gained some repeat customers.
"[The group tonight doesn't] care about entrées. They don't care anything else besides the baby reds. The baby reds have to be perfect for these guys tonight. That is a big, kind of inside joke, but they have to be perfect," Schomber said.
He said the best part of being a chef is the people and the job itself. He gets to cook and prepare food all day and if he wants some time off, "I just don't book any parties."