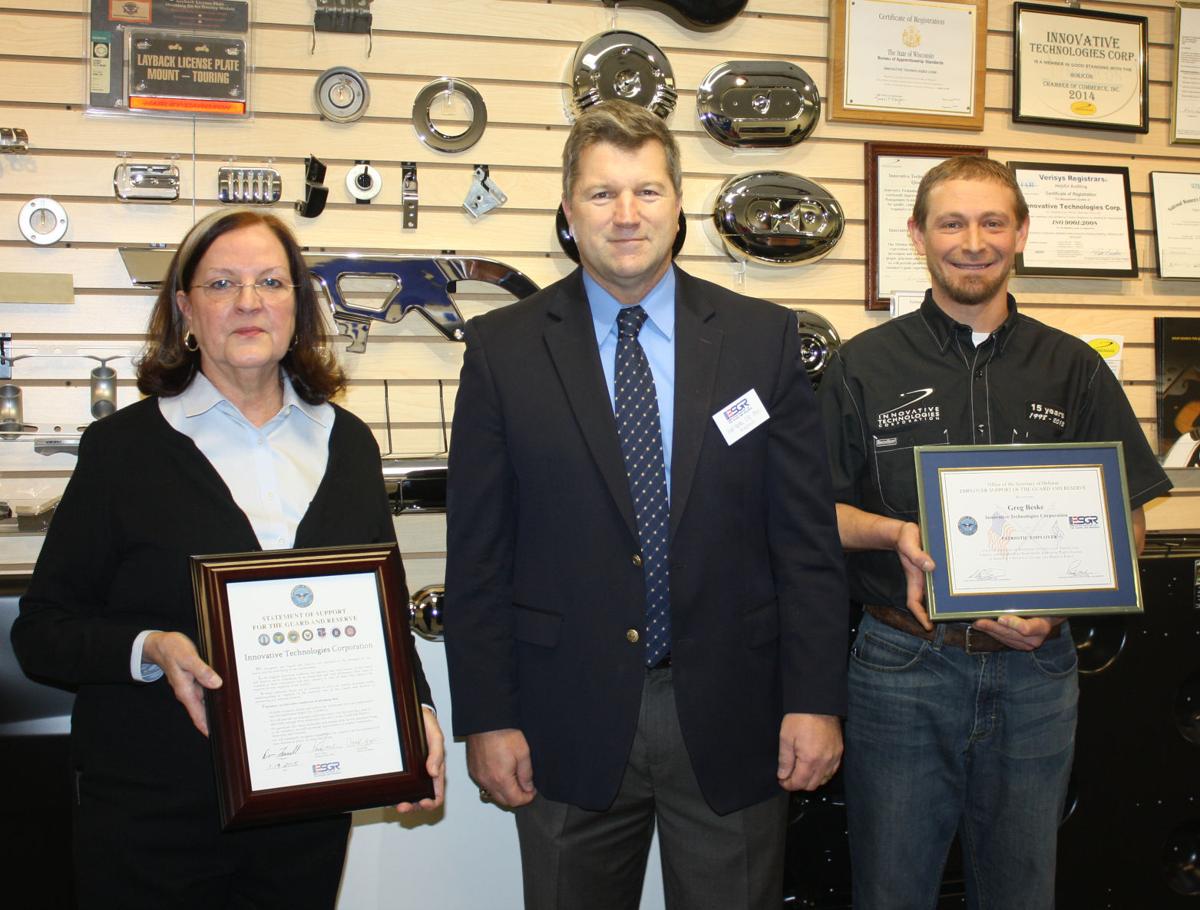 HORICON | Todd Nehls, former Dodge County sheriff and colonel in the Wisconsin Army National Guard, presented Innovative Technologies with two awards for their support of the nation's military and national guard reserve.
Greg Beske was presented with an Employer Support of Guard and Reserve award for being a "patriotic employer" after employee Brandon Hurst nominated him. Beske was presented with a plaque and lapel pin for his support of his employees who are in the National Guard and Reserve.
Nehls said he was contacted by Hurst who said Beske had been very supportive of not only his guard duties, but also his training and his deployment as a part of Operation Enduring Freedom.
"Service members are blessed to have employers like Innovative Technologies who allow our service members the time off they need to be prepared for a major deployment," Nehls said.
President and CEO of Innovative Technologies, Donna Ferrell, was presented with a Statement of Support for the Guard and Reserve plaque. The statement of support states that Innovative Technologies wil work to provide managers and supervisors with the tools they need to effectively manage employees who serve in the Guard and Reserve, that they will appreciate the values, leadership and unique skills that service members bring to the workforce and that they will continually recognize and suport service members and their families in times of war and peace.
Nehls said, "We are blessed to have employers like Innovative Technologies. I have been doing this for 35 years and I get around to talk to a lot of employers and a lot of employees. The theme across the state and nation is that guard reserve employees are the best employees the company has."
Beske said, "I am truly honored to be receiving this award. These guys are the true patriots in my opinion — anyone who is serving out country, former and current. So I am very humbled."
Ferrell said, "I am happy to support the men and women of the military of the United States."
He added that Hurst is a fantastic employee who exemplifies what an asset a guard employee can be to a company.