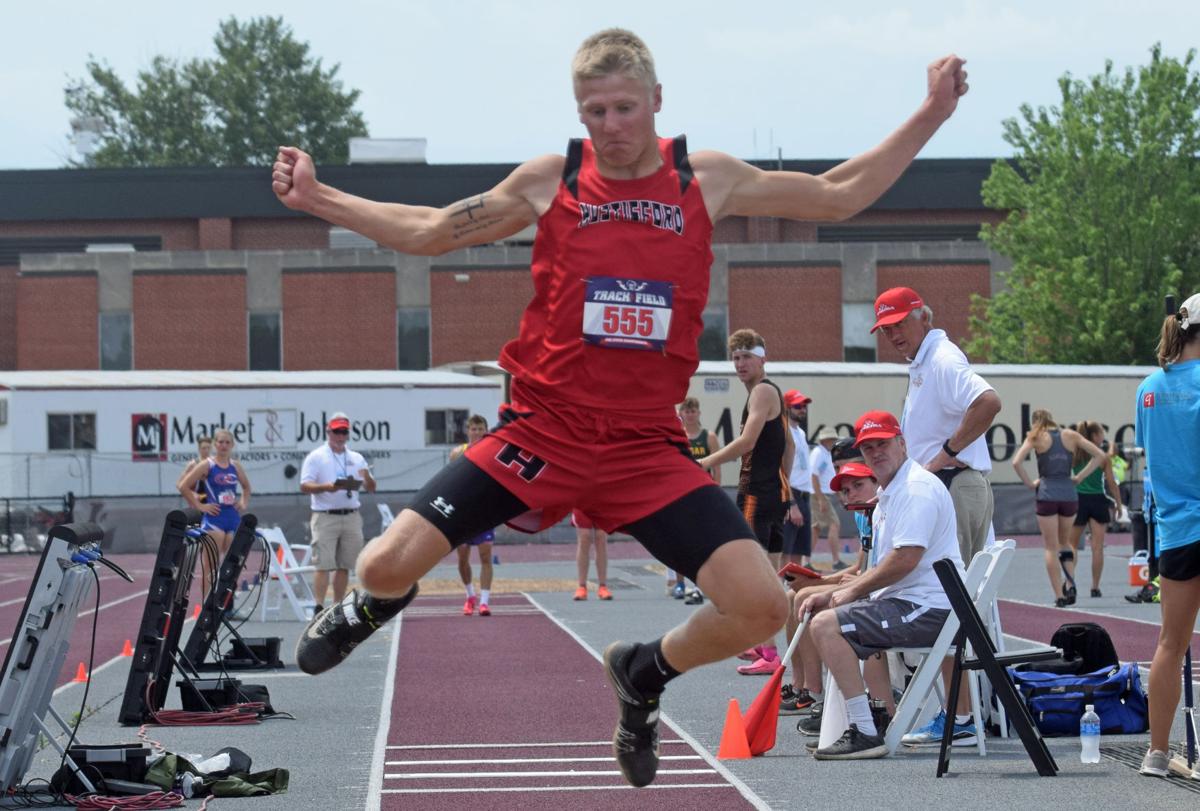 Just 3½ months ago, Dylan Kuehl helped the Hustisford boys basketball team make history at the La Crosse Center, as the Falcons captured their first-ever WIAA Division 5 state championship.
La Crosse must be a good luck charm for the Falcons senior, as Kuehl made more history on Thursday, becoming Husty's first-ever individual Div. 3 state track and field champion after winning the boys triple jump at Veterans Memorial Field.
Kuehl's winning jump of 45 feet, 1¼ inches earned him the lone gold medal among state qualifiers from the area; however, he wasn't alone on the medal stand as a dozen reached the podium on the opening day of the three-day competition at UW-La Crosse.
"It's amazing. It's very special," Kuehl said.
"Track wasn't even in my head, really, and then coming from basketball and winning state, and to be able to come back to La Crosse and do it again, is an amazing feeling."
Very amazing indeed given the infancy of the Falcons program, as Husty just began fielding its own team two years ago. That was when Kuehl got his start in the jumps, but he looked like a four-year pro on Friday.
Kuehl eased his way into the finals as he hit 44-2 with his final leap of the prelims, but it had him sitting in third place entering finals. And after seeing Wild Rose's Ethan Tratz hit 45-½ in his final jump of prelims, it helped set a fire under Kuehl.
"I'm a very competitive person, so if somebody beats me, my eyes are going to be locked on them," he said. "I saw the Wild Rose kid jumped 45 and I was like 'Oh boy,' so I just turned that into motivation for my first jump in finals, took it to heart and gave it my all."
He did just that on his very next attempt, vaulting into first place with his winning leap 45-1¼. Despite narrowly inching ahead by three-quarters-of-an-inch, Kuehl kept the foot on the gas and nearly broke his new school-record mark in the final attempt, but fell a little short, hitting 44-11½.
Along with his victory in the triple jump, Kuehl made the finals in the long jump, vastly exceeding his 16th-place seed. Kuehl's mark of 20-7¼ narrowly got him into the finals, and while he improved upon it by a quarter-inch in his first finals attempt, he was still happy with the performance.
"To climb back up and make it to finals, I don't want to say I don't care if I don't get podium, but it was special to get to finish the way I did," he said. "It's great to look ahead at that, especially the first time in school history for both of them. Being able to do it with the team I had for basketball was very special, it's a great group of guys. And here too, where we had a great track team and it was fun."
Dodgeland's Finger, Firari finish inside top-3
Kuehl was nearly joined at the top of the medal stand by Dodgeland's Evan Finger and Miranda Firari, but the Trojans twosome narrowly missed the top spot in a combined three events. Finger settled for silver in both the 800- and 1,600-meter runs, while Firari earned bronze in the pole vault.
As agonizingly close as those finishes were to the gold he coveted, Finger was pleased to not come away empty handed in his third straight state appearance.
"I wish I would have won both of them, but it's good I performed today and nothing crazy happened. I was just kind of of the belief that I was right on top of my game," he said. "I was right on my PRs for both of them, so it was good I didn't blow up and everything did go good."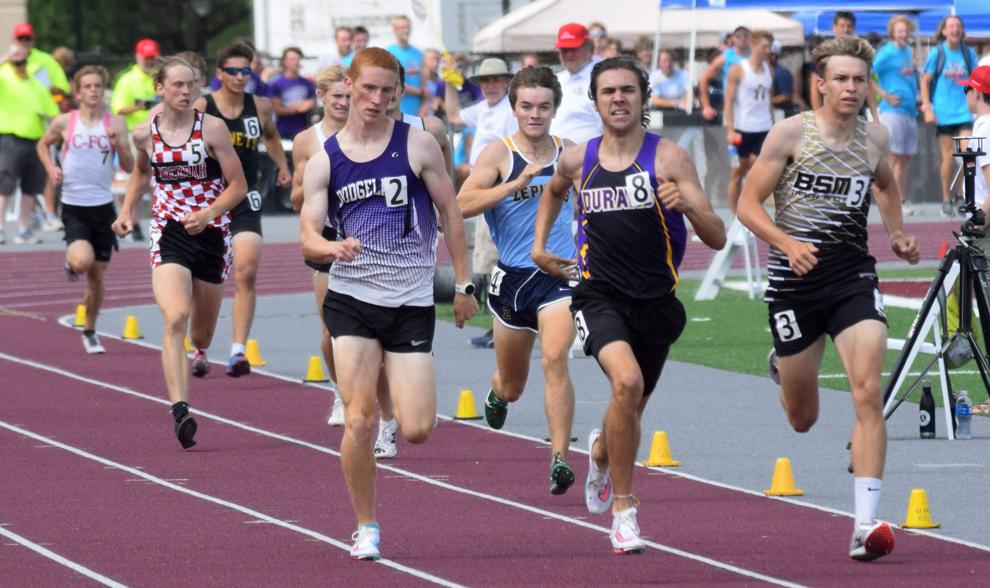 The senior was certainly better than good.
Entering seeded second in the 800, Finger cut more than a second off his seed time in the 800, crossing in 1 minute, 56.99 seconds, just behind Durand's Parker Schneider (1:56.61).
Finger again was forced to play second fiddle to Schneider in the mile, as the Panthers junior vaulted all the way up from his No. 10 seed to win. But Finger did outperform his No. 4 seed, shaving off nearly 10 seconds with a time of 4:27.43.
"That's different and that's state, because all of those guys are running by themselves pretty much all year," he said. "Then you get to state and they're all together, so it's a lot of fun to pretty much be in there and actually get a tactical race and not be going out and time-trialing, like it is the rest of the season."
While he admits he would have liked to win, Finger was happy with his improvement, which should set him up well at the University of Central Missouri, an NCAA Div. II school in Warrensburg, Mo. It also gives him plenty of fond memories to go out with.
Finger wasn't alone in surpassing expectations as Firari did just that in the pole vault. While she matched her No. 3 seed, the junior skied past her entering mark of 10 feet, 6 inches. She passed the first four opening heights before clearing 10-even on her first attempt.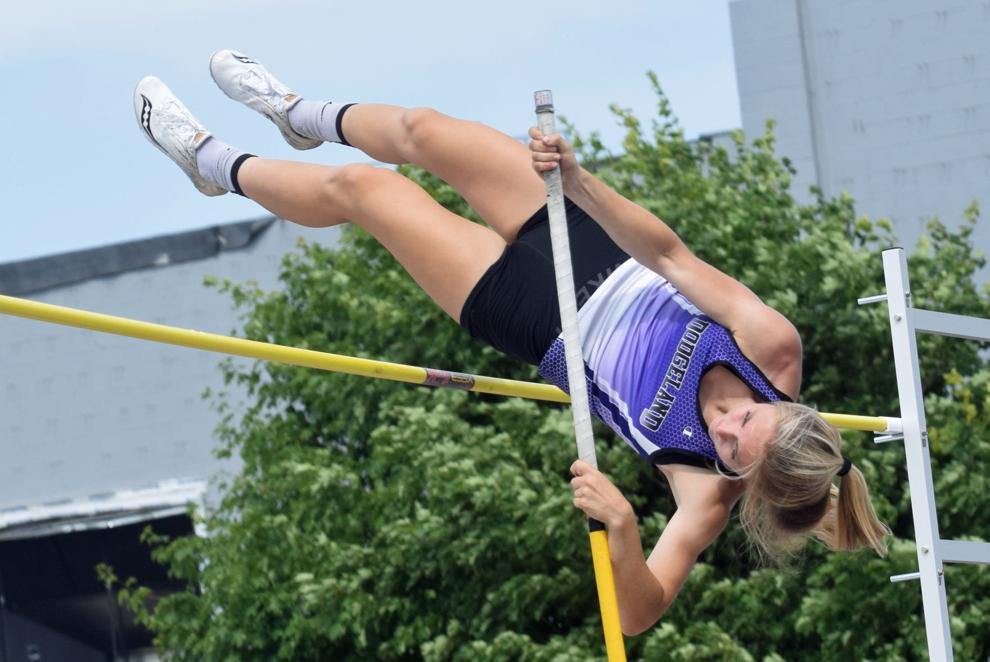 She then cleared 10-6 on her second attempt before surpassing 11 and 11-3 on the first attempts as well. She later matched the existing state record of 11-9, but couldn't keep going as Unity's Raegan Sorensen set a new meet-record by clearing 12-3.
Coupled with her third-place finish in the pole vault, Firari reached the podium in the 100-meter dash as she took fifth in a time of 13.43 seconds.
Wayland's Eubanks, RCF's Albrecht also reach podium
Joining Finger among the area's multi-event medalists were Wayland senior Isaac Eubanks and Randolph/Cambria-Friesland's Isaac Albrecht. Albrecht took third and fourth, respectively, in the 110 and 300 hurdles, while Eubanks was fourth and fifth in the 100 and 200.
Eubanks jumped up two spots off his seed in the 100 by crossing in 11.76 seconds, just four-hundreths outside the top-3, and later held his No. 5 seed in the 200 with a time of :23.71. While he settled for a lower spot in the 200 — Eubanks was seven-thousandths slower than Racine Lutheran's Nathan Zawicki — it was still a vast improvement from his sophomore season.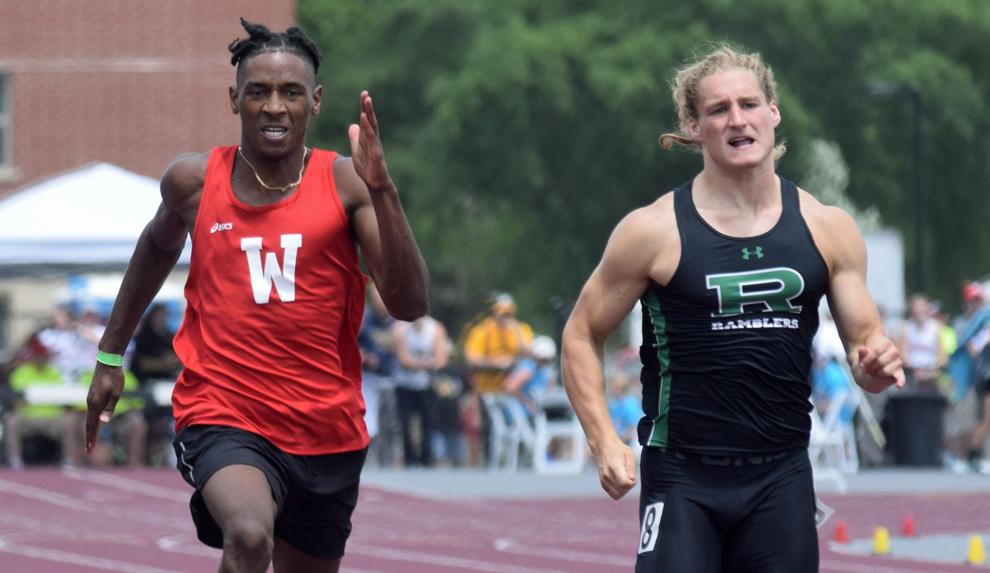 "To come from 14th overall to now and get fifth ... " he said. "To be up on the podium is a win for me."
Entering seeded third in the 110 hurdles, Albrecht was right on his seed in the preliminaries, qualifying third. He later held that spot in the finals, crossing in 15.93 seconds to secure the bronze. Albrecht was also at the head of the pack in the 300 hurdles, slipping just one spot off his seed to finish fourth in :41.46.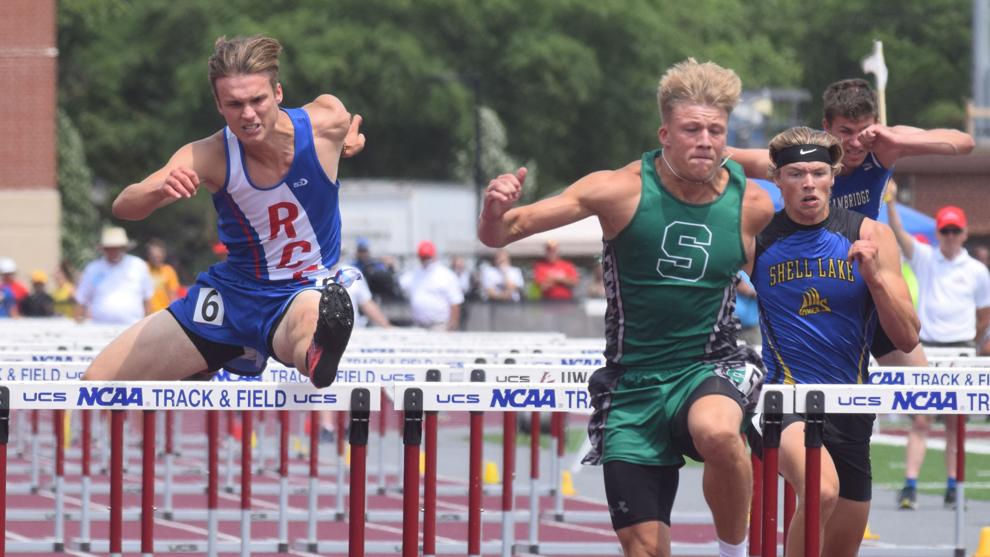 Area trio surprise from outside
One of the biggest surprises of the afternoon came from Central Wisconsin Christian's Olivia Ruis, as the junior vaulted up six spots from her No. 12 seed in the 300 hurdles to finish sixth with a time of 48.40 seconds.
"My goal was to get first in my heat and it was really close there," she said. "I fell at the final because I was leaning, but it's just an amazing accomplishment to make it that far."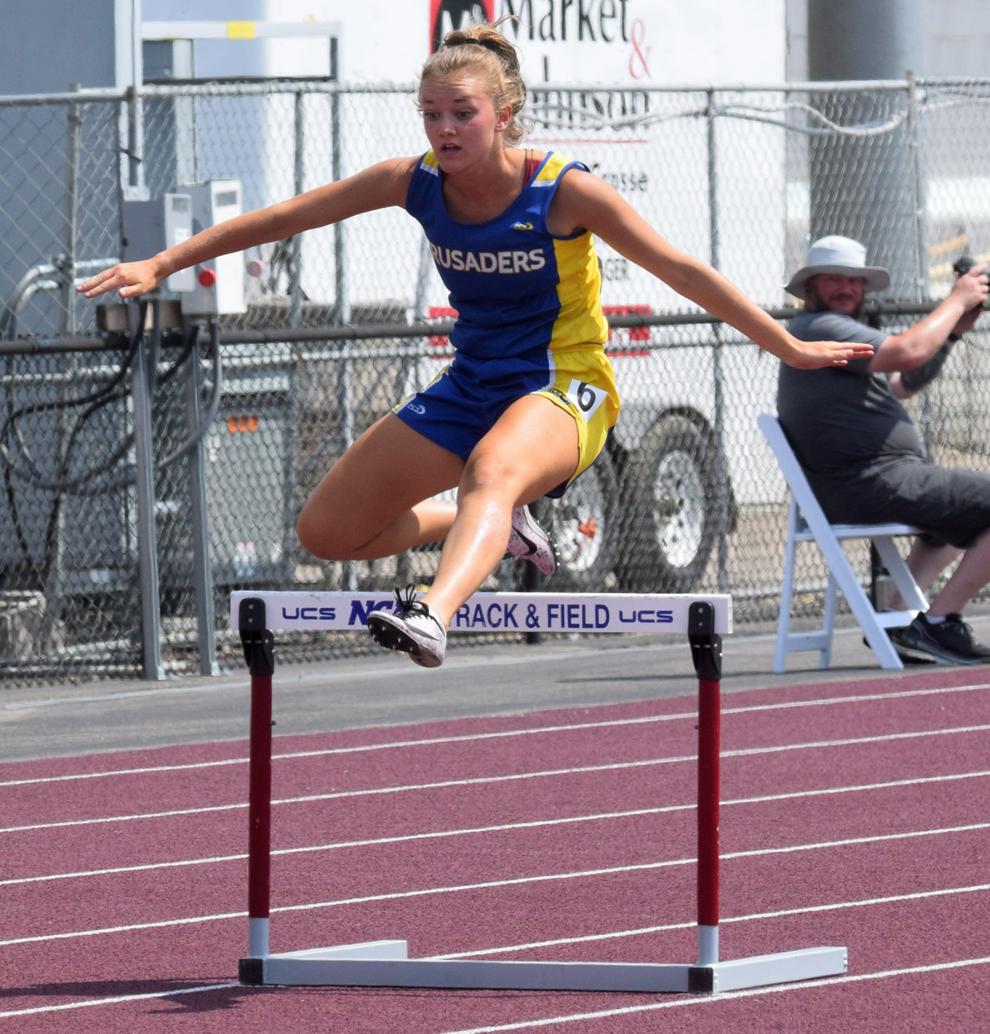 Close as close can be, as Ruis' tumble to the finish line edged out Glenwood City's Lexi Wannemacher by one-hundredth of a second. It also helped edge out Johnson Creek's Adriell Patterson (:48.75) from her heat, as well as Colby's Trinity Severson (:48.77) from the final heat.
Having Wannemacher and Patterson right alongside her was a major benefit in Ruis' eyes.
"In our conference and regional, there wasn't much competition," she said. "so to finally have some good competition here to push me to get my PR and on podium, was amazing."
Ruis wasn't alone in making a podium splash as an outside contender as both RCF's Griffin Hart and Fall River's Clay Blevins finished alongside Clear Lake's Riley Peterson in a three-way tie for sixth in the boys high jump.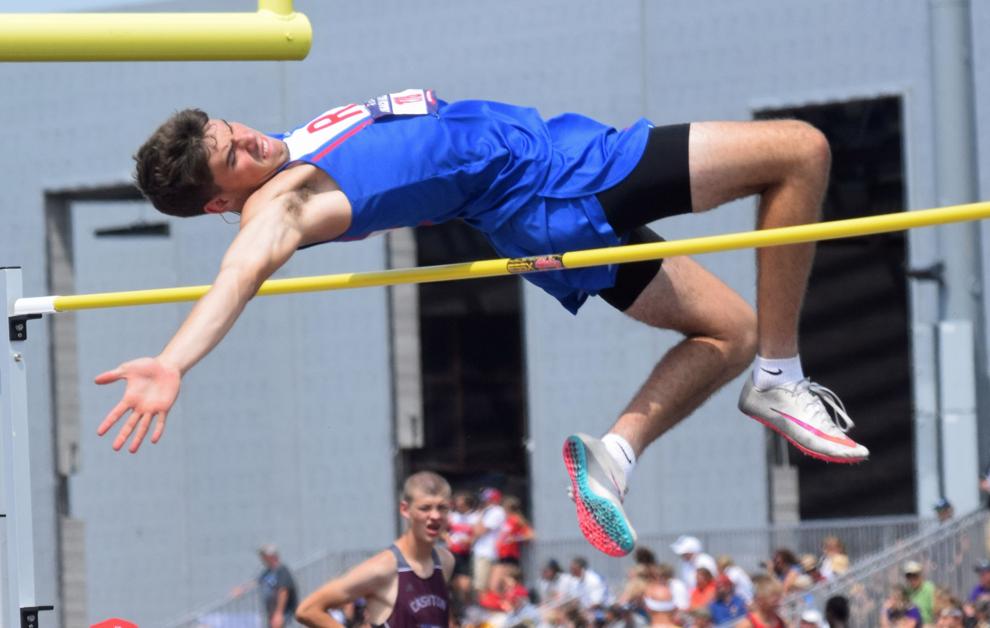 Hart entered seeded 12th while Blevins was sixth coming into the event at 6-feet and 6-2, respectively. Both were clean on their first attempts at the opening three heights, but neither could move further as both bowed out at 6-2.
Others from area also in action
Mady Friese didn't make the medal stand, but the CWC junior wasn't far off.
Friese took eighth in the girls high jump, clearing 5-0 but unable to make it over 5-2, which would have brought her into a sixth-place tie.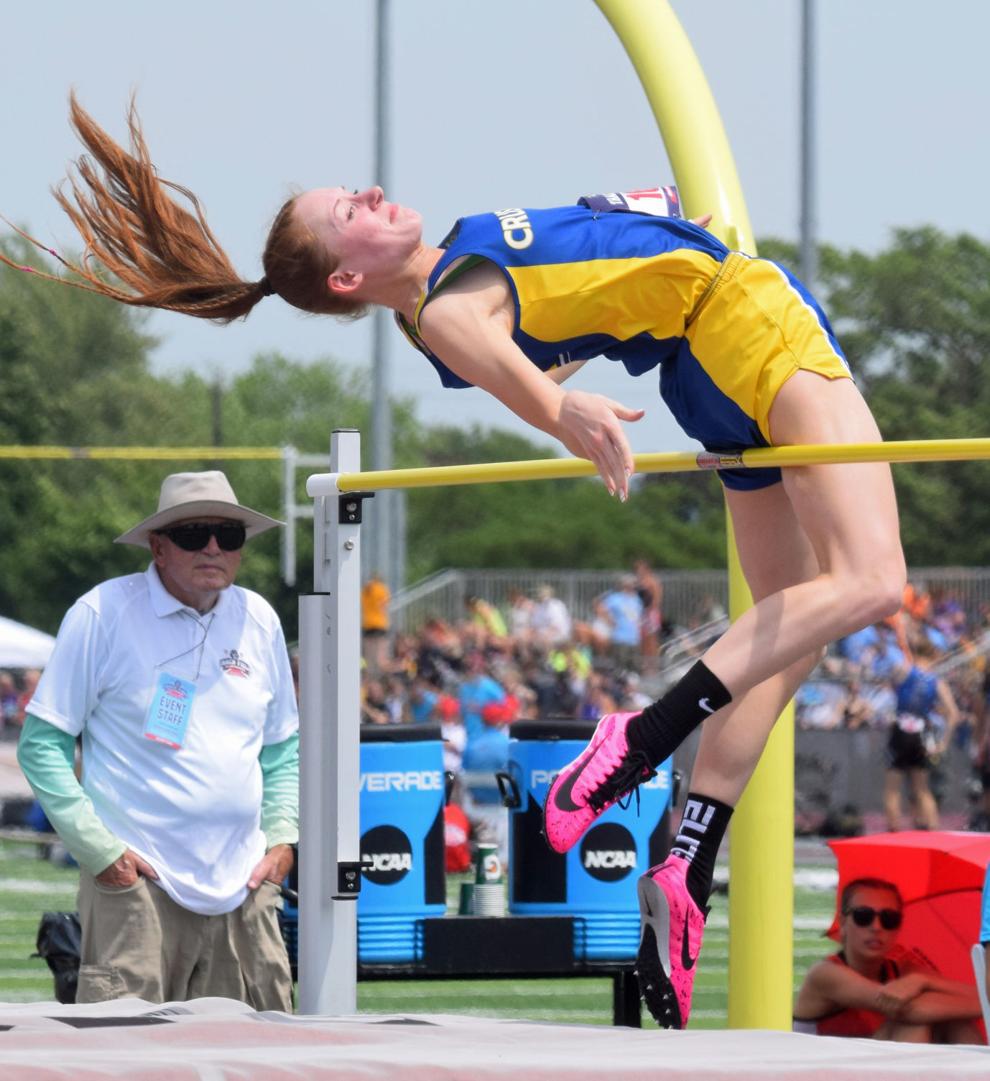 Also from CWC, the girls 4x400 relay team of junior Shelby Buwalda, Friese, sophomore Elise Ritzema and senior Jolie Schouten took 16th (4:26.57) while the boys 4x400 team of freshman Levi Vander Galien, junior Caleb Slings, sophomore Cade Vlietstra and senior Benn McKean also took 16th (3:45.44).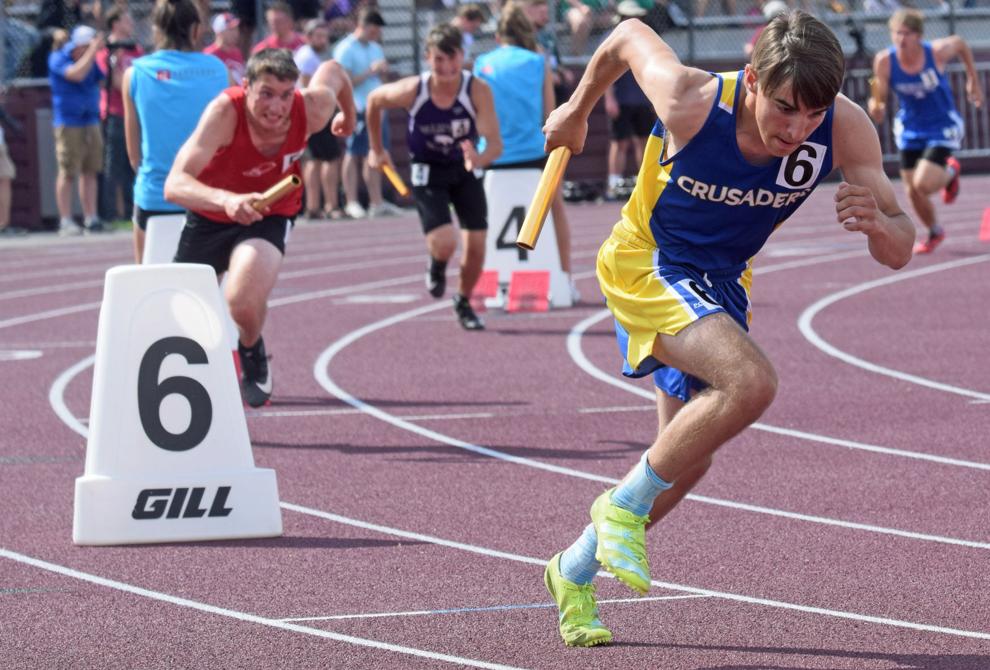 The Crusaders' had two other individuals at the meet in senior Julius Ogari (13th in the boys long jump, 19-10½) and sophomore Ada Smies (no height in the girls high jump).
Dodgeland's girls 4x400 relay team of senior Ali Sugden, junior Stephanie Cox, sophomore Sayrah Benzing and freshman Ava Raasch finished one spot of CWC, taking 15th (4:25.52).
Meantime, Trojans' junior Adrianne Bader came agonizingly close to making it on the medal stand in the girls shot put, losing out on sixth place by a ½-inch.
Bader took seventh (37-2½) while Karissa Schaal of Gillett came in sixth (37-3). Bader also competed in the discus, taking 13th (97-3).
Markesan had only one qualifier, that being senior Morgan Amend. She took 11th in the 100-meter dash prelims (:17.33) and narrowly missed out on the finals.
In addition to Eubanks, Wayland also had junior Griffin Hughland in the boys 400 and 800. He took eighth in the 800 (2:03.04) and 14th in the 400 (:53.26).
Follow Sean Davis on Twitter @SDavis_PDR or contact him at 608-745-3512.