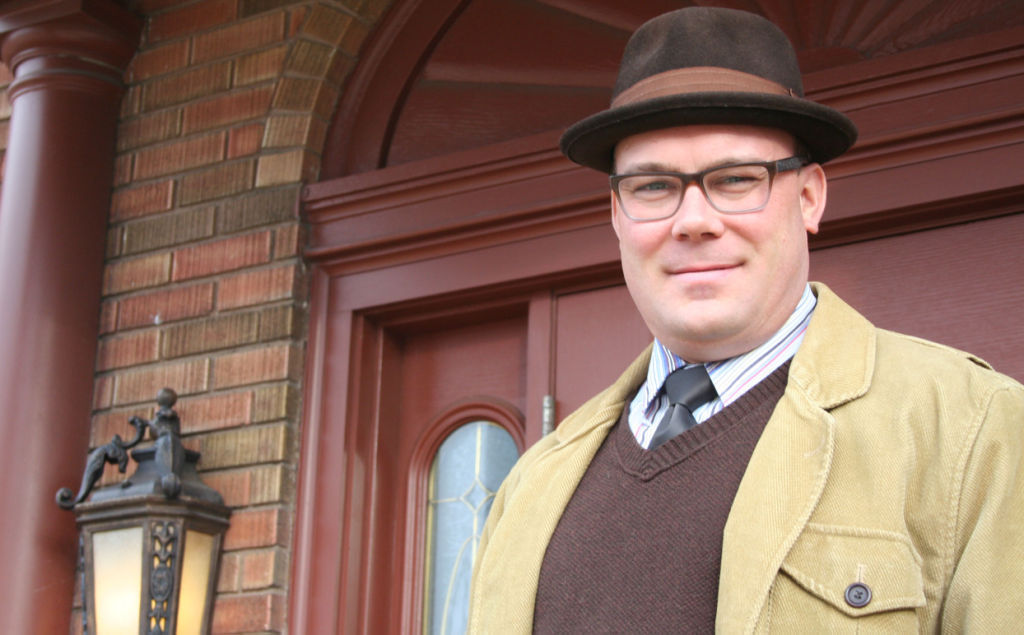 Beaver Dam's downtown is at a turning point.
It's not the "distressed" downtown that existed in 2006. In 2014, it has the potential to become a destination for innovative business and social gatherings according to some downtown advocates like Jonas Zahn.
Zahn is a member of Downtown Beaver Dam Inc., a non-profit organization whose main goal is the revitalization of Beaver Dam's downtown.
"Imagine if young people graduating saw [downtown] as a destination and as a healthy place to grow a business instead of thinking they have to move to Madison," he said. "It would be hard for us to do that, but we can certainly do that."
Instead of standing by and watching, Zahn is investing in downtown. Over the last few years, he and an investment group he belongs to have targeted specific properties in downtown. Currently, he owns and operates a business, Northwoods Casket Company, 109 N. Lincoln Ave., and owns a property next door at 105 N. Lincoln Ave., and a small building at 101 Haskell St.
Buying up properties in the downtown is part of a mission Zahn says could streamline business and residential growth in the area. His vision involves buying distressed or vacant properties in the downtown, repairing and remodeling followed by renting or selling the place to young entrepreneurs. He plans to provide a "favorable" low lease rate to allow the business time to establish itself and build revenue.
According to Zahn, it could take just one person to redefine downtown. That one person needs an opportunity.
"I don't know if Columbus [Wis.] ever decided that it would become a destination for antique shopping," he said. "I'm thinking it happened organically and it works."
However, "one thing at a time" he says, as revitalizing Beaver Dam's downtown will not happen overnight. But, Zahn said the changes are slowly happening right now. Downtown is morphing due to carefully set plans put into motion more than eight years ago.
In 2006, the Center for Community Economic Development through the UW-Extension conducted a survey of the city of Beaver Dam from the perspective of seven anonymous people. Reactions to Beaver Dam's downtown were mixed. Some complemented its variety of stores, façades, and historic preservation and on the flip side, others pointed out, vacancies, trash, and lack of pride. One person wrote that Beaver Dam appears to be another "sleepy Midwest town" whiles another simply wrote "ugly downtown."
Move ahead to Jan. 10, 2007, inside Celestial Scents on Front Street, various community members and city officials gathered for the first of two downtown summit meetings. This meeting laid the groundwork for the "Downtown Redevelopment Plan." Vierbicher Associates compiled the comments and concerns from the anonymous surveys in 2006 and came up with suggestions to jump-start Beaver Dam's downtown.
A sour point in the plan draws attention to the explosion of lucrative business growth on Beaver Dam's north side. As written in the summit meeting plans "downtown was being left behind." Another area of major concern was the increasing number of vacant storefronts.
"It's time as a community to exercise these plans," Zahn said.
Therefore, groups like DBDI and the Landmark Commission were spawned. Landmark is a city commission formed to preserve downtown's turn-of-the-century historic aesthetics and provide guidance for new businesses on appearances.
With these two entities, the city could then begin to tackle downtown's ailments. As the plans state, "It will become, over time, the special area that people identify with the place they call Beaver Dam."
One year after that meeting, downtown Beaver Dam was under water after a flood ripped through its core. The result; 11 Front Street properties–Celestial Scents included–were demolished due to floodway dangers. A setback in some regards, but as Mayor Tom Kennedy said, it was also a "godsend."
"To have a viable downtown ... you need buildings that are well maintained," he said.
Around the time of the flooding, he believes about 25 percent of downtown could be considered blighted. In his eyes, the flood alleviated some blight.
Over the last eight years, Kennedy said the city has limited its interaction with downtown. He said city government could only do so much, which is why he has played a part in encouraging DBDI and people like Trent Campbell, executive vice president of Beaver Dam Area Development Corporation, to work toward a blight-free downtown.
Campbell said the aftermath of the flood stimulated activity.
"Our first issues were to make sure we were helping create a safe environment and that came with the need to remove certain properties down there," he said.
Campbell said a major focus was to pump foot traffic into downtown in order to drum up business. Thus, key anchor projects like Beaver Dam Lake Historic Lofts, Madison Place Senior Apartments and the new police department building were constructed.
"I think [it's] blood through arteries," he said "That kind of activity creates an environment where maybe somebody will want to open up shop in one of those vacant storefronts."
Another weapon Campbell said the city used to eliminate blight is a Tax Incremental District in downtown and facade guidelines. Last year, the Beaver Dam Landmark Commission implemented new guidelines for business facades downtown. According to the guidelines, the requirements are to encourage business owners to "enhance the visual appearance and marketability of existing structures ..."
Part of how the Landmark Commission plans to make this appealing to business owners is to use TIF District 6 funds to reimburse the owners for facade improvements. TIF District 6 gathers about $25,000 a year and will be capped out in 2020.
According to Zahn, a complete revitalization may not come together for another five to 10 years. A timeline that doesn't deter him, though. He agrees that for some, it's hard to see the progress downtown Beaver Dam has been through. He's not one to hide the downtown's flaws.
Zahn stated that non-local ownership and vacant properties is one of the most apparent combinations keeping downtown Beaver Dam from progressing.
The Daily Citizen will take a closer look at those issues in the next story in this series.