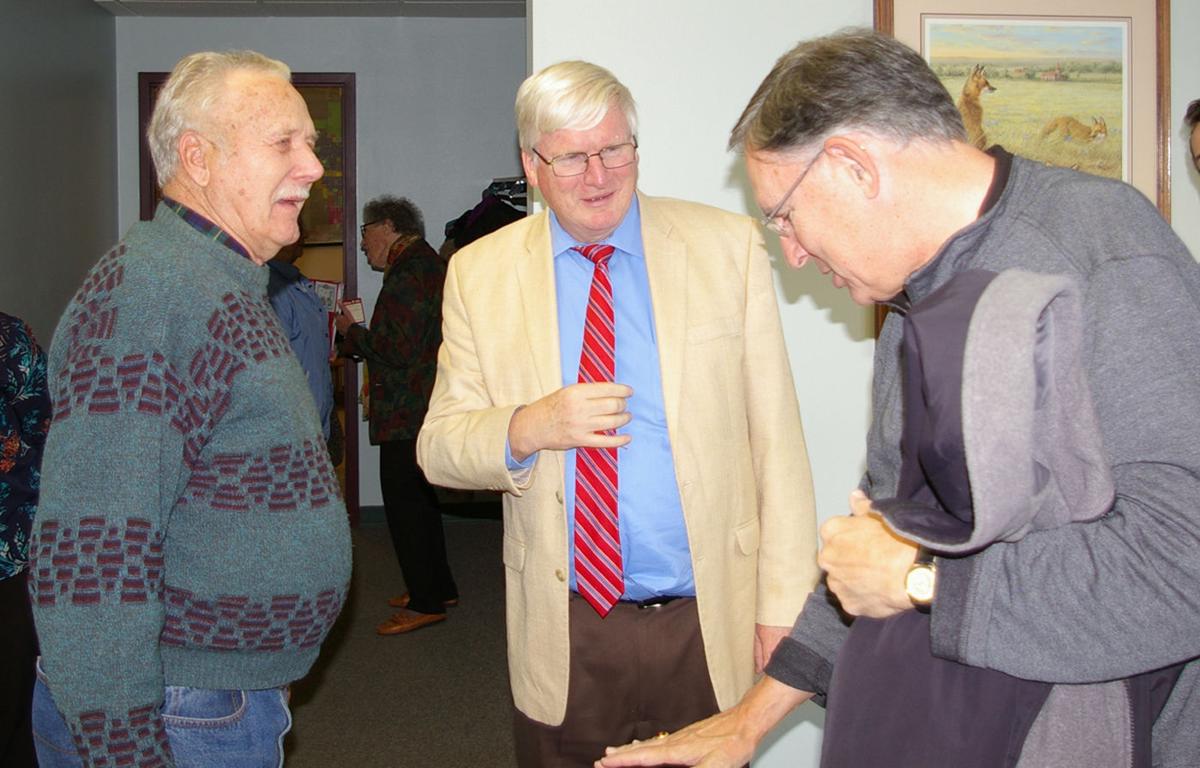 RANDOLPH — U.S. Rep. Glenn Grothman, R-Glenbeulah, got an insight into issues important to the over-60 set Monday afternoon in the Randolph Village Hall.
About 10 area residents attended to hear what's happening in Washington, and to share their own insights into government and what they see as working and not working, and its impact on their local lives.
Health care was the No. 1 topic, with several audience members complaining about "Obamacare" and ever-increasing health care costs.
Don DeYoung said, "I think there are a lot of holdovers in the Obama deal. The people working down there — there are a bunch of them there that are bucking the system. We need that swamp cleaned out."
"I'll tell you the problem with the new appointees," Grothman said. "I was talking to a gal and she was in charge of a region of the country — in charge of five states in a major federal agency. Under her she had 1,200 people, and she couldn't replace any of them. So you can imagine taking over and trying to reform things. I agree with you — we have a big problem related to some of the people working in the government."
Among Grothman's insights is that Congress is working in a bipartisan manner, despite what the media is sharing with the public.
"For most bills, it requires 60 votes in the Senate, which means every provision has to be bipartisan," he said. "I think it's interesting when people tell me it has to be more bipartisan in Washington, because right now almost everything we do is bipartisan."
Grothman summarized current legislation and his goals for upcoming legislative sessions.
"The tax package is one of the things that's in the news most," he said. "One of the goals we have this biennium is to improve the American economy and bring jobs back to America. Right now in the United States, our top marginal (tax) rate for big corporations is 35 percent. It's the highest in the industrialized world. ... We're at a competitive disadvantage compared to Asia and Europe. We want to turn that around, so in the tax package one of the goals is to reduce the corporate rate to 20 percent."
He indicated that most people will get a tax cut with the latest tax reform proposal.
"I would think that almost everybody, even those making up to $100,000, will be receiving income tax cuts under this plan," Grothman said. "The few people that are getting a tax increase are either corporations that are paying little or no tax, or people who do not have their own business, but are well compensated. Overall, this tax package will improve the American economy, which benefits us all.
"Part of the tax package is making sure you get to keep more of your own hard-earned money. The big benefit is going to be that you'll see the economy grow at a more rapid rate."
He is continuing his campaign against the welfare system, although the issue has been tabled for now.
"We're discouraging people from working, discouraging people from getting married and encouraging people to give a bad role model to their children," he said, adding that he hopes to address that concern next year.
Grothman is also in favor of reducing spending, although he anticipates there will be more increases than he would like.
"I anticipate the amount spent in the current year budget is a little bit more than I would want," he said. "Donald Trump proposed a budget in which he was holding discretionary spending dead even. Given that we're $20 trillion in debt — which I'll remind you is about $60,000 for each man, woman and child in the country — we shouldn't be having big increases in spending. I lost some fights there and there are a lot of members of Congress who do want some big increases in spending."
Military spending is one such area, with President Trump proposing a 5.5 percent increase.
"It's more than I would have liked because we're going to audit the military to perhaps see where we're wasting money," Grothman said. "I don't think we need quite this big of an increase this time around, but I think it's where we're going to end up."
Grothman backs encouraging technical school careers and keeping closer track of student loans. He suggests holding universities more accountable for student debt, not allowing students to take on more than they can afford and penalizing universities for awarding more loans than students can repay.
"We're going to put some sort of sanction or penalty on universities or educational institutions if they have a high percentage of their students not paying back their debt," he said. "We hope by doing that, the universities themselves will be more careful about who they admit."
He indicated that a committee will raise concerns about accusations of misconduct leveled at former Secretary of State Hillary Clinton.
Efforts to repeal Obamacare have not been successful, but Grothman predicted that something will be passed in the interim to "kind of keep things going and keep the exchanges going for the next few months."
Audience questions were largely personal, and several times Grothman offered to investigate citizen concerns.
Be the first to know
Get local news delivered to your inbox!