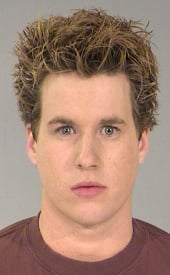 JUNEAU - A 23-year-old Beaver Dam man has been charged with 11 counts of possession of child pornography.
Joshua Grunewald could be sentenced up to 275 years in prison if convicted on all the charges.
Special agents from the Wisconsin Department of Justice Division of Criminal Investigation, deputies from the Dodge County Sheriff's Office and officers from the Beaver Dam Police Department arrested Grunewald on Wednesday at 1:30 p.m.
According to the criminal complaint, a search warrant was executed to a home Grunewald lived in on Aug. 25, 2009. Grunewald's bedroom was the only one locked in the house and officers forcibly entered the room. Computers and other pieces of evidence were confiscated.
Grunewald was interviewed a month later and said he thought a burglary had occurred in his room on Aug. 25. Grunewald admitted to using his roommate's computer to visit gay pornography sites and eventually admitted to watching videos of children between the ages of 3- and 14-years-old in sexual scenes.
In total, 6,551 graphics were found with adults in them and 37 movie files with adults in them were found. Fifteen graphics of children that were pornographic in nature were found as well as 99 offense-specific recovered movies.
District attorney Kurt Klomberg recently asked for a description of the recovered movies that had been located in the computer that was seized.