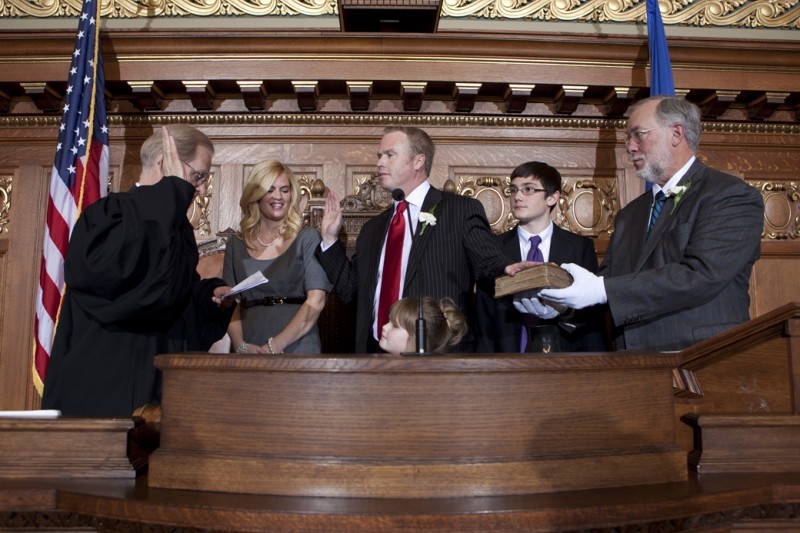 MADISON (AP) - Republican Gov. Scott Walker began his term Monday promising to "right-size" state government and make tough but compassionate decisions to balance a $3 billion budget shortfall.
Walker, 43, was swept into office with new Republican majorities in both the Senate and Assembly after the recession led to the loss of 180,000 jobs since 2008. He replaces Democratic Gov. Jim Doyle, who decided not to see a third term amid his lowest approval ratings ever. Walker has promised to create 250,000 jobs in the next four years and balance the budget without tax increases.
"Wisconsin is open for business," he said in a 20-minute inauguration address delivered to a packed Capitol Rotunda. "We will work tirelessly to restore economic growth and vibrancy to our state."
Walker asked the Republicans who now control the state Legislature to start work immediately on proposals he said would improve the state's economy and help him fulfill his job-creation promise. Although specific proposals haven't yet been released, his plans include cutting taxes on small businesses and transforming the Commerce Department into a public-private hybrid.
"Our message is simple. Act swiftly. Act decisively. And pass our jobs plan by the end of February," Walker said. "Let us get Wisconsin working again."
Walker provided no new details Monday on how he plans to balance the budget, but he made it clear that a tax increase wouldn't be involved because he said that would impair economic growth.
He hasn't ruled out raising user fees or requiring drivers to pay tolls if they use special lanes on the interstate designed for buses and carpoolers. He's also expected to target higher education, Medicaid and other public assistance programs for cuts and to ask state workers to pay more for their benefits.
"We will make tough but compassionate decisions to balance the next state budget in a way that will get Wisconsin working again," Walker said. "Under our administration, state government will do only what is necessary - no more, no less."
Newly elected members of the state Senate and Assembly were also sworn in Monday. Republicans wrested control of the Legislature away from Democrats in the midterm elections and will hold a 60-38-1 majority in the Assembly and a 19-14 majority in the Senate.
"The stakes are simply too high for us to fail," Senate Majority Leader Scott Fitzgerald, R-Juneau, said. "If you're expecting more of the same, you're going to be disappointed."
Assembly Speaker Jeff Fitzgerald of Horicon addressed the body on Monday after members were sworn in during a two-hour ceremony. He says no single bill will change things, but the assault on businesses must end.
Joining the Fitzgeralds at the Capitol, with a role in the Senate Inauguration ceremony, were eight members of the strings ensemble of the Beaver Dam High School Orchestra and the Beaver Dam Area Orchestra.
Musicians who performed included Morgan Ehlenbeck, Lakeisha Heeringa, Amanda Wissell, Kelsey Martel, Mary Miller, Sean Wilson, Megan Roth and Zoe Teronde.
"I was thrilled to welcome these fine young musicians to our state capitol, and I'm glad they were able to grace us with their music and their presence," Sen. Fitzgerald said.