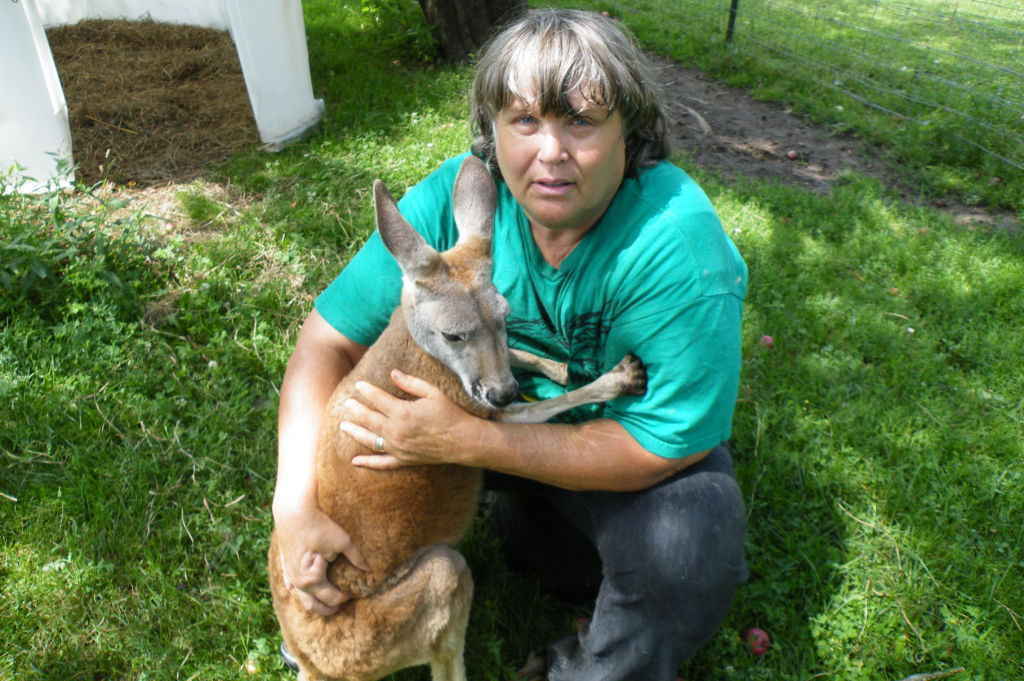 Owning a kangaroo is a commitment, but owning five of them along with sheep, goats, emu, seven white tail deer, horses, ducks, geese, chickens, a dog and peacocks is a labor of love.
It's a commitment that Diana Moyer, who lives near Columbus on a 70-acre farm, loves every second of, especially with her kangaroos. She has owned seven kangaroos over eight years.
"They are one of the most loving, trustworthy animals that I have ever had," she said.
Moyer recently was asked to leave a Beaver Dam McDonald's after a customer complained that the baby Kangaroo — which is eight-months-old and named Jimmy — was not appropriate or safe to have in the restaurant.
She said she has been visiting the McDonald's at 840 Park Ave. for three months with Jimmy and no one has ever complained. In fact, she said she takes Jimmy everywhere, including her church — Church of Jesus Christ of Latter Day Saints in Beaver Dam — and to the east side of Madison. Recently she and Jimmy drove to Eastgate Cinema in Madison to watch Taken 3.
"I wish the person in McDonald's would have just come and talked to me instead," she said.
According to Moyer, Jimmy is quite popular. She said when she takes him out in public people ask to pet Jimmy and they have a lot of questions.
She describes Jimmy as a support or therapy animal. According to her, a support animal is similar to a service animal, but a support animal does not have a specific task. She didn't want to go into detail, but she said she is disabled and visits a doctor in Madison who approved of the use of a support/therapy animal. She declined to share the doctor's name.
Jimmy is the youngest of her current five kangaroos. There are also Perry, 2, Anna, 3, Ruby, 5, and Charles, 7. Ruby and Charles are the mother and father of Perry and Anna.
Moyer transported the kangaroos to Wisconsin after purchasing them from a livestock market called Lolli Bros. in Missouri. She purchased her kangaroos as babies and said a female kangaroo costs $1,000 and a male kangaroo costs $2,000. The Lolli Bros. website lists "alternative livestock" such as elk, llamas, camels, zebra, bison and many other animals.
According to Moyer, kangaroos can live for 20 years in captivity and they usually stop growing when they are 5 years old.
Moyer has been training and caring for all of her kangaroos as well as the rest of the animals for the 23 years she has lived on the farm. She lives with her mother and her husband, Larry. She said Larry helps a lot too and loves doing it.
She said Terry Crandall, who went by the name "Spiderman" helped feed and care for the animals for more than seven years until he passed away in October.
Moyer's farm is licensed by the U.S. Department of Agriculture to house all of her animals. She paid $200 for the license and then her farm was inspected to make sure it was suitable for kangaroos, as well as the other animals.
"They mostly [inspect] the health," she said. "The animals need to be taken care of right."
Because of the white tail deer she owns, she works with the Department of Natural Resources as well to keep her farm up-to-par.
She added that USDA inspectors can arrive without notice and perform an inspection, but she hasn't seen them in awhile.
"I haven't seen them in five years," she said. "They could show up tomorrow. It's just one of those things."
She's confident she would pass an inspection if they were to arrive today.
The kangaroos need to have a six-foot high fences that are three feet apart. Currently the kangaroos live in a barn to stay warm.
Keeping the kangaroos fed is a costly endeavor. Moyer said the milk is imported from Australia and sent to Colorado. It costs her $200 a month for milk and the food is made in Missouri. She usually orders three bags and treats, which costs about $150 a month.
"They love sweet potatoes, too," she said.
The price per month varies, as the kangaroos will go on "eating sprees" that rack up costs.
Moyer said she rarely receives negative responses about her kangaroos or other animals.
But, why kangaroos? Well, Moyer said, "it just happened." And after owning and caring for animals for more than 27 years she said she doesn't want to give it up and hopes to own more in the future.