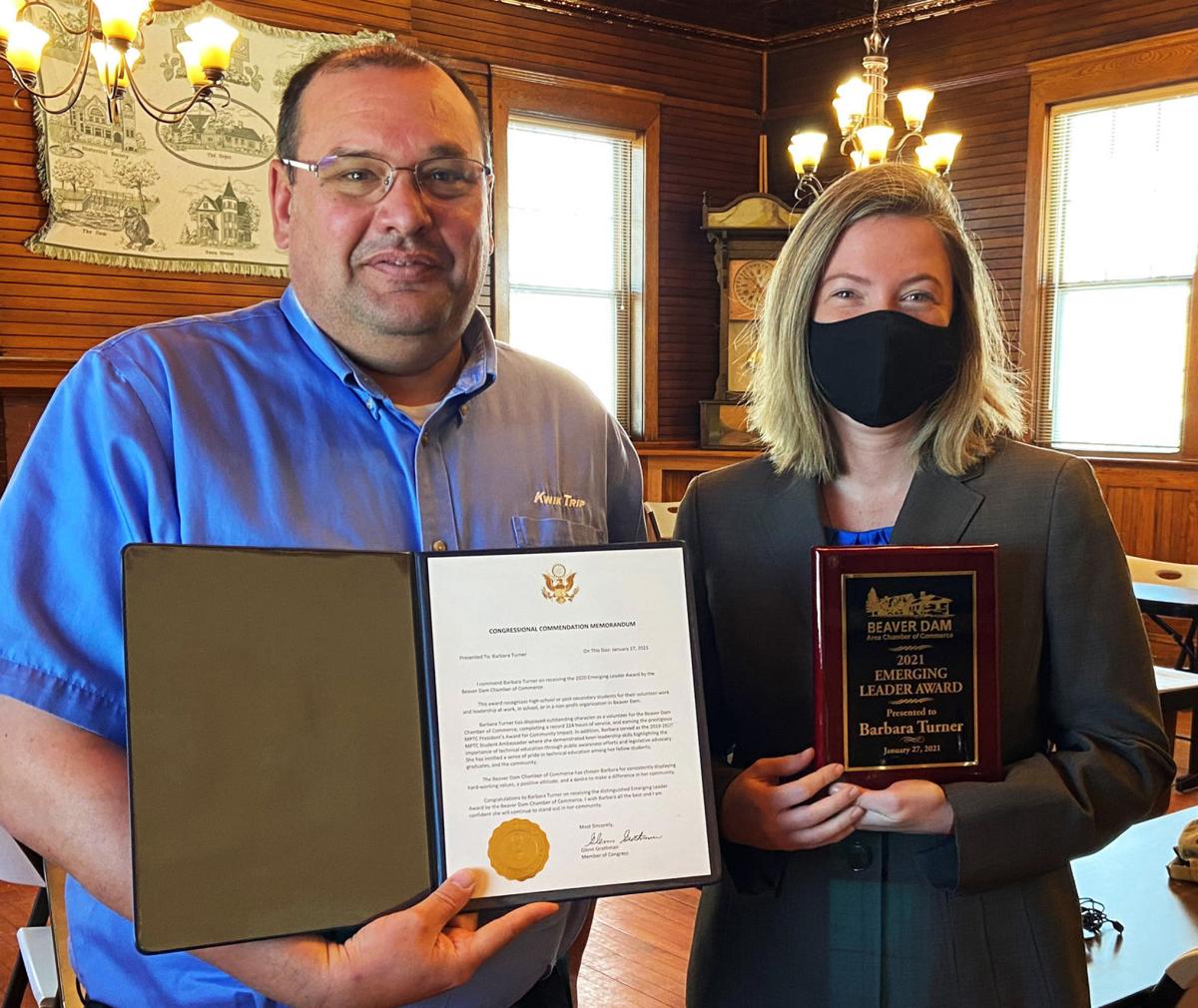 Given the challenges of COVID-19, the Beaver Dam Area Chamber of Commerce honored all of its citizens as being outstanding in 2020.
The honor took the place of the usual business, citizen, non-profit and chamber member of the year citations traditionally presented at the annual meeting. That meeting was held virtually on Wednesday afternoon, in place of a formal, in-person, banquet and social hour.
Dirk Langfoss presented a video highlighting many of the activities and individuals who made facing COVID, and overcoming its challenges, possible.
"As with other years we have received outstanding applications reflecting the incredible organizations and citizens in our community," he said. "After deliberation the selection committee brought to the board a recommendation to the board and to share that recommendation in a video."
The video highlighted how the entire city's citizens, businesses and non-profits banded together to overcome COVID's challenges; from following COVID prevention guidelines, to holding COVID-safe events, to overcoming shortages in needed household supplies.
Businesses made extra efforts to meet customer needs. Entertainment went online. Special events went to drive-through or were held outdoors with social distancing.
Restaurants offered carry-out, make-at-home meal kits and other options. Health care workers, teachers and other public servants went to extreme lengths to insure their charges were well cared for. City workers and others delivered services in a safe and effective manner. Safety took the highest priority, not just for the workers' benefit, but to insure that most enterprises could survive and even thrive.
Churches and charitable organizations worked to provide options for those who needed them. Local industries converted to Personal Protective Equipment production to insure that all had access to the life-saving materials that were initially in short supply.
"Running a business or organization is hard," said chamber Executive Director/narrator Tracy Propst. "2020 made it even harder. When we look back at this chapter in our lives, we will see that Beaver Dam did not sit as victims of circumstance, but instead took action. Through it all each citizen, business and non-profit – each one of you – stood up and met those challenges. Our entire community showed its strength in 2020."
The video highlighted local efforts, sharing dozens of familiar faces and places of business.
"Thank you to all those citizens that fostered positivity, encouraged smiles and laughter, reached out to those in need and united our community," Propst said. "Thanks you to all of those that realize the value of supporting local businesses and continue to do so, as they make up the unique character of our community and contribute to its vitality. Thank you to the generous Beaver Dam we know and love for being there in the time of need. Congratulations to every one of you in Beaver Dam on winning these awards."
"After watching that video you can't help but love to live in Beaver Dam," Langfoss said. "The committee felt that it was a year where everyone stepped up in our community, and each business, non-profit and citizen member deserves a pat on the back."
Nominations for this year will be considered for next year.
The first Emerging Leader Award was presented to Barbara Turner — a full-time student in the Leadership Development program at Moraine Park Technical College. She has received an associate degree in supervisory management and is currently pursuing a second degree in business analytics. She completed 224 hours of service learning from the Beaver Dam Area Chamber of Commerce this summer and has earned the MPTC President's Award for Community Impact.
Bonnie Baerwald, President of Moraine Park Technical College wrote, "Whether at the College or the Chamber, Barbara consistently demonstrates that she is a committed, dependable, hard-working individual with a high degree of integrity. She brings a positive attitude and a natural curiosity to plan, learn and do – no matter what the task or project. She has a tenacious gift to persevere and a real desire to make a difference in this community. Barbara has a proven track record for success and has demonstrated her commitment to lifelong learning and volunteerism."
In thanks the chamber presented a plaque and a $200 Chamber Check.
Congressman Glen Grothman attended virtually and shared his congratulations to the citizens and to Turner.
"I'll be glad to visit Beaver Dam soon and to attend some of your events when COVID allows it," he said.
Propst received high praise for keeping the chamber alive and relevant, despite COVID challenges. Cassie Schmidt urged her to be less hard on herself, and to accept that she is doing more than can be expected as the sole staff person for the chamber.
Retiring board members include Ryan Gable and Jose Garcia. New board members include Angelia Foster, Melanie Budde, Rich Zieman and Tim Schlais.
Officers for 2021 include Brian Stegner replacing chairperson Nicole Johnson; chair elect Dirk Langfoss replacing Stegner, secretary Cassandra Schmidt and treasurer John Zanghi.