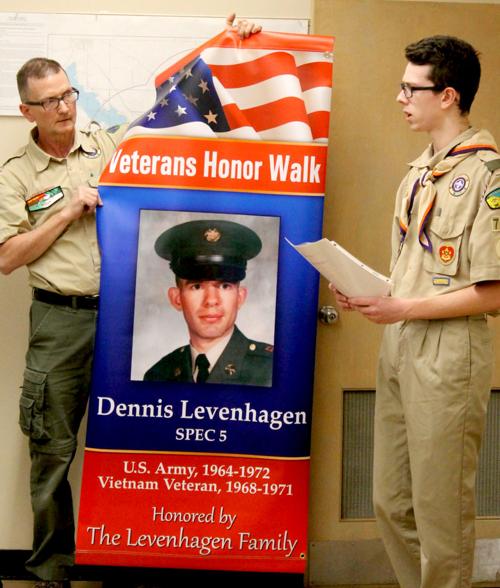 Waves of red, white and blue will grace the downtown from July until November thanks to the initiative of one local Boy Scout.
Luke Diljak of Beaver Dam Troop 724 is establishing a Veterans Honor Walk with help from the city, Beaver Dam Area Community Foundation, American Legion Auxiliary and Exchange Club.
Diljak came up with the idea while visiting family in Pennsylvania.
"I saw miles and miles of these banners hanging on poles which gave me the idea to do that here," said Diljak. "I wanted to do this project to honor veterans here in Beaver Dam like my grandfather who served during the Korean War."
Diljak approached city officials with his thoughts and asked if he could spearhead the effort. The Beaver Dam High School sophomore is currently a Life Scout, working toward the rank of Eagle Scout. Planning and developing the Veterans Honor Walk for his community is his Eagle Scout Project.
The mission of the program is to honor veterans of the Armed Forces. Each 30-by-70 inch vinyl banner will feature a veteran's picture and name, branch of service, credentials and sponsor's name.
The American Legion and Auxiliary's January newsletter will include banner applications.
To be considered for a banner the nominee must have served in one of the following branches: Army, Navy, Marines, Air Force, National Guard, Merchant Marine or Coast Guard. They had to have been honorably discharged or died in the line of duty. Applications will also be available at Beaver Dam City Hall, Beaver Dam Area Chamber of Commerce or by contacting Diljak directly.
It will cost $300 to sponsor a banner, which are being printed locally. Checks can be made out to ALA #146-Banner Fund.
All sponsors will be recognized on the banner itself, as well as in a banner booklet that serves as both a walking guide and a keepsake.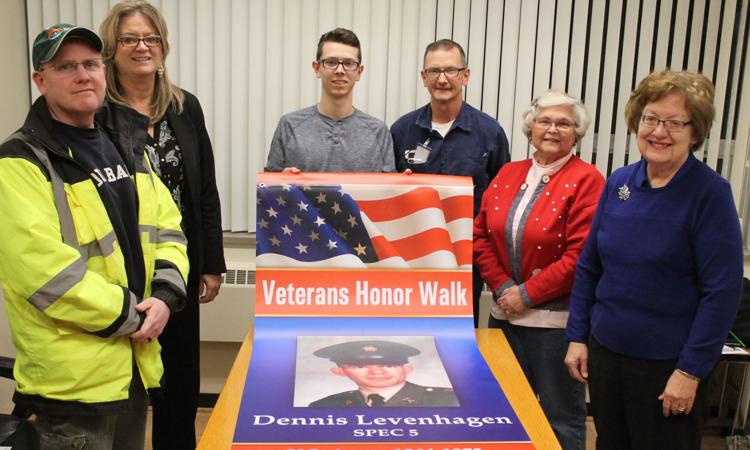 Auxiliary President Lois Levenhagen said the organization will receive some of the profit from project to be used for veterans' programs.
"When Luke contacted me about the project and said he wanted to honor veterans for more than one or two days a year, I was in," she said. "We need to celebrate the bravery and sacrifice of all United States veterans. If it wasn't for our veterans we wouldn't have the freedom that we all enjoy every day of our lives."
Beaver Dam Exchange Club President Kay Appenfeldt said the banners will add a professional look to the downtown area for years to come.
"For a young man of Luke Diljak's age, it is extremely awesome to see his dedication to the Veterans Honor Walk program. Not only is he dedicating this project to his community, but he is also providing a way to honor those who are serving or are veterans of military service," she said.
Fifty double-sided banners featuring a veteran's color picture will hang from the light poles each season. Families will be invited to a dinner and display ceremony after the banners are taken down and then will get to keep their banner.
The veterans honored will be on a first-come, first-serve basis. A waiting list will be established and new veterans will be honored the following year.
Corporate sponsors may also participate by sponsoring banners or the printing of the banner booklet.
Follow Kelly Simon on Twitter @KSchmidSimon or contact her at 920-356-6757.
Be the first to know
Get local news delivered to your inbox!