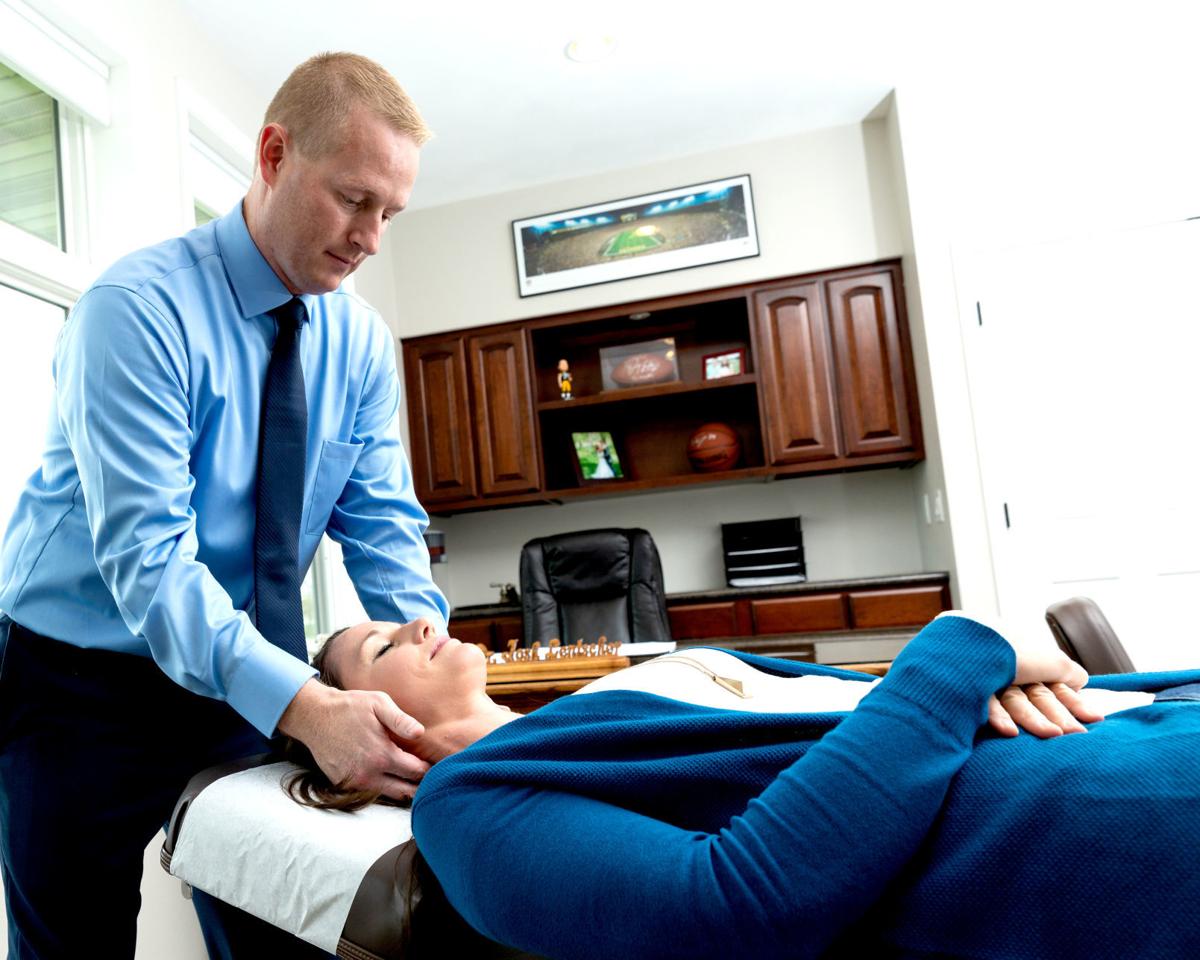 Beaver Dam Chiropractic & Rehab owners Jake and Josh Lentscher believe the pairing with Agnesian Healthcare is in perfect alignment with their mission — to promote better health and services to Beaver Dam and the surrounding area.
Bill Lentscher came to Beaver Dam in 1980 and opened a clinic on Scott Street. He built the current facility at 250 Corporate Drive in 2008.
In recent years Bill has retired — although he still fills in when needed and remains a guiding force in its operation. Several family members are involved in healthcare including eldest son, Luke, who is back in the office as physician's assistant for orthopedist Dr. Bert Callahan. Daughters-in-law in medical careers include a nurse practitioner, an occupational therapist and an OB-GYN, MD.
The clinic, near its goose-populated pond, was constructed with a plan for growth.
"My dad always had expanding services in mind for this space," said Josh. "Since mom is a physical therapist that was always the idea – to offer that service here."
Mother Ruth is a physical therapist and happily works in the Wisconsin prison system.
Growth became reality when Callahan began pursuing the idea of returning to practice medicine in his adopted hometown of Beaver Dam. Callahan has been a fixture in the Beaver Dam, Columbus and Waupun communities for more than 20 years and most recently served at Ripon Medical Center, and sees patients at Waupun Memorial Hospital.
His specialties/services include arthritis, arthroscopy, carpal tunnel, computer-navigated knee replacement, elbow disorders, fracture care, joint replacements (hip, knee, shoulder), rotator cuff injuries, shoulder instability/pain, sports medicine and trigger finger.
Agnesian/SSM Healthcare started renting space in the Beaver Dam Chiropractic building about nine months ago.
"So we're excited to see that come full circle," said Josh. "Now we have several orthopedic exam rooms, physical therapy and massage as well."
The goal of the combination is to provide a full range of patient services in a timely manner.
You have free articles remaining.
"If you can be sitting on your couch and within 24 hours have anything you want delivered to your front door, then why can't you pick up your phone and see your health care provider?" Jake asked. "We have a policy that if you call in you can see your health care provider the same day."
Josh continued, "With expanded services we've made it even easier than that. They can go on their phone to our website, schedule an appointment for a massage, PT or chiropractic and that day they're getting in for an appointment. That's our norm for health care instead of having to wait a week or two: As a patient that's the last thing you want to hear."
Josh warned that with long waiting times, many patients go to urgent care for orthopedic and other problems. That creates an obstacle for patients, which is relieved by faster service to those who need it.
Negotiating with Agnesian, the brothers were able to offer benefits for both themselves and their new tenants.
"With fast service here we're creating a better point of entry for patients who are hurting now and know they can get in," said Josh. "We don't do everything. Here we hone in on what we all do best and make referrals to other service providers if we can't help them."
Although the world of chiropractic and orthopedics has traditionally been separate, the new trend is to have both fields work together.
"It is working out really well," said Jake. "We often see this kind of cooperation in the big cities, but it's a trend that is now becoming more and more common. Now alternative methods of treatment are part of an integrated system."
"Doctors and chiropractors are working together, and those that aren't are getting left behind," said Josh. "We know we can't help with every type of condition and we're great with that, but we're also in a position where we can help send patients where they need to go. Our goal is to do our best for each patient. That level of care certainly sets us apart."
Family connections, and an emphasis on family orientation, also set the clinic apart.
"Starting with our dad we've created a family atmosphere here," said Josh. "We want patients to come in a feel like they're part of our family. We probably know a lot more about our patients that many other healthcare providers. We don't just treat their symptoms. We want to know the total picture and to impact the entire community in a positive and healing way. We treat the whole person – not just back pain or headaches."
According to Jake, Agnesian Hospital in Fond du Lac has chiropractors on staff. The office in Beaver Dam offers that range of care for patients in Waupun and Beaver Dam – and beyond.
Dr. Paige Pinnow rounds out the chiropractic staff, as well as physician assistant Luke Lentscher, physical therapist Tyler Grant, a massage therapist and 10 other staff members.
"Our greatest asset is our people," he said. "Having these new opportunities here is good for us all, and as they succeed, so will we."