Bob Lord joined the U.S. Army almost 37 years ago, wanting to serve his country just as his father and grandfather had done before him.
Unlike them — and his daughter, who served in Afghanistan — Lord was never called to duty in a war during his nine years of service. But he credits his time in the military for laying the foundation for the success he has enjoyed as a businessman.
A Kenosha native, Lord currently resides in Mayville and is the owner of the Beaver Dam Domino's Pizza franchise, as well as five other Domino's locations in Wisconsin.
"I learned how to lead a team, pay attention to details and handle stressful situations," he said. "Those skills are used daily, even after all these years."
Lord began basic training in January 1982, and pursued advance training after that, which led to a 3½-year deployment to Germany.
"It was a lot of fun being in a different country and learning a different culture," he said. "The weather was very much like that of Wisconsin."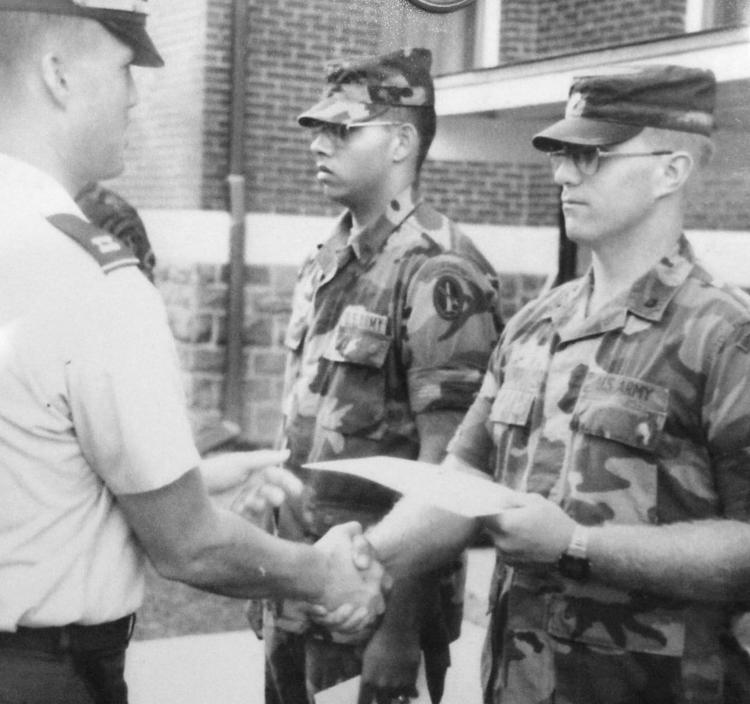 Following his return to the States, Lord was stationed in Colorado Springs for 18 months before being selected for the 3rd U.S. Infantry, traditionally known as "The Old Guard," in the Washington, D.C., area. He served in that capacity for almost four years.
The Old Guard is responsible for conducting military ceremonies at the White House, the Pentagon, national memorials and elsewhere in the nation's capital. In addition, soldiers of The Old Guard maintain a 24-hour vigil at the Tomb of the Unknown Soldier and provide military funeral escorts at Arlington National Cemetery.
"My family always taught me to be respectful of veterans. I never served in a conflict, but am grateful to those who did," Lord said. "It was very humbling going around to the war monuments when I was in D.C. The first time I saw the Vietnam wall was surreal."
Lord said his grandfather, William Lord, was one of the last people drafted for World War I.
"He was drafted at the age of 38, so it must have been really difficult going through basic at that age, because it's not easy," Lord said.
His father, Jack Lord, was in the Korean War. His daughter, Jocelyn Lord-Cornelison, a member of the U.S. Air Force, is currently stationed in Japan.
Lord said an article in the Parade magazine that came in his weekend newspaper started him thinking about his next step in life.
"I read a story in it that included an interview with a big Domino's franchisee and he made it sound like a lot of fun, so I decided to check it out," he said.
Lord left the Army at age 29, moved to Daytona Beach, Florida, and started working as a part-time delivery driver for Domino's Pizza.
"They don't take franchisees outside the system. You have to actually work there first as an employee before you can become an owner," Lord said. "I was a driver for about two months and then started in the management training program. A total of nine months after I started, I became a manager."
After a year and a half, Lord moved back to Wisconsin to be closer to family. He said a Domino's store that he managed in Milwaukee for more than four years continually ranked in the top 25 in the nation in sales.
Seeing an opportunity in the Germantown area, Lord took the next step by building his own store in 1999.
"I decided to take a leap and become an owner," he said.
Twelve years later, he bought a second store in West Bend, the first of a series of acquisitions. The Beaver Dam location became his third franchise in March 2012, followed by stores in Sheboygan, Menomonee Falls and Hartford.
As a business owner, Lord said he looks for employees who are self-disciplined. Veterans definitely fit that bill, he said.
"Pretty much anytime we have an applicant with a military background, we hire them immediately," Lord said. "They are usually responsible and will show up to complete a job — that's just something you learn from being in the military.
"In the Army, you're taught to stay calm and to manage the situation. Our managers and employees are told if the phones start going crazy during a dinner rush, you just have to deal with it. You can't get upset or freaked out about the 50 pizzas you've got to make. Just make one pizza at a time and get it in the oven. Perform that duty."