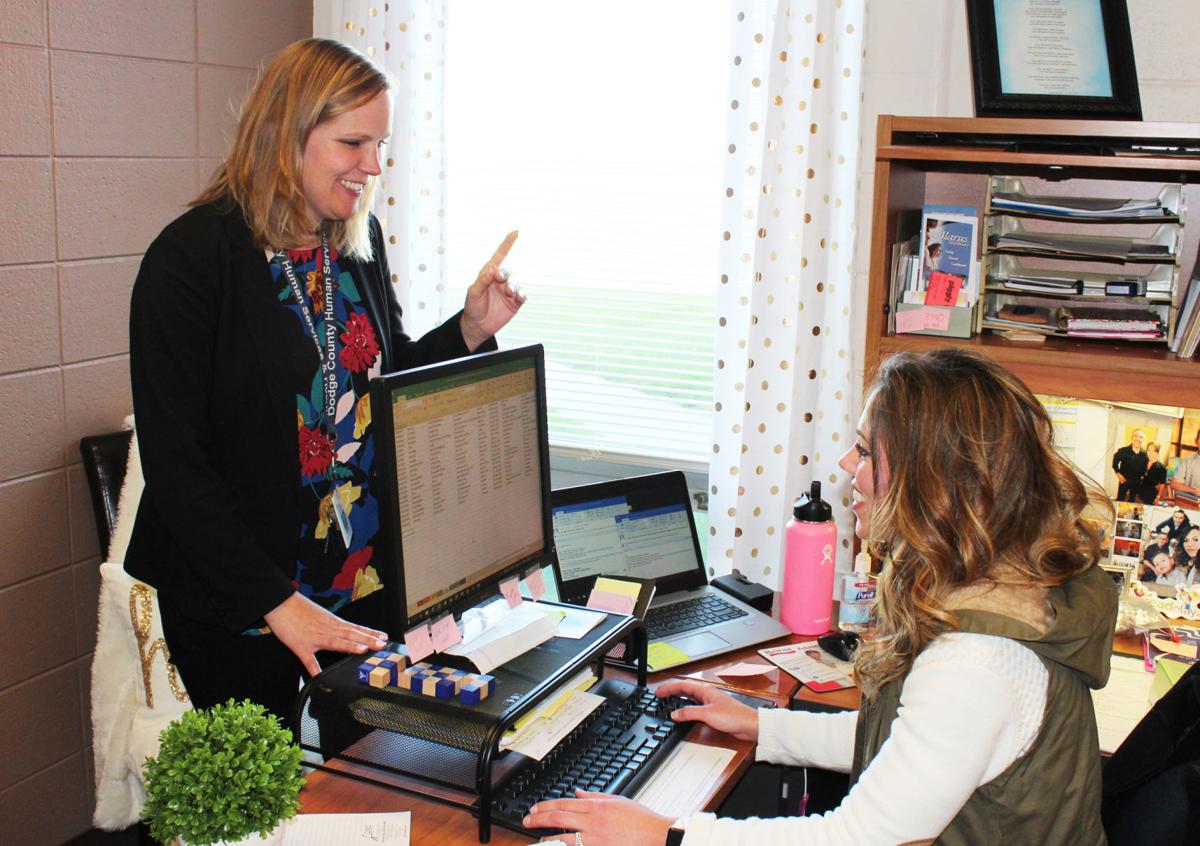 JUNEAU — Dodge County Board Supervisor Lisa Derr told her colleagues Tuesday night that the county needs to take the lead in protecting its citizens from the dangers of COVID 19.
Her entreaty followed a pandemic update from Public Health Officer Abby Sauer.
Sauer reported that since the "Safer at Home" order of Gov. Tony Evers' administration was struck down by the Wisconsin Supreme Court on May 13, her department has been inundated with calls.
"With the approval of many in county government, we decided that the first step was putting out guidance and recommendations to the public versus putting out public health orders," said Sauer.
A press release was issued and a list of actions was offered on the county's web site. Both stated Dodge County Public Health is asking that residents voluntarily follow guidelines like maintaining a six-foot distance from others, avoiding mass gatherings and wearing a mask in public where distancing is hard to maintain. Businesses have been asked to increase cleaning and to monitor employee health, in accordance with Wisconsin Economic Development Corporation advisories.
A dashboard of statistics will soon be shared on the county website. They will include numbers, trends and other vital information about the coronavirus and how likely it is to move in the future.
The health department is also working to trace the exposure of those who have tested positive and how those contacts have affected disease spread.
"Our goal is that every positive COVID resident gets interviewed within 24 hours of us being notified of that test," Sauer said, "and that every COVID positive contact gets interviewed within 48 hours. As of now we're meeting those goals with our staff and support from the Human Services & Health Department as a whole. More staff will provide help if we need it."
As of Tuesday evening there were 109 positive cases in Dodge County and 42 are active cases that are being monitored in isolation. Fourteen percent of the total cases have been hospitalized at one point, although that ranges from an overnight stay to more serious treatment. The 66 that have recovered (60 percent of the total cases) are out of isolation and have returned to doing their regular activities.
One person has died from the virus in the county. A total of 2,079 people have tested negative.
"We have had a bump in number, although it's due in part to the fact that we're testing more," said Sauer. "We were anticipating that would happen."
Outbreaks (of one or more people) in care facilities have been monitored through mass testing or support for those tests.
Supervisor Donna Maly questioned whether more widespread testing in the county will be pursued. Sauer replied that there are no plans to do so, although that may change.
Derr suggested that now is the time to act, since 50 people have contacted her regarding some residents' flagrant disregard for the safety of themselves or others.
"People are concerned that you are pursuing completely unenforceable guidelines as opposed to an order," said Derr. "Numerous people have said they've driven by businesses, were inside businesses and saw things on social media. One driver followed a bunch of bikers who went to a bar that was already overcrowded and was very upset."
She said, "People are frustrated because they are being chastised by others, and even businesses, because they are following the county's guidelines — social distancing and wearing masks. One person has stopped patronizing a local grocery store for not having any protections for its workers."
Several people commented on the fact that several chain businesses have been able to do what the county has not in requiring plastic dividers, social distancing and face masks.
According to Sauer, local public health offices have legal authority to enact powers to "prevent, suppress and control" communicable diseases. Those powers include banning public gatherings.
"If we are seeing that the numbers are not going the right way — that we're seeing negative outcomes — we may look at revisiting closure orders," she said.
According to Sauer, such action is limited to a public health ordinance, which Dodge County does not have.
Derr stated that immediate action is imperative and does not require an ordinance. According to Wisconsin statute 66.1337(4).(a)6.6, "If the local health officer finds that an emergency exists that requires immediate action to protect the public health, the local health officer may, without notice or hearing, issue an order reciting the existence of the emergency and requiring that action be taken that the local health officer determines is necessary to meet the emergency. This order is effective immediately."
An ordinance — not a closure order — will be discussed at a meeting of the Human Services & Health Board on May 27. Approval through various committees could follow, ultimately coming before the County Board in June.
Concerned about COVID-19?
Sign up now to get the most recent coronavirus headlines and other important local and national news sent to your email inbox daily.