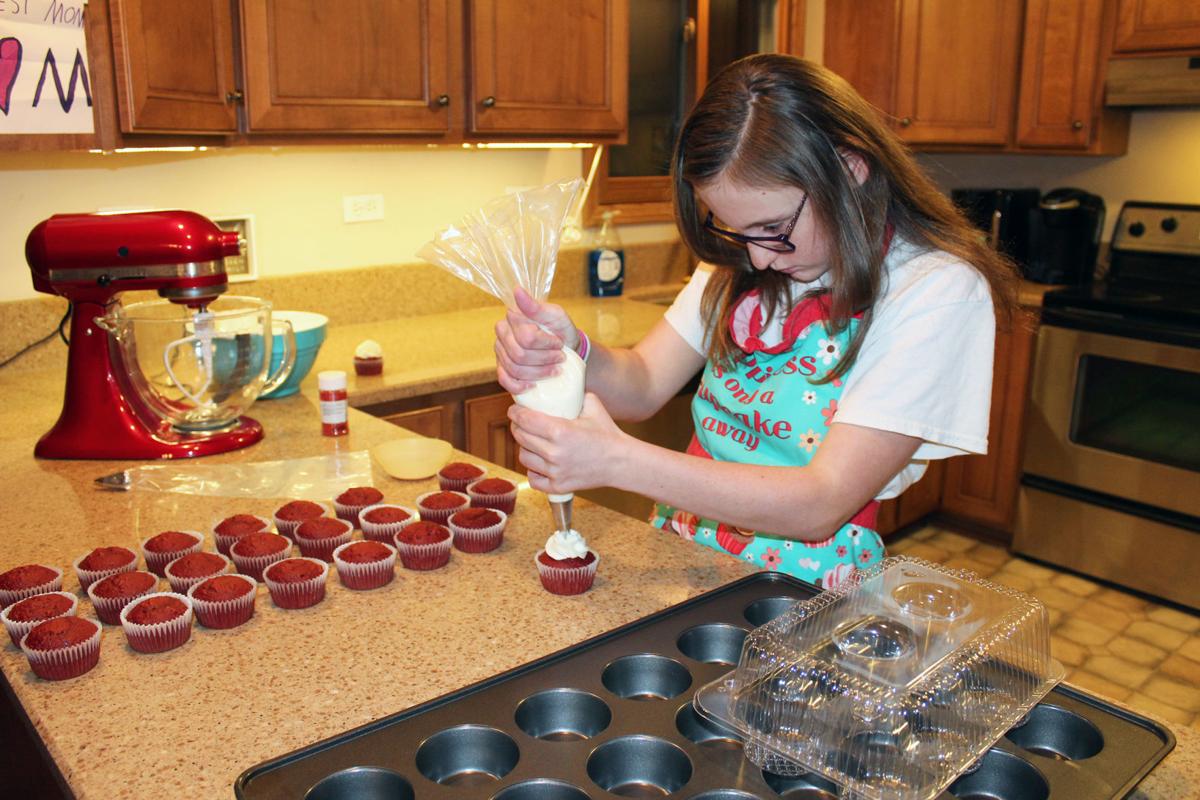 WAUPUN – It wouldn't take much imagination to picture young Jesalyn Casey on an episode of ABC's "Shark Tank," pitching her business to investors.
She has ambition aplenty, and already set goals for her business, Jesalyn's Cupcake Creations, and how it will impact her family. An avid traveler, her ultimate goal is to fund a trip to New York City for her family.
"For many years I have been baking with my family — making Christmas cookies and cakes and everything," said the 12-year-old entrepreneur. "I actually started my business in January of 2019 – just because I wanted to raise money for our trip."
She learned the basics from her grandmother and great grandmother, where she was frequently allowed to stir, measure and pour — and certainly to taste.
"She's been in the kitchen as long as I can remember," said her mother Kim Casey, sharing a photo of Jesalyn being held by her great grandmother next to an attractive cake. "She has been in the kitchen since she was a baby."
Jesalyn started baking seriously for 4-H, competing at the Dodge County Fair this past summer. In her first outing she took first-place prizes for cake, cupcake and an up-cake (a stacked cake with fondant icing).
Funding a trip
She also has baked and sold cupcakes at the campsites her family visits as often as possible.
"I make a couple hundred cupcakes and I walk around the campgrounds and fairs with a little wagon," she said. "I ask people if they're interesting in buying and I tell them I'm saving money for a trip to New York. They usually say sure, but they sometimes say no if they're diabetic or something. They can't have it."
Trappings of her endeavor include professional packaging, business cards, a log book, and her mother's four-quart Mixmaster, oven and cupcake pans.
Mom and dad buy the ingredients. Jesalyn realizes she's getting a good deal, but points out they also share some benefits.
"I sometimes do the dishes and they do get a lot of free cupcakes," she said. "And the profits will take them all to New York, which will cost something like $2,000."
The family includes mother Kim, father Ben, older brother Jonathan and his girlfriend, and younger brother Jordan.
Her most popular six-pack includes a selection of chocolate, vanilla, lemon, carrot, spice, red velvet and/or strawberry flavors, each taken from her 4-H recipe book.
"Chocolate sells out the most," she said. "I am always looking for new flavors, although I'll always keep the ones that I have. They'll always be popular."
Jesalyn's Cupcake Creations will be sold at the Waupun Winter Market when it kicks off Nov. 9 at the Waupun Senior Center, 301 E. Main St. The event runs from 9 a.m. to noon.
Prices for Jesalyn's medium-sized cupcakes are $1.50 each, a six-pack for $8, $15 a dozen and $1 to $1.25 each when purchased in larger quantities.
So far she has baked for her great grandma's 80th birthday, a military weekend at a campground, other birthdays (including several first birthdays where parents mush a cupcake in the babies' faces for pictures) and other events.
Beating the odds
The first birthdays bring back memories to the family of Jesalyn's own childhood, and having been born four months prematurely. At birth she weighed one pound, nine ounces.
"She was in the hospital for 8 1/2 months," said Kim. "A lot of days we were told we would never bring her home."
She is used to overcoming obstacles, and cupcakes are no exception.
"If you put a cherry on top it can slide off and create a big mess," Jesalyn said. "Sometimes the frosting melts. When something like that happens you just have to fix it up as best you can and go on."
New experiences in cupcake making include creating Cookie Monsters, pandas, polar bear paws, sundaes, sheep and footballs.
"You come across ideas in different places and I think, 'Maybe one day I'll do that,'" she said. "The other day I thought about doing an elephant. A lot of work goes into making them, but they usually come out looking really good."
Mom and dad help deliver the cupcakes too far for the wagon to carry.
50 states
Another of Jesalyn's goals is to visit all 50 states – something the family is helping with every vacation they take. So far, they've visited 27.
"We always drive because you can see so much more of the country," said Kim. "You miss so much when you fly over everything. A lot of times we see signs for attractions and just pull of and check them out. We think camping is really the best way to enjoy traveling."
"I just love camping," Jesalyn said. "I love going to places we've already been to, but I'm always eager to see new places as well."
New York, however, is a top priority.
"I want to be able to see Times Square, the Statue of Liberty and the lights and the view," said Jesalyn. "I'd also like to see the 9/11 Memorial, because three or four years ago my grandpa took me and my brother to see the Flight 93 Memorial in Pennsylvania. It all seems really cool. I'd like to see it all."
Her savings account continues to grow at the bank, and she works diligently to keep her spending down – the epitome of a good business person.
Capital investment
"After the farmer's market she'll keep out maybe $20 and the rest will go into her savings account," said Kim. "It's too hard for a kid to make all that money and then have it all disappear."
The latest need for her business is a six-quart stand mixer, which will allow her to make more cupcakes in a shorter time. That is the biggest request for her birthday on Dec. 23 — two days before Christmas.
"We make sure to celebrate her birthday separately, because it's important to celebrate on its own," said Kim, who said a $350 mixer would likely cover both celebrations.
It is something Jesalyn has researched thoroughly, and she knows where they are on sale and when the prices expire.
"I have searched for three months now for the perfect stand mixer and know exactly what I want," said Jesalyn. "It is the new model, cobalt blue, Kitchen Aid."
"She's a little girl and she could ask for anything, but this is what she wants," said Kim. "Selling cupcakes has made her really aware of what things cost."
"Everybody my age wants a new phone or video games, but this can help me reach my goal," Jesalyn said. "I've always wanted a double oven, too, but they're way too expensive."
Given her persistence, it could be only a matter of time.
Be the first to know
Get local news delivered to your inbox!