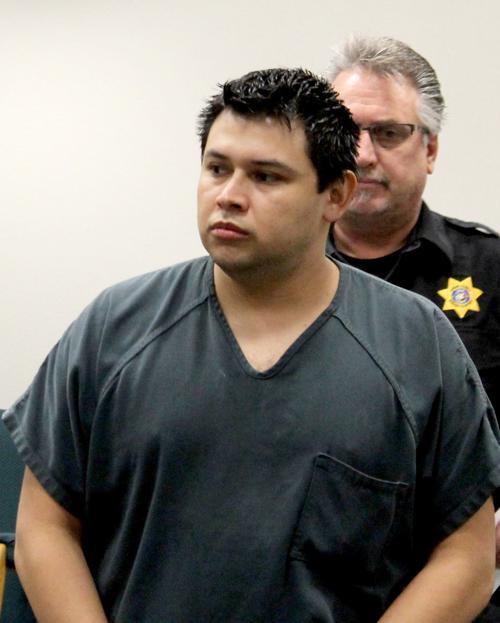 JUNEAU – The final steps are taking place before a 32-year-old Beaver Dam man goes to trial for allegedly fatally shooting his ex-wife, Stacia Hollinshead, in his parent's home on March 23.
A motion hearing was held Monday so the court could make rulings on what would be admissible during the five-day jury trial which is scheduled from Feb. 10 to 14 in Dodge County.
Medina Espinosa, 31, appeared with his attorneys Ramneek Button and Greg Vollan. He could face life in prison if convicted of the first degree homicide charge and is being held in Dodge County Jail on a $2 million bond.
Dodge County Circuit Judge Steven Bauer ruled that the ammunition in Espinosa's car that matched the murder weapon could be brought into the testimony. Statements made by his family before he was taken into custody may be brought up at trial as well.
An autopsy showed Hollinshead suffered 15 gunshot wounds at an indeterminate range. She was shot three times in the left side of her head, eight times in her torso with all bullets entering her back, and four times in her pelvic and thigh region.
Another piece of evidence, the 911 call his mother made after Hollinshead was shot was played in the courtroom Monday. Espinosa cried as he heard his mother weeping and crying for help during the call, which will be admissible at least in part during the trial.
Information about the divorce proceedings between Medina Espinosa and Hollinshead will be allowed.
You have free articles remaining.
For a motive in a homicide case, the divorce is highly relevant, Dodge County District Attorney Kurt Klomberg said. Button said that they agreed some information about the divorce was relevant, but he wanted the court to be cautious.
"I don't want to see it become a divorce trial in the middle of a homicide trial," Button said.
Bauer said he would rule on the objections during the trial when the divorce is brought up in the case.
Beaver Dam Police Officer Meagan Scott took the stand during the motion hearing and told about what she encountered at the home at 322 ½ E. Third St. in Beaver Dam on March 23.
Scott said she entered soon after another officer, and she encountered Espinosa's mother was in hysterics when she arrived and when Scott asked her where the gun was she told her that "he killed her" three different times and turned toward Espinosa.
At the time, Espinosa was kneeling down near his 5-year-old daughter who was crying. The girl was brought to Beaver Dam by Hollinshead to visit her grandparents.
Espinosa was taken into custody and removed from the home, Scott said.
Hollinshead was a DeKalb County, Illinois, assistant state's attorney since November and a native of Effingham, Illinois. She graduated from the Northern Illinois University College of Law in May 2018 after being a U.S. Army intelligence analyst for 11 years.
Follow Terri Pederson on Twitter @tlp53916 or contact her at 920-356-6760.