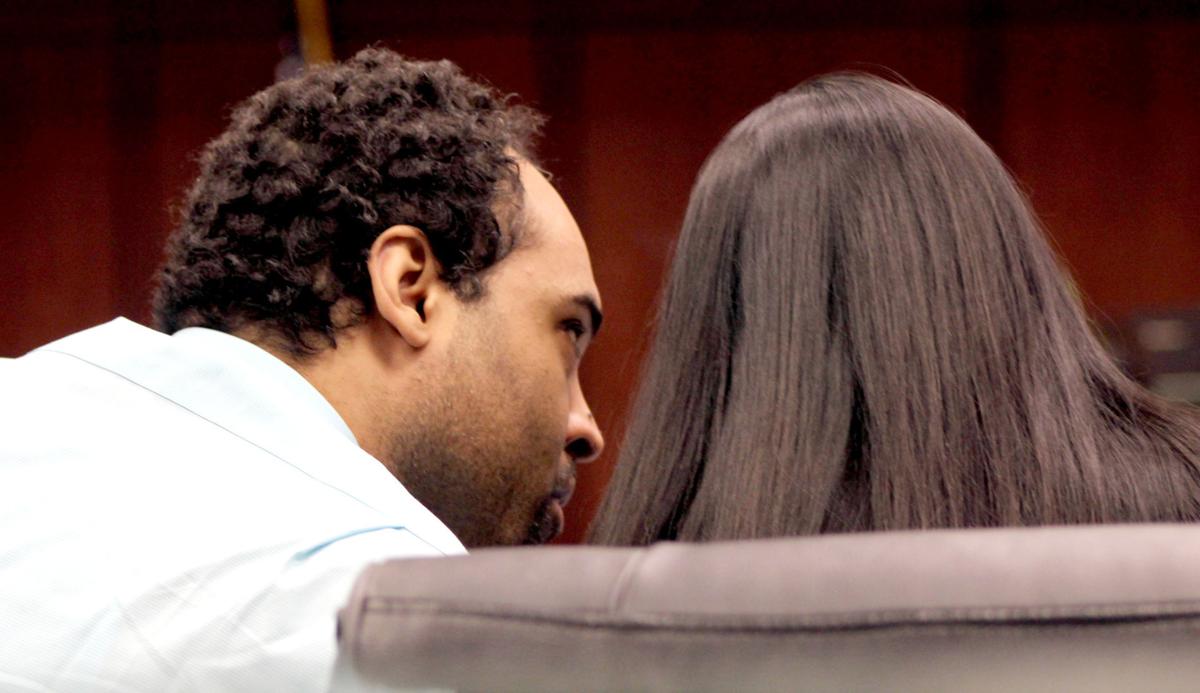 JUNEAU — Teresita Johnson had planned on taking her daughter to her home state for a special birthday trip.
Instead, the mother of Fox Lake homicide victim Sesalie Dixon told a Dodge County courtroom, she was only able to take some of her daughter's cremated remains to New York City.
Johnson testified Tuesday in the murder trial of Laverne Ware Jr., the Fox Lake man accused of shooting Dixon, his girlfriend and first cousin, to death in December 2016. Ware is also charged with hiding a corpse, incest and two counts of being a felon in possession of a firearm.
"I had promised to take her there (to New York) for her birthday," Johnson said. "I took some of her ashes and took her to one of my favorite places and put the ashes in a fountain in Central Park. She had never been there and New York is where I'm from."
Dixon's body was found Dec. 4, 2016, in the passenger seat of a pickup truck owned by Ware, parked in the garage of a Fox Lake home he owned and where his mother resided. An autopsy revealed that Dixon, 27, died of three gunshots to the head.
Dixon and Ware began seeing each other about seven years ago, according to testimony earlier in the trial.
Johnson, whose estranged husband Stanley Johnson is Ware's uncle and a brother to his mother, Marjorie Jones, said that the couple were unaware how closely related they were. Johnson said Dixon did not know her father was Stanley Johnson, though she claimed he knew Dixon was his daughter "all along."
However, Teresita Johnson said Stanley Johnson requested a DNA test in the spring of 2016, which Ware agreed to pay for.
"When the results came, he called me and was crying and apologizing and said 'She is my daughter,'" Johnson said. "I asked him what he was going to do about it. He said, 'They are in love. What should I do?'"
Johnson said she received a $7,500 check from Ware's former attorney after Dixon's death, but never wanted the money.
Dodge County District Attorney Kurt Klomberg asked her why she waited to cash the check.
You have free articles remaining.
"I didn't want anything to do with the money," Johnson said. "I looked at it as his way of spreading the money around and trying to make everything OK."
Other testimony Tuesday focused on physical evidence.
John Ertl, a forensic scientist, testified earlier in the day that the blood splatter in the truck indicated to him that the vehicle was in motion at the time Dixon was shot and that the shots had come from her left side.
"The shots impacted her on her left side of her face and head from what I saw on the autopsy photos," Ertl testified.
Defense Attorney Anjali Sharma asked if there were other factors that could have affected the blood splatter besides movement.
"Could it have happened on an angle like a driveway?" Sharma asked.
Ertl said that if the blood splatter was caused by the truck being on an angle, it would've had to have been a very steep hill and said it would have to be at about a 65-degree angle for the blood to make the pattern that it did in the truck.
"Do you know any hills like that," Klomberg asked Ertl on redirect.
"I don't know any hills like that," Ertl responded.
A former resident of Fox Lake testified seeing Ware the night of Dec. 3, 2016, and said that he appeared to be upset. Torie Westra said Ware told her Dixon was having an affair.
One of the lead detectives, Andrew Rolfs from the Dodge County Sheriff's Office, testified about a pair of men's jeans that was found in the Fox Lake apartment Dixon and Ware shared. The jeans had Dixon's blood on them, but Rolfs said they are not the same jeans that Ware had on in a photo he had on his phone from earlier in the day.
Witnesses for the prosecution will continue to take the stand on Wednesday.
Follow Terri Pederson on Twitter @tlp53916 or contact her at 920-356-6760.
Sign up for our Crime & Courts newsletter
Get the latest in local public safety news with this weekly email.