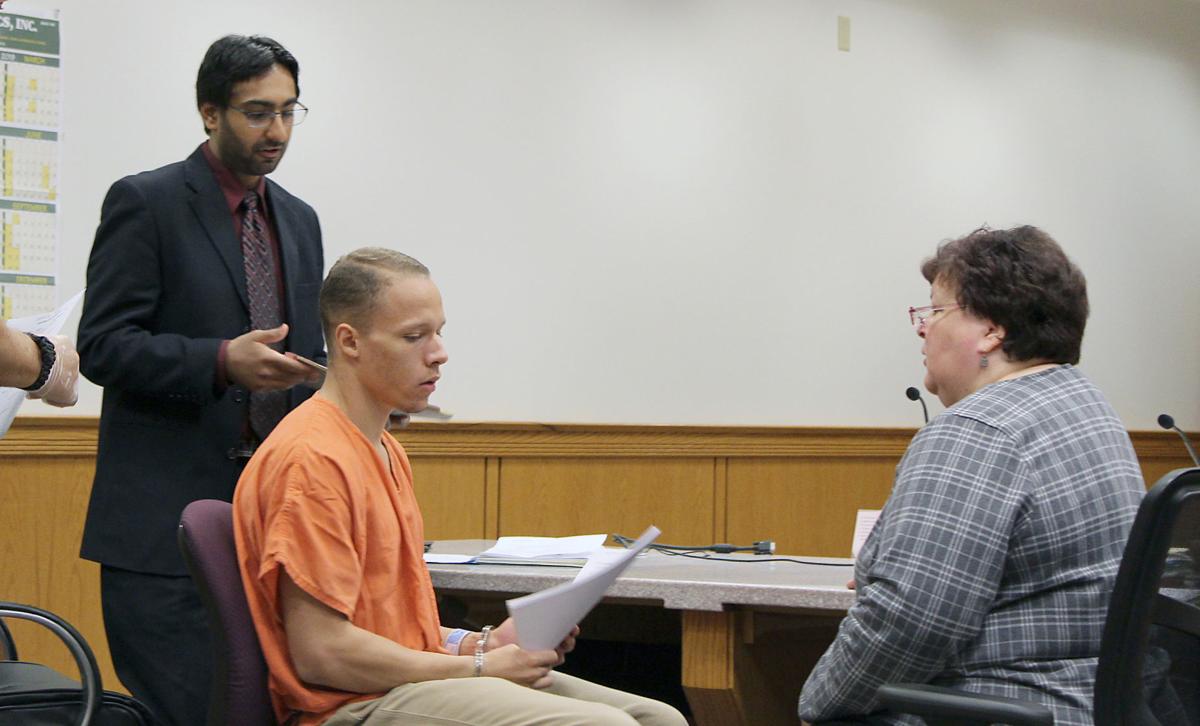 JUNEAU — A 21-year-old man accused of murdering a Beaver Dam man last fall pleaded no contest Friday to a charge of first-degree intentional homicide, forgoing a trial that had been scheduled for next month.
Nigel Schultz had been scheduled for a motion hearing Friday in the case, but instead entered the plea in front of Dodge County Circuit Court Judge Martin De Vries. Schultz faces a mandatory sentence of life in prison for the shooting death of Bradlee Gerke.
Shortly after being released from prison for a previous felony, Schultz shot the 32-year-old Gerke 16 times in the back of the head and torso and buried him in a shallow grave in late October at a town of Lebanon property. Schultz told sheriff's deputies he killed Gerke because Gerke was going to turn him into police for a probation violation.
Schultz repeated his confession to many others, including telling acquaintances on a recorded phone line that he killed someone, would be in jail for the rest of his life and that shooting someone 16 times cannot be an accident.
Dodge County District Attorney Kurt Klomberg said additional charges of hiding a corpse, theft from a corpse and two counts of possession of a firearm by a felon would be dismissed. Klomberg said he will recommend that Schultz never be allowed the possibility of parole when he is sentenced on Jan. 7.
"I am asking the court to sentence Schultz to spend the rest of his life in prison for this unbelievably violent and premeditated murder," Klomberg said in a press release.
You have free articles remaining.
Rebecca Wolc, a 33-year-old Beaver Dam woman, has been charged as an accomplice in the case.
According to criminal complaints, the Dodge County Sheriff's Office received a call at 6:15 p.m. Oct. 31, alerting it that there was a body at N901 Redwing Road northwest of Ashippun in Dodge County. Gerke's body was recovered that night.
Schultz convinced Gerke to go to the location, where he shot Gerke in the back of the head, court records show. The complaint says Schultz then picked up another gun and shot Gerke 15 more times in the head and chest. The complaint says Schultz then tried to burn the body, but was unable to do so and stole items from the body before burying him on the property.
Schultz was later located in Wolc's apartment in Beaver Dam.
Schultz has a long criminal history, with felony convictions for violent offenses dating to when he was 17. Schultz's probation was revoked for a 2016 conviction in February and he was sentenced to five years in prison and five years of probation.
According to the homicide complaint, Schultz told police that prior to Oct. 28, he believed Gerke was going to report him to authorities so his probation would be revoked.
"The defendant decided to plead because of the excellent work done by the sheriff's detectives, the Wisconsin State Crime Lab, the Wisconsin State Patrol and our staff in the District Attorney's Office, as well as many others," Klomberg said in the release. "I am grateful to the entire team for giving me the tools to protect the community from this killer and find justice for his victim."
Schultz has been in custody since Nov. 1. He is currently housed at Green Bay Correctional Institution.
Follow Terri Pederson on Twitter @tlp53916 or contact her at 920-356-6760.