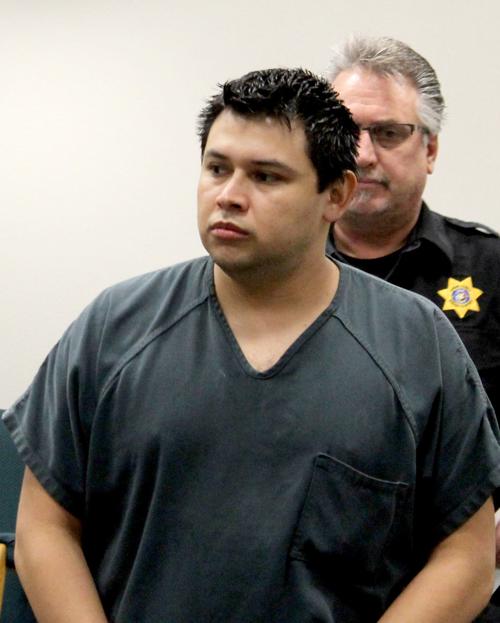 JUNEAU – A sealed letter that Ulisses Medina Espinosa handed to his father after allegedly shooting his ex-wife to death last March will be read by his attorney.
Dodge County Circuit Court Judge Steven Bauer granted the reading of the letter by Medina Espinosa's attorney Douglas Phebus during a motion hearing on Wednesday. Phebus will be the only person to read the letter before it is placed back into evidence.
Medina Espinosa is accused in the March 23 shooting death of Stacia Hollinshead and is being held in Dodge County Jail on a $2 million bond.
Hollinshead and Medina Espinosa had a daughter, who was 5 at the time of Hollinshead's death. Hollinshead had brought the girl to Medina Espinosa's parents' house at 322½ E. Third St. in Beaver Dam, where the shooting took place.
Medina Espinosa gave his father a copy of his will and a sealed envelope for his attorney at his parent's home where he was arrested soon after the shooting. The letter remains in an evidence locker in Dodge County and has not been unsealed.
"I would like to look at it," Phebus said adding that he did not have a problem with others being in the room at the time. "Only I can read it and then I will put it back in the envelope to preserve it."
"We never determined if it was a (attorney/client) privileged item," Dodge County District Attorney Kurt Klomberg said.
Medina Espinosa changed his plea from not guilty to not guilty by insanity and alleged that he received neurological damage during a workplace accident in January. He did not appear in court Wednesday due to a doctor for the defense doing a neurological exam on him at the same time.
Bauer also addressed the cost of a doctor that the defense and prosecution agreed on for assessing Medina Espinosa and said that the court did not feel that the cost was in the court's budget, but he did find a doctor that at a quarter of the cost that they will retain for $4,000.
Klomberg will use the original doctor as a witness for the state and was approved by Dodge County for his appearance. The defense will have their own doctor who will appear at trial.
Klomberg also asked for the sister of Hollinshead to both testify during the trial and be allowed in the courtroom to hear the trial.
The court also discussed medical records from the past for Medina Espinosa including an episode of severe depression when he was a junior at Beaver Dam High School.
Klomberg asked for the magazines that were in Medina Espinosa's car to be brought into evidence. Phebus did not dispute the use of the magazines as evidence.
Phebus also asked about a death threat that Medina Espinosa said he reported to the Beaver Dam Police the summer before his arrest.
"I don't know if it exists," Klomberg said.
Phebus asked for the district attorney to assist in asking Beaver Dam Police for the records in order to turn them over to the defense. An open records request will be filed with the Beaver Dam Police Department.
Medina Espinosa is scheduled for a week-long trial beginning June 1.
Follow Terri Pederson on Twitter @tlp53916 or contact her at 920-356-6760.
Sign up for our Crime & Courts newsletter
Get the latest in local public safety news with this weekly email.