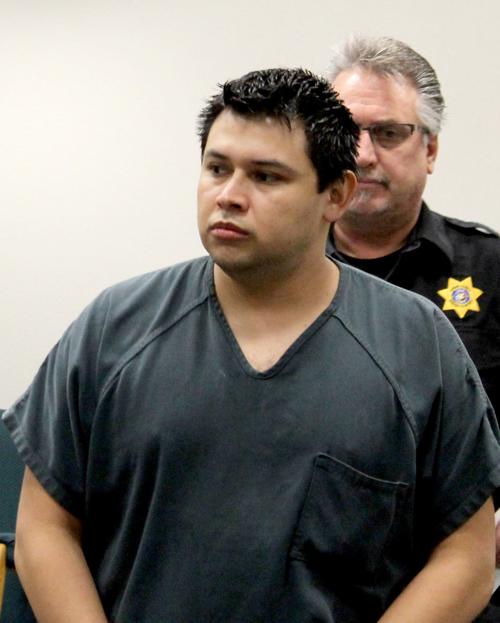 JUNEAU — A five-day jury trial has been scheduled Feb. 10 to 14 in Dodge County Circuit Court for Ulisses Medina Espinosa on a first-degree homicide charge for allegedly killing his ex-wife in his parents' home.
Medina Espinosa, 31, is accused in the March 23 shooting death of Stacia Hollinshead and is being held in Dodge County Jail on a $2 million bond.
An autopsy showed Hollinshead suffered 15 gunshot wounds at an indeterminate range. She was shot three times in the left side of her head, eight times in her torso with all bullets entering her back, and four times in her pelvic and thigh region.
Hollinshead and Medina Espinosa had a daughter, who was 5 at the time of Hollinshead's death. Hollinshead brought the girl to Medina Espinosa's parents' house at 322½ E. Third St. in Beaver Dam on March 23.
The two divorced in 2016 and Hollinshead was granted a protective order against Medina Espinosa the same year. Hollinshead had full custody of the girl and Medina Espinosa had lost his parental rights, according to court records. The DeKalb (Illinois) Daily Chronicle reported that those rights had been restored with specific conditions set for visitation.
According to the criminal complaint, Medina Espinosa's mother told police Hollinshead "felt that she had a moral obligation" to allow the child to see her grandparents. Medina Espinosa's mother and Hollinshead had exchanged text messages to set up the visit on March 23.
Hollinshead arrived at the home between 2:15 and 2:30 p.m.
You have free articles remaining.
A short while later, Medina Espinosa arrived at the home with gifts for the girl, according to the complaint. The girl ran up to Medina Espinosa and his mother returned to the kitchen, where Hollinshead had remained. Medina Espinosa's mother told police that she heard several gunshots coming from behind her and then saw Medina Espinosa toss a gun in the sink.
Medina Espinosa's mother told police that she ran toward him and then saw Hollinshead lying on the ground. She told investigators that she grabbed her son's arm and screamed, "What are you doing?" The mother said he did not reply to her and had no expression on his face. He then went to his daughter, who had started crying, while his parents called 911.
When police arrived at 2:42 p.m., Medina Espinosa's mother was crying and said in Spanish, "He killed her," several times. According to the complaint, Medina Espinosa was kneeling next to the girl and was cooperative when he was taken into custody. He asked to speak with a lawyer.
Medina Espinosa's father told police that his son had handed him a sealed envelope right before police arrived that contained his will and testament. The document talks about his wishes including shared custody between all the grandparents for the 5-year-old girl.
According to the criminal complaint, Hollinshead's sister told officers that Medina Espinosa had a long history of stalking, manipulation and attempts to control Hollinshead and had put a tracking app on his wife's phone while they were still married.
Medina Espinosa's mother said he had never been violent in the past, but was having issues with the divorce and child placement.
Hollinshead was a DeKalb County, Illinois, assistant state's attorney since November and a native of Effingham, Illinois. She graduated from the Northern Illinois University College of Law in May 2018 after being a U.S. Army intelligence analyst for 11 years.
A motion hearing in the case also was scheduled for Dec. 9.
Follow Terri Pederson on Twitter @tlp53916 or contact her at 920-356-6760.