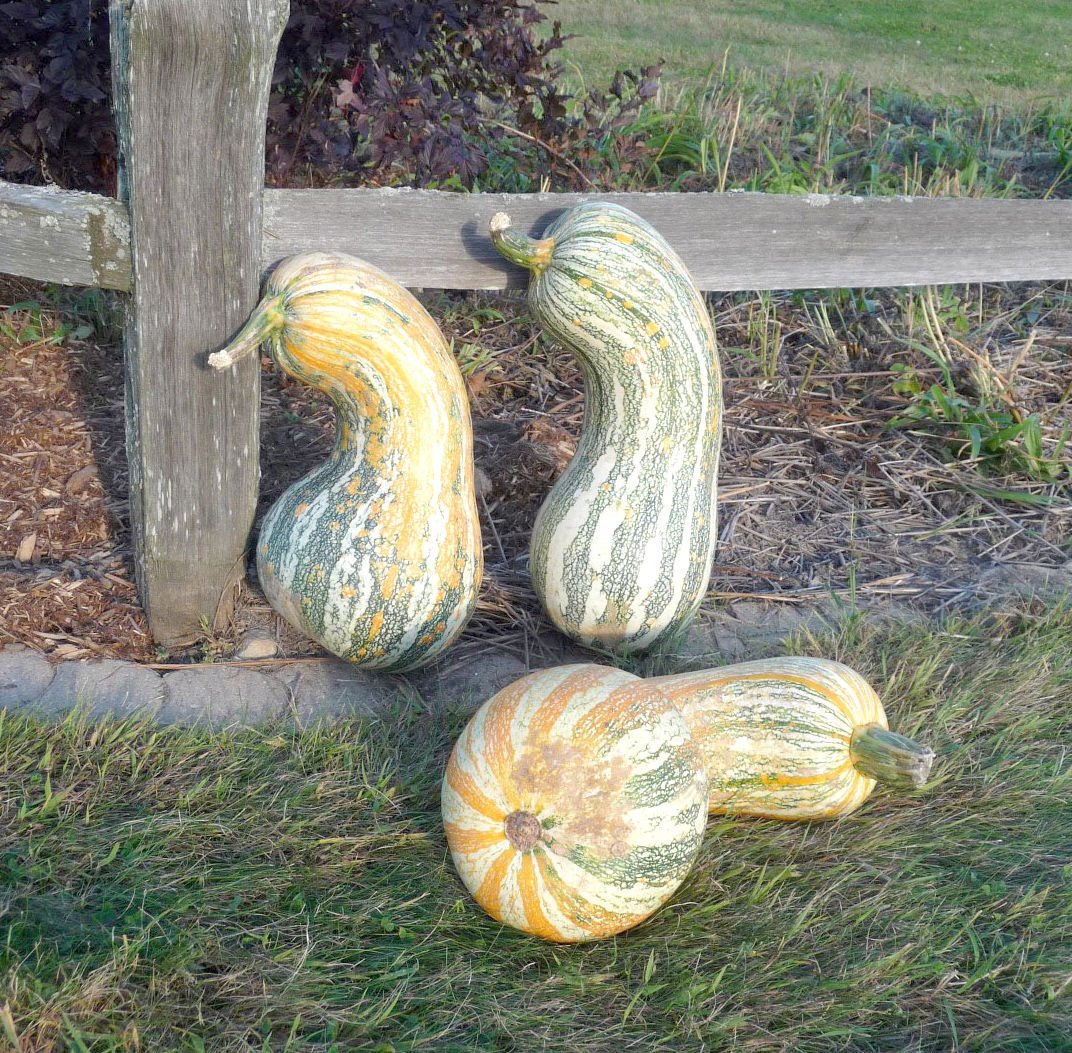 Squash (members of the cucurbit family) are divided into two general categories: summer and winter.
Summer squash includes soft-skinned varieties like zucchini and produce a generous crop all summer.
Winter squash are long vining plants that take an entire season to produce hard-shelled fruit. They include pumpkins, gourds, and a slate of different colored and shaped fruits. Unlike many vegetables, winter squash are native to the Western Hemisphere and were a staple to the Native Americans, who ate the fruit, seeds and blossoms.
Cushaw (or Kershaw) squash (cucurbit mixta) is a unique winter squash that will be hard to find in any market, but will be well worth the minimal effort needed to grow. Like any winter squash, cushaw is low in calories, but is a good source of minerals, carotene, and Vitamins A, B and C.
So, what makes cushaw so special?
Ease of growth, squash bug resistance, and outstanding flavor would top the list. Additionally, it is different, and what gardener does not like to show off something unique to friends and family?
Cushaw is a pot-bellied, green or yellow and green striped, crook-necked winter squash that tolerates heat and drought.
You have free articles remaining.
The vines will sprawl as it grows for 105 days until maturity, so give it plenty of room. The fruits will be 10-20 pounds, 12-18 inches long. Unlike some of the other winter squash, this one is easier to cut up, not requiring the hatchet that some butternut squash need. They store well in a cool dark place, lasting 4–5 months, allowing the gardener to have tasty dishes well into the spring.
An internet search will yield several sources for seeds. Plant in hills when danger of frost is gone, thinning to two plants per hill. A sunny location with well-drained soil is optimum. Harvest when the vines die back or when the fruit skin cannot be penetrated with a fingernail. Cure in a warm location for a week or two before storage.
The cushaw is grown more extensively in the Southern United States and is often referred to as a "Tennessee Sweet Potato." One complaint that consumers of other winter squash have is the dryness. Cushaw are moist without being overly wet. Most people who have eaten this squash rave about the flavor. The light-yellow flesh is slightly sweet and can be used in both sweet and savory dishes. It can be substituted for pumpkin and is superior in flavor and texture to a regular pumpkin.
One author said after eating a cushaw pie, "I am afraid I have ruined my taste for the Libby's classic."
Cooking the cushaw results in a larger yield than most winter squash.
What is a cook to do with all that squash? Once it is cooked and pureed, it can be used for pies, cheesecakes, muffins, cheesecakes, soups, chili, and in smoothies (think: pumpkin pie smoothie).
The puree can be frozen for later use as well.
Roasted cushaw is a veritable feast.
Drizzle with olive oil, add the spices of your choice and roast cubed squash for about 10 minutes. As a bonus, roast the seeds when preparing the cushaw and use them for a tasty, nutritious snack.