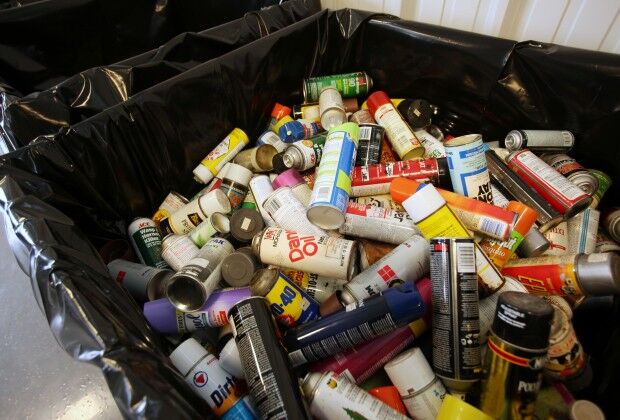 JUNEAU – Dodge County will hold the 2020 Clean Sweep hazardous waste collection Aug. 29 from 8 a.m. to noon at the Dodge County Highway Department Shop, N8856 Highway A, in the town of Trenton.
"We've had these collections every other year for about the past 10 years," said Dodge County Board Chairman Russ Kottke. "It's a cooperative effort with the Extension office, UW-Madison, the county and Advanced Disposal."
The total cost is about $20,000, which is largely offset by a state grant.
"We help write the grant to get the funding and work with the county to organize and promote the event," said UW-Extension Crops & Soils Educator Joe Zimbrick. "Our staff coordinates the outreach and promotion of it. We answer a lot of questions and work with Russ to set it all up."
Chemical waste was a problem in need of a solution for decades before that, with both homes and businesses getting rid of those items by whatever means they could. Disposing of them properly is the goal of the "Clean Sweep" program.
"It often comes from people cleaning out a house after they've sold it and finding things they forgot they had," Kottke said. "Using this service is a benefit to the general public because those materials don't go untreated into the landfills. They don't get into the groundwater and water supply. This is a good thing for all of us in Dodge County."
Clean Sweep programs provide the public with opportunities to safely and legally dispose of unwanted pesticides, household products and chemicals. Advanced Disposal, which operates the nearby Horicon/Mayville landfill, processes the materials collected in an environmentally safe method through a licensed hazardous waste facility.
"Hazardous wastes can usually be identified by products which contain any of the following words: caution, warning, danger, poison, toxic, ignitable or flammable, acid, corrosive or reactive," according to Advanced Disposal officials.
There are no records of quantities of materials collected or what those materials are, but last year about 190 vehicles were unloaded.
"That's about normal," Kottke said. "We anticipate a similar number this year."
Cost is $10 per residential vehicle. Agriculture materials will be collected free. Small business must pre-register and a cost will be assessed.
Farms and businesses are asked to pre-register so the waste disposal company can accommodate their needs. Pre-registration is required for agriculture and small businesses by Aug. 21. To register call the Extension Dodge County office at 920-386-3790 or visit the website at dodge.extension.wisc.edu
Workers are trained professionals and are well protected, according to Zimbric. Hazmat protection, combined with COVID-19 protection, is designed to insure safety for all.
Acceptable home workshop/garage materials include brake fluid, stripper, glues, thinner, varnish, lacquer, swimming pool chemicals, transmission fluid, carburetor cleaner, engine cleaner, contaminated fluids, lead based paint, gun cleaning fluid and turpentine. Household items accepted are air fresheners, floor polish, spot remover, oven cleaner, moth balls, silver polish, mercury thermometers, dry cleaning fluid, window cleaner, mildew cleaner, nail polish remover, furniture polish remover, fluorescent tubes and oil- and metal-based paint. Mercury and lithium batteries are acceptable.
Acceptable damaged, cancelled, banned, or otherwise unwanted agricultural chemicals are 2, 4-D, DDT, 2, 4, 5-T, Silvex, fungicides, herbicides, insecticides, wood preservatives, Chlordane and rodent bait.
Items not accepted are human medical and biological wastes, radioactive materials (smoke detectors), explosives (ammunition, fireworks, etc.), alkaline batteries, used motor oil, fertilizer, anti-freeze, compressed gas cylinders, tires, pharmaceuticals, ammunition, TVs and appliances.
No latex paint is accepted. Those who have that material are advised to dry liquid latex paint in the can by removing the lid. To speed up this process, mix oil dry, cement, plaster of Paris or kitty litter with the paint. Once dried, dispose of the dried paint/can with household garbage.
Those who participate should be prepared for social distancing and remain in their vehicles at all times. They should keep like materials together and place them in cardboard boxes which will not be returned. Items must be placed in the vehicle's trunk, truck bed or as close to a hatchback as possible. Materials should be properly identified with their original labels. Do not mix materials together. Unknown materials may be brought in, but Dodge County and its hazardous waste disposal contractor reserve the right to refuse any material.
For more information visit the Extension Dodge County website at www.dodge.extension.wisc.edu or call 920-386-3790 between 8 am and 4:30 p.m., Monday through Friday.
Concerned about COVID-19?
Sign up now to get the most recent coronavirus headlines and other important local and national news sent to your email inbox daily.