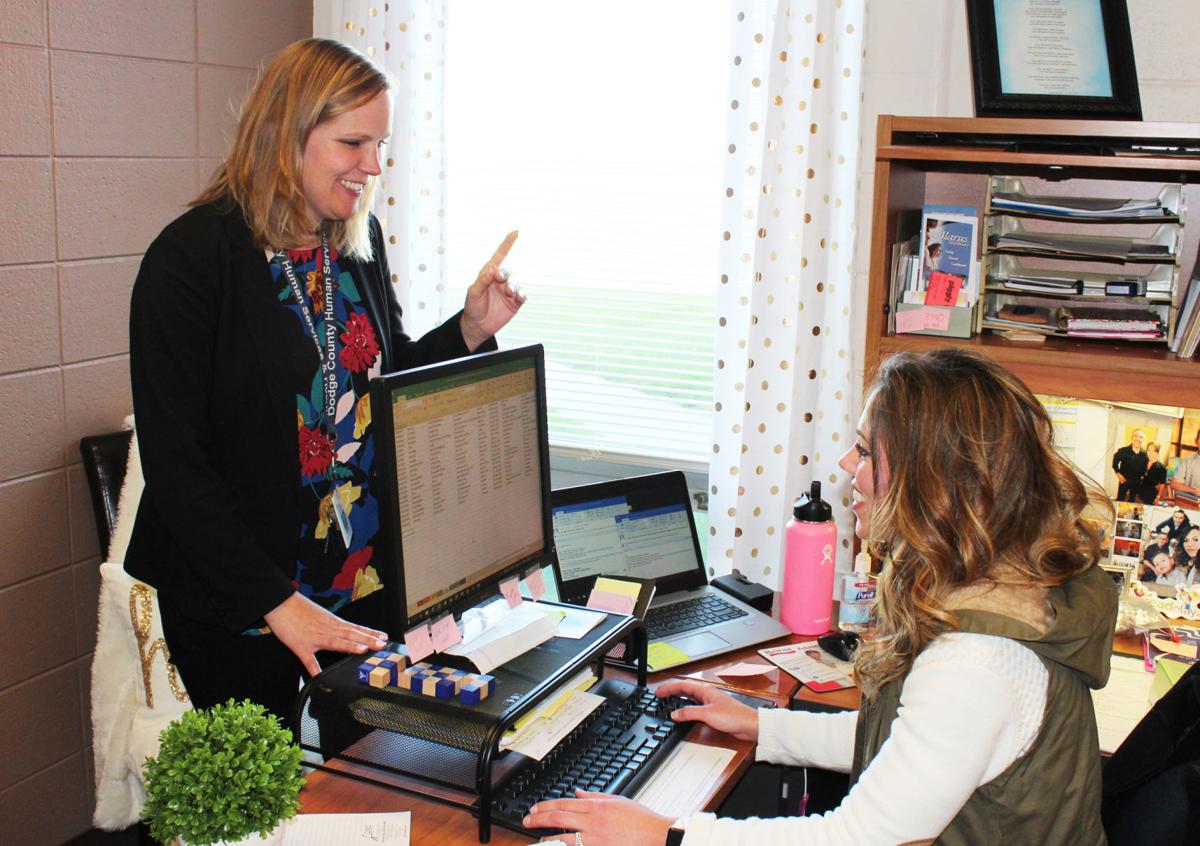 JUNEAU – Which comes first, a public health order or an ordinance allowing such an order to be issued?
Members of the Dodge County Executive Committee are assuming the latter, but voted Monday to delay its final approval. The delay will allow them to gather more input from the sheriff's office and from community police departments. Local departments must enforce any orders that could be issued under the guidelines of the ordinance.
Public Health Officer Abby Sauer urged a cautious approach following the Wisconsin Supreme Court's rejection May 13 of the Safer at Home order. Gov. Tony Evers first issued the order March 23 and was considering an extension before it was nullified.
"With the approval of many in county government, we decided that the first step was putting out guidance and recommendations to the public versus putting out new public health orders," said Sauer.
Her office issued a press release and shared and a list of safety precautions on the county's web site. Both documents stated, "Dodge County Public Health is asking that residents voluntarily follow guidelines like maintaining a six-foot distance from others, avoiding mass gatherings and wearing a mask in public where distancing is hard to maintain. Businesses have been asked to increase cleaning and to monitor employee health, in accordance with Wisconsin Economic Development Corporation advisories."
Corporation Counsel Kim Nass presented an ordinance that was prompted during the May 19 meeting. At that meeting board member and attorney Lisa Derr, disagreed that an ordinance is needed. She quoted Wisconsin statute 66.1337(4).(a)6.6 which states: "If the local health officer finds that an emergency exists that requires immediate action to protect the public health, the local health officer may, without notice or hearing, issue an order reciting the existence of the emergency and requiring that action be taken that the local health officer determines is necessary to meet the emergency. This order is effective immediately."
Derr reported receiving 50 or more calls reporting area residents' frustration with guideline violations.
"People are concerned that you are pursuing completely unenforceable guidelines as opposed to an order," said Derr. "Numerous people have said they've driven by businesses, were inside businesses and saw things on social media that made them very upset."
She said, "People are frustrated because they are being chastised by others, and even businesses, because they are following the county's guidelines — social distancing and wearing masks. One person has stopped patronizing a local grocery store for not having any protections for its workers."
Several people commented on the fact that several chain businesses have been able to do what the county has not in requiring plastic cashier guards, encouraging people to maintain social distance and to wear face masks.
County Board supervisors decided to move forward with the ordinance. Approval through various committees has moved forward, although on Monday Sheriff Dale Schmidt questioned that process. His main objection is that the board should not approve the ordinance without seeking input from local law enforcement.
"I haven't had a chance to see the ordinance yet but I also haven't had a chance to speak with the police chiefs," he said. "I don't think the attorneys can speak on behalf of the police chiefs for what they're going to enforce. I think we need to have that opportunity."
He added, "I don't have the resources to enforce a health order/closure on my own. We just don't have the manpower. If you put an order in place without cooperation from businesses and local law enforcement, you're going to have a lot of people who say, 'I'm not doing it.'"
He urged the committee to delay action for a month or two, if only to get more input. He pledged to help if requested, but urged the committee to "get it right" with buy-in and cooperation from all the agencies involved.
"I see your point, but we're talking about implementation, not the ordinance itself," said Supervisor Dave Froehling. "We need to have the ordinance in place so you have the framework in place so the municipalities can work with the Public Health Office."
"I assume having the ordinance in place is the first step and the second is developing enforcement strategies," said Supervisor Kira Sheahan-Malloy."I assume you (Nass) can write a legal document to get all the i's dotted and t's crossed prior to our signing it. This defines the authority, which is the first step. Right now we have nothing on the books, regardless of COVID 19."
"Otherwise it's sort of like waiting for a crime before you buy ammunition," said Froehling.
Supervisor Joe Marsik took up the theme.
"You want to have the ammunition in case something would happen," he said. "I look at the ordinance in that way. You're not doing anything with it. There's nothing to enforce. It's just there allowing you to do something if it's needed."
He added, "If there's a major outbreak it's going to happen at a rapid pace. An order can happen very rapidly, but if the ordinance is not in place we might be months too late."
Supervisor Jeff Schmitt objected to passing an ordinance in the first place.
"People could have an expectation with an ordinance like this, so if you see two people on social media not following distancing guidelines or wearing a mask, then police or the sheriff will have to go out and arrest them. Then they'll be issued a ticket for $250. I don't agree with that."
Nass countered, "This is just a tool to provide the legal framework in case there is a circumstance in which the Public Health Office needs to proceed. Then it will be up to public health and law enforcement to decide how to enforce it."
A motion was approved to present a draft ordinance to the board for discussion on June 16. It may be ready for approval on July 21.
Supervisor Kira Sheahan-Malloy voted no. She explained that she would like to have the option to approve the measure in June, despite the challenges of making revisions and gaining input over the next two weeks.