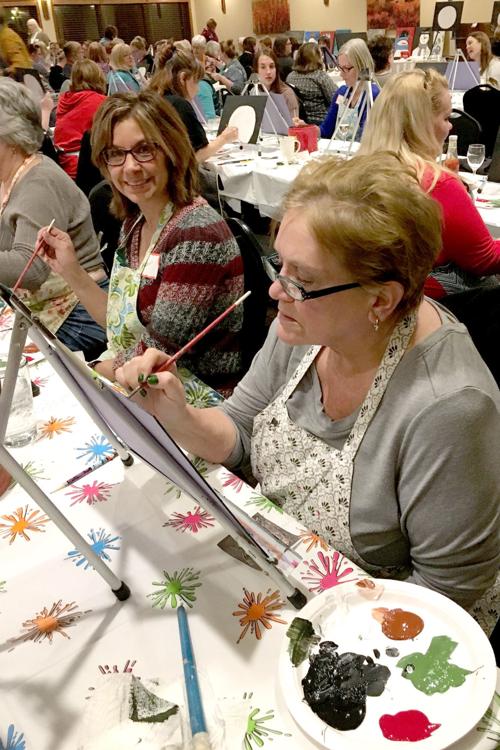 The Dodge County Women's Club has grown steadily, but dramatically, since it was begun through Beaver Dam Women's Health in 2011. It is a nonprofit organization with the primary mission to enable women to connect and have fun together. Events are open to all women in the greater Beaver Dam area, and there is no charge to attend any event.
The fun promises to continue in the group's ninth season, which will launch with a "Guided Tasting and History of Wine Presentation" by Riverfront Wine Bar. The event is being held Sept. 12 from 7-8 p.m. (with registration from 6:30-7 p.m.).
All events are held at Old Hickory Golf Club, W7596 Highway 33 East, Beaver Dam.
Those who attend enjoy a mix of special programming — including culture, healthy living and community support — and also have the opportunity to discuss interesting topics that affect women today.
Offerings have changed over the years, but now have a well-established timeline.
"We run from September through June," said founder Dr. Mary Ostermann of Beaver Dam Women's Health. "The first year, we started out in the spring. This way, we have a couple months off every summer because people are busy and they have all kinds of things going on. Usually we have a team of about six people from here and from American Bank who work behind the scenes. We start about a year ahead planning for the next season."
The most popular events are repeated, while others appeal to a variety of interests. Some events are designed to serve another purpose.
"One of our missions is helping to promote area businesses and small businesses. That's one of the reasons behind our first event this season," Ostermann said. "It's also exciting for us to be a part of the revitalization of downtown Beaver Dam."
Julie Sena is the Women's Health office manager and also serves as coordinator for club events.
"She's instrumental in every aspect of the club's activities including registration, making sure our presenters have everything they need," Ostermann said.
Sena reports that attendance varies, depending on a number of factors.
"Some events are more popular than others and it also varies depending on what the weather is like," Sena said. "On average we get from 50 to 150 or more for our most popular events."
"We have more than 1,200 members now, so it has really grown over the years," Ostermann said. "One of our challenges is still to get the word out, because there are still of lot of women in the area who haven't heard of our group or don't understand what it is. We really want to have a very open, very accessible club for women of the area.
"This year, we're really trying to promote the multi-generational aspect of women and the interests of women. As a result, we've included things that interest younger women, along with mothers and seniors."
"We've already had three generations of women attending a program, and it ties in nicely with our hope of reaching everybody," Sena said. "It's a great way to build connections, which is what this club is all about."
Women often come as groups, but individuals are just as welcome.
"We don't want anyone to feel uncomfortable," Sena said. "If they come alone, we make sure to seat them with a friendly group. Everybody is really very open and we introduce new people all the time."
Men sometimes attend and are made welcome, although they know at the outset that they will be in the minority. Talks focus on women's concerns and issues.
After the club's first year, Donna Oathout of American Bank joined Ostermann and supported the organization with programming and management assistance. The relationship has continued to develop, and today, the club events are supported by both BDWH and American Bank.
"The financial support makes the club free for everybody. We don't ever want someone to be turned away because they're worried about cost," Ostermann said. "Our focus is to have women relax, connect and learn."
Membership involves nothing more than sharing an email address to receive notification of upcoming events.
"We encourage people to RSVP so we can plan ahead for snacks or supplies," Sena said. "Sometimes it helps us arrange the amount of space we'll need as well. The only event that we really require registration is our November Paint & Wine Night. We have a waiting list for that event."
Regardless of what the event might be, Ostermann invites all women to attend and to join in the fun.
"You never know who you'll run into," Ostermann said. "We always laugh and we always have a good time."
"Come out, have some fun and smile. All are welcome," Sena said.
Information on the events, as well as pre-registration, is available online at dodgecountywomensclub.com or by calling 920-885-6090.