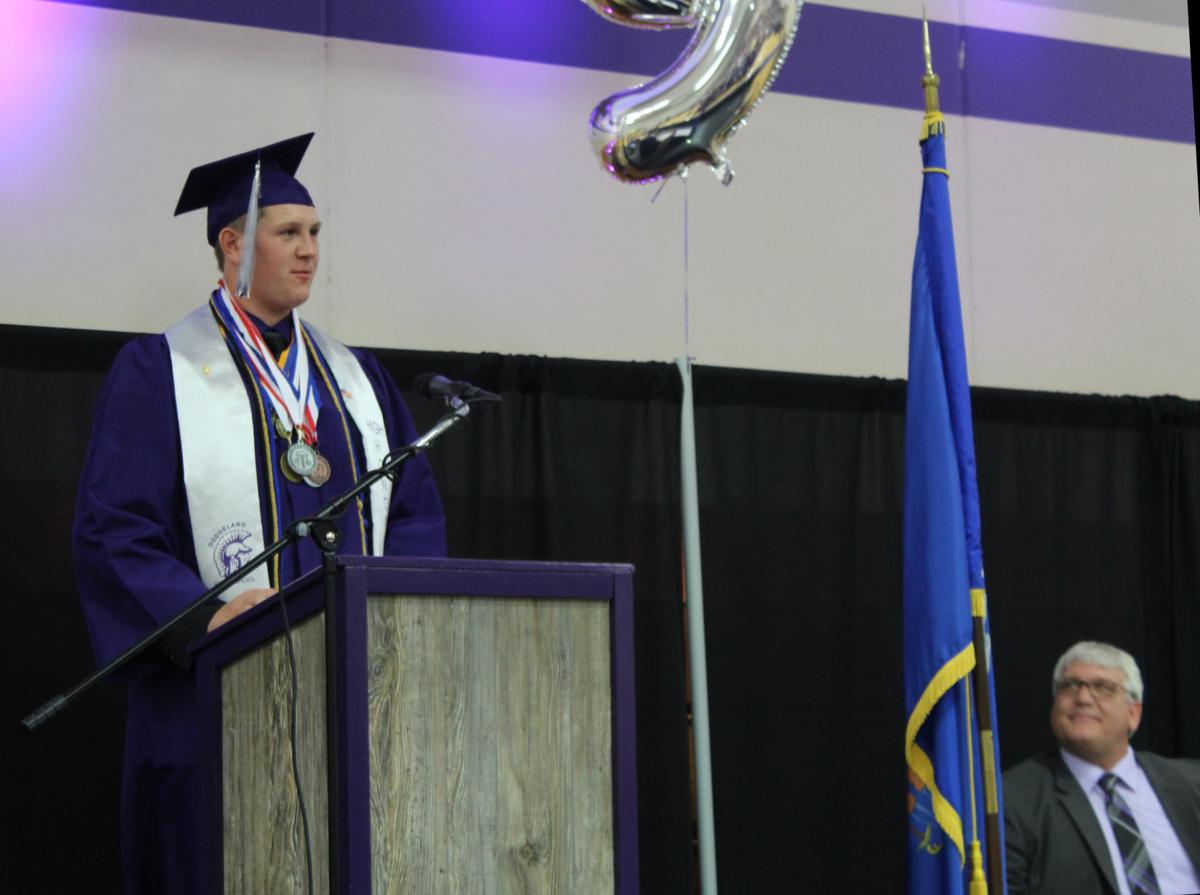 Dodgeland delays graduation ceremony
JUNEAU – There is a good possibility that an ice breaker question for incoming college freshman in the fall might be about the type of graduation the student had while attending high school.
School districts have had to think outside of the box while coming up with new plans for the graduating classes from virtual ceremonies to moving the ceremony into summer.
Dodgeland High School has joined the ranks of the school who have decided to move the ceremony into the summer. Dodgeland graduates will take the stage on July 25. The change to the graduation date, from June 7, was approved by the Dodgeland Board of Education on Monday.
"Our seniors have missed so much of their last year with us," Dodgeland middle and high school principal Jessica Johnson told the school board. "We want their graduation to be as special as we can possibly make it."
The rationale for this decision was to provide time for the administration to monitor relevant COVID–19 guidance and consider alternatives to a virtual graduation ceremony, Dodgeland Administrator Annette Thompson said.
Mom charged after toddler found in hallway
JUNEAU – A 24-year-old Mayville woman made her initial appearance in court Friday after a neighbor found the woman's two-year-old child in the hallway of the apartment complex shortly before midnight on Thursday and called authorities.
Ciera West is charged with a felony count of child neglect and misdemeanor charges of resisting an officer and bail jumping. West appeared before Dodge County Circuit Court Commissioner Steven Seim on Friday. She was placed on a $1,000 signature bond with a condition that she have no unsupervised contact with her child except with approval from officials.
According to the criminal complaint, Mayville Police went to the apartment shortly after midnight. The caller said that around 11 p.m. she heard what she thought was a plastic bag or animal in the hallway. After a while she noticed the door to the apartment was open and the two year old was running in the halls. The woman said that prior to contacting police that she had knocked on the apartment door and an apartment door where she believed the child's mother could have possible been at that time.
The police checked the apartment and found no one else in the home. According to the criminal complaint, police were contacting Dodge County Child Protective Services at the time when West walked out of a neighbor's apartment.
West allegedly said she was gone for 15 minutes while she took garbage out and got a blanket from her neighbor. West resisted officers but they were able to take her into custody. She requested that a family member was contacted to take care of her child.
A preliminary hearing is scheduled for June 25.
Minneapolis man gets probation in bank card theft
A Minneapolis man charged in March with identity theft pleaded no contest following unauthorized charges in Dane and Dodge counties from a bank card that went missing in Lake Delton.
Willie J. Britten, 30, pleaded no contest to the two charges of misappropriating ID information. Columbia County Circuit Court Judge Todd Hepler found Britten guilty and withheld sentencing in lieu of three years of probation with the condition that Britten serve 30 days in jail with Huber privileges. He must pay $7,850 in restitution and $786 in additional court costs and $1,150 in cash seized by police will be applied to the restitution. Britten also must undergo any counseling recommendations from the Department of Corrections and submit a DNA sample.
According to the criminal complaint, a Lake Delton police officer responded to a report of theft at the Hotel Rome's attached indoor water park on Feb. 29. A man who placed items in a locker at the water park without locking it and returned a few minutes later found his property was missing, including a wallet.
His credit union was notified on March 3 and three unauthorized withdrawals totaling $7,800 were discovered, two in Madison and one in Juneau.
Another transaction in Beaver Dam was denied.
The complaint says Britten was eventually identified as the person who allegedly made the transactions and he was arrested.
Follow Terri Pederson on Twitter @tlp53916 or contact her at 920-356-6760.
Concerned about COVID-19?
Sign up now to get the most recent coronavirus headlines and other important local and national news sent to your email inbox daily.