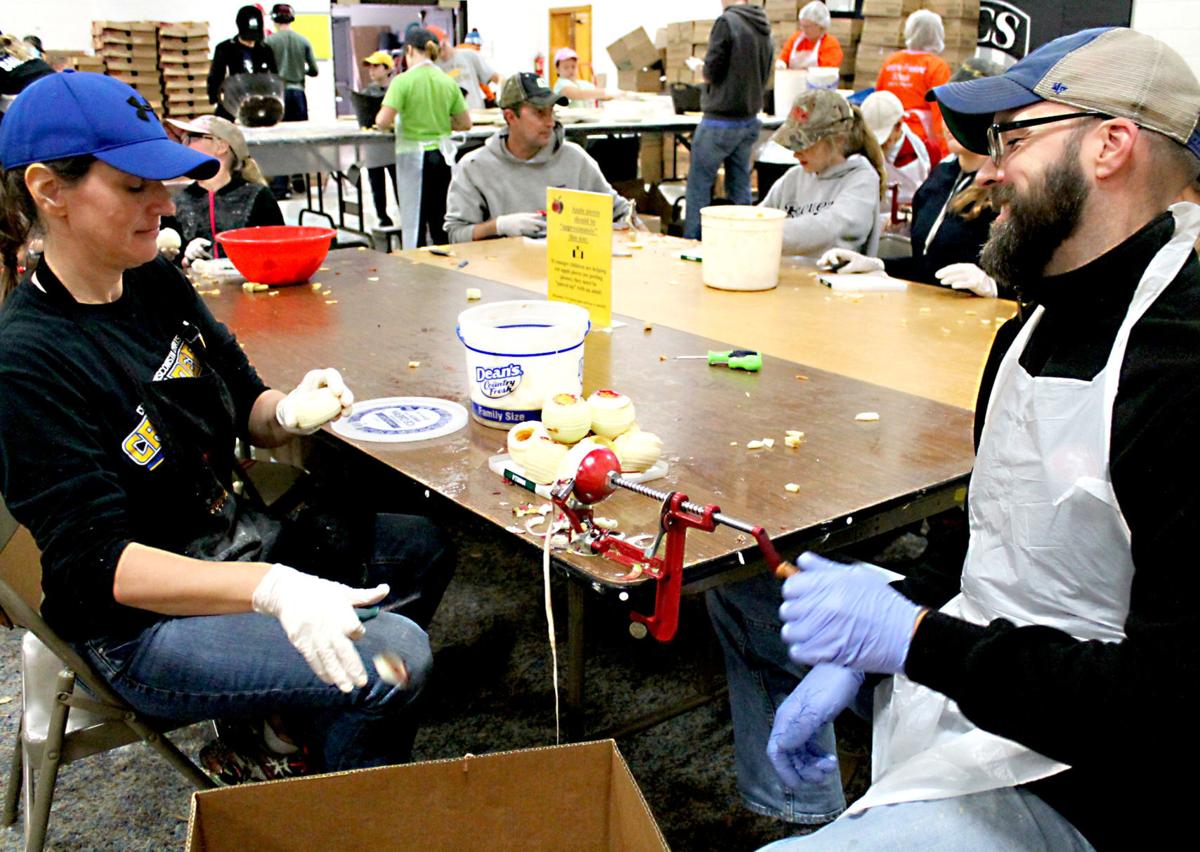 RANDOLPH – Randolph Christian School's basketball court was packed with students and parents the past couple days, but not for a ball game. Instead they formed an apple pie assembly line.
For the 19th year, volunteers came out to make thousands of bake-and-serve Dutch apple pies as an annual school fundraiser.
The gym floor was covered Tuesday night in preparation for the sticky days that would follow.
School ended at noon Wednesday so staff could attend a teachers convention the rest of the week. That's when school families and supporters took over.
Rachel Hoffman has organized the event for the past four years. Donning an apron with the title "Pie Queen" embroidered on it, she commandeered the industrial-size mixer to create a homemade butter crumb topping.
"We have about 35 families in the school that come and crank out about 4,500 pies," she said.
The pies are made with fresh Wisconsin apples donated by Alsum Farms & Produce of Friesland. Hoffman said through the generous donations of local businesses and RCS supporters, the pies can be sold for the reasonable price of $11 each.
The apples are peeled, cored and sliced at one station. Then they are sweetened with sugar and cinnamon and put into prepared pie shells. A crumb topping made from flour, butter and sugar finishes the dessert's construction. The pies get bagged, boxed and are immediately frozen after assembly.
Hoffman said workers were scheduled Wednesday from 12:30 to 10 p.m. and Thursday from 8 a.m. to 9 p.m.
Central Wisconsin Christian, Randolph and Cambria-Friesland high schools were not in session Thursday and many alumni of RCS came back to assist in the pie making task.
"Middle school students are required to work for two four-hour shifts, but most of them stay the entire time. We even have little jobs that second through fourth graders can do. So many people like to help because it's just a good time getting together," she said.
Pre-sale pie orders took place from September through mid-October, but there are still 1,000 pies for sale.
Pies can be purchased online at randolphchristian.org or by contacting the school at (920) 326-3320. They will also be available at Simply Thrift store in Randolph and Chippy's Popcorn Creations in Beaver Dam.
Follow Kelly Simon on Twitter @KSchmidSimon or contact her at 920-356-6757.
Be the first to know
Get local news delivered to your inbox!