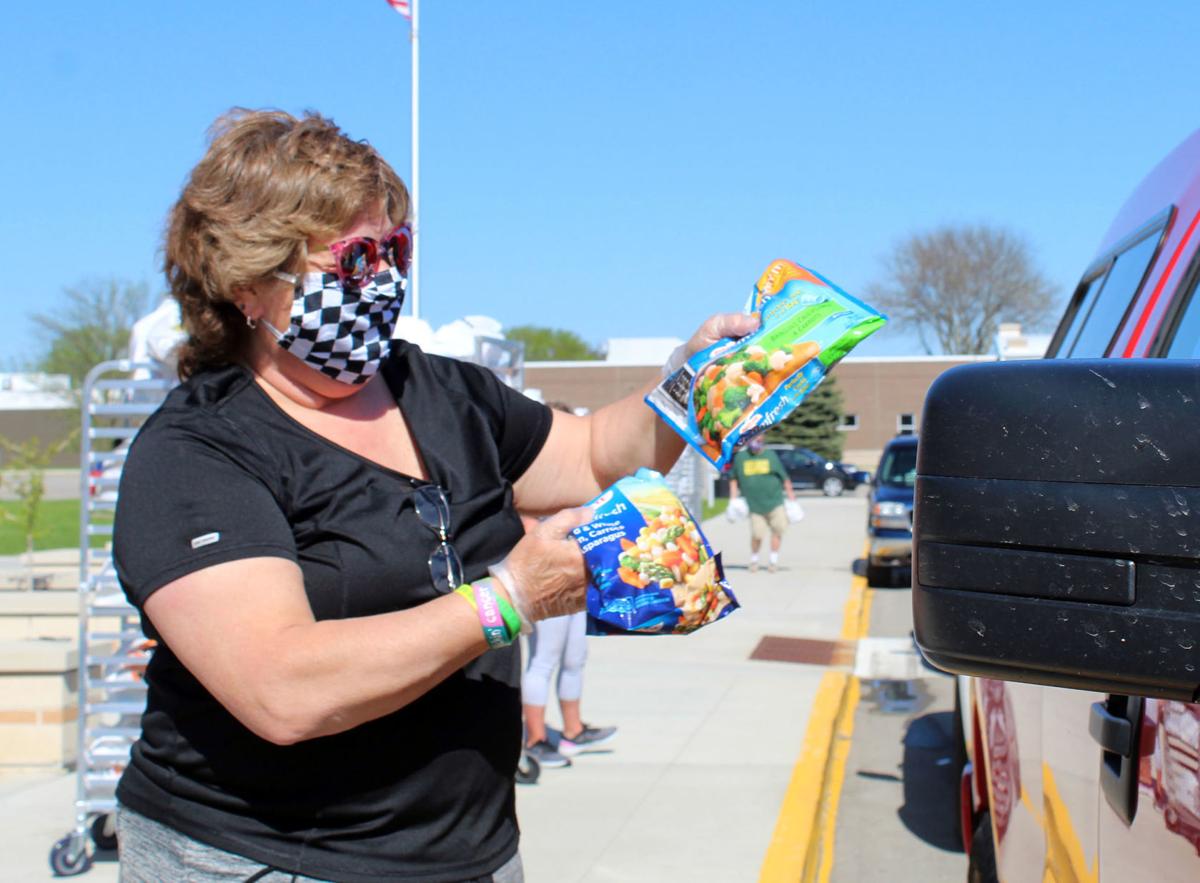 Three days a week a stream of vehicles come through the Beaver Dam High School parking lot with meals going out to the youth of Beaver Dam. Lately, a little extra has gone home with those receiving the breakfasts and lunches.
Stephanie Young, food service director for the Beaver Dam Unified School District and Taher Food Services, said the food is distributed starting at 4 p.m. with vehicles streaming through the parking lot of 500 Gould Street to pick up the breakfast and lunches for a week for those 18 and under.
Young said the extras given out are thanks to donations to the program from businesses and individuals. The cars picking up or dropping off the food have been asked if they want dental supplies and on one occasion and this last week they were given the opportunity to have a bag of vegetables from Bird Eye in Beaver Dam.
"We received them in February as part of our healthy schools grant cooking," Young said. "We are going to pass that out to the community since we can't put it to full use right now. They can benefit from it."
Thursday, Saputos Cheese in Waupun donated 500 lbs of shredded cheese that was offered to the people in line for the meals.
Another donation coming in will be used to purchase about 200 gallons of Sassy Cow milk from outside of Columbus and 200 pounds of variety brick cheese from Kraemer Wisconsin Cheese in Watertown.
The meals are normally given out on Monday, Wednesdays and Thursdays. Young said. Monday meals will be given out on Tuesday due to the Memorial Day holiday. The district has set up delivery for some families who were unable to get to the high school for pick up. Habitat for Humanity picks up meals that are dropped off as well.
"A lot of people also pick up for their neighbors," Young said.
There are about 900 children who receives the meals during the pick-up days.
The meal program has been extended to go throughout August, Young said and the children who receive the meals do not have to qualify for free and reduced lunches in order to get them.
Follow Terri Pederson on Twitter @tlp53916 or contact her at 920-356-6760.
Concerned about COVID-19?
Sign up now to get the most recent coronavirus headlines and other important local and national news sent to your email inbox daily.